High School graduate now only three classes short of Associate's Degree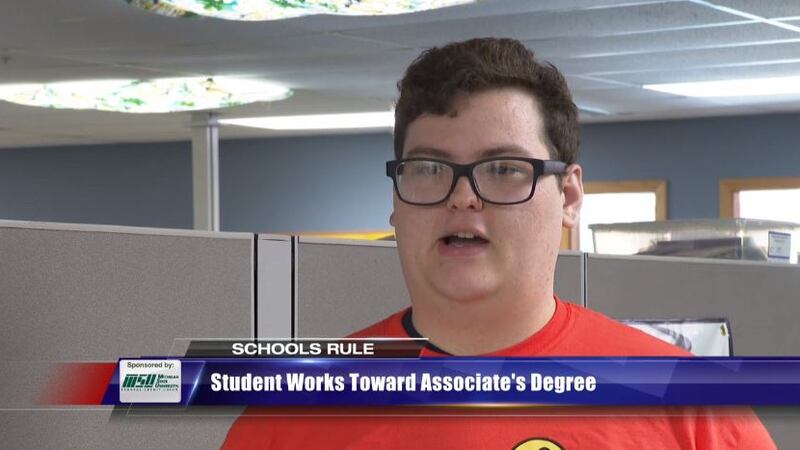 Published: Jul. 19, 2019 at 6:52 AM EDT
In this edition of Schools Rule WILX News 10 is talking with a student who's not slowing down even in the summer time. We're highlighting the student-and the teacher who's helping to make it possible.
Logan Maurer just graduated high school and is only three classes away from earning his Associate's Degree in Welding.
"I think that Logan has learned that anything he sets his mind to, he can do," said Amy Dunlap, a fourth grade teacher and the Field Trip Coordinator with Michigan Connections Academy. "I think that confidence has grown so much and I'm just so excited to look forward to where he goes next."
Michigan Connections Academy is a self-paced, teacher-guided school.
"We're not cookie cutters, just like education shouldn't be that cookie cutter approach and so with Logan, I was able to see what he needed and be able to make those adjustments for him."
Those adjustments? Logan was enrolled full time in high school classes at Michigan Connections Academy all while working on his Associate's Degree in Welding at Lansing Community College.
"It was all very easy, to be honest," said Logan. "I just said the sort of classes that I wanted to do."
Easy, according to Logan, because his self-paced high school allowed him to work those college classes easily into his schedule. He says if it weren't for the help from his school-and a very special teacher in his life-he may not have found his passion.
"Part of it was a trip that we actually went on with Mrs. Dunlap to Fort Michilimackinac and there was a blacksmith demonstrator there. He was messing around with metal and everything so that kind of instilled in me an interest in working with metal," said Logan.
Amy and Logan share a unique bond-the two met while Logan was in middle school at a 'traditional' school and they both made the transition to Michigan Connections Academy.
"Having the opportunity to go to LCC to take those classes I probably wouldn't have been able to do that with any other schools," said Logan.
Now that Logan has graduated high school, Amy says this is just the beginning.
"Logan was one of our speakers at graduation and I had the honor to be able to introduce him," said Dunlap. "And to see one of your former students who, when he was my 6th grader, he wouldn't even get up and want to give a speech in front of the class and so to get up in front of the entire audience at the Wharton Center to do that at graduation was huge and to have him thank me for what I've done for him is just huge."
Logan plans to find an internship in the Greater Lansing-area soon.
Copyright 2019 WILX. All rights reserved.