Mid-Michigan girl preps for disc golf world championship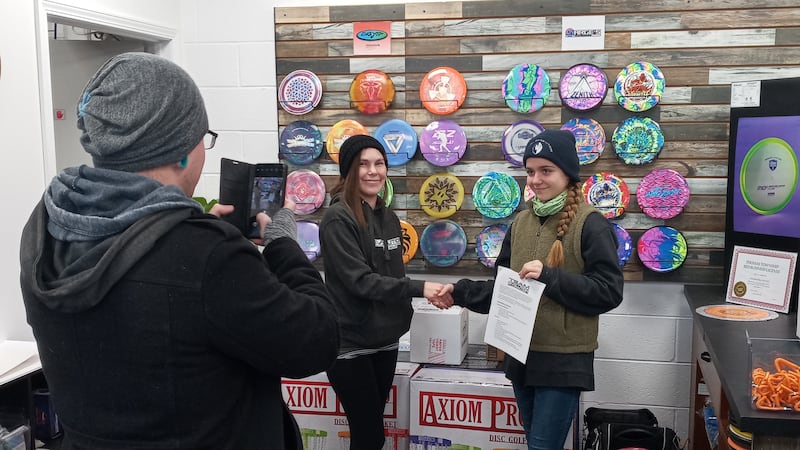 Published: May. 26, 2023 at 12:38 PM EDT
CARO, Mich. (WNEM) - A Caro student with an impressive talent for disc golf has been invited to the world championship at 12-years-old.
Three years ago, Aryll Behrends basically never held a frisbee. Now, she is an official member of the Professional Disc Golf Association and has competed in, and won, multiple Women's Amateur tournaments where she competed against women of all ages.
She also holds the world record for the longest gridiron field goal throw for her age group, which was achieved the night before her 12th birthday.
Aryll was recently invited to the 2023 PDGA Junior Disc Golf World Championships, a prestigious event for the best in the sport held in Peoria, Illinois in June.
Her daily practice routine consists of an 18-hole course that averages about 170 feet per hole.
"This teaches me touch shots, lay-up scenarios, and putting practice," Aryll explained. "I usually play a round each day with my family and practice putting at least 20 reps daily."
She also attends an online school, which allows her flexibility when it comes to balancing going to school full time and her disc golf career.
"Michigan Connections Academy allows me to tailor my daily planning to whatever activities or disc golf tournaments I have scheduled," Aryll said. "If I need to focus on specific subjects I am having trouble with, it is so easy to get in touch with my teachers.
She is constantly practicing and staying active in the tournament circuit in preparations for the disc golf world championship in June.
"Ladies in Red, part of the Michigan Women Series in Grand Rapids at Brewer Park on May 28 is my next tournament," Aryll said. "Junior World Championships will be held June 27 through July 1!"
Aryll said the first first disc she ever threw was a Champion plastic Coyote, which went over 200 feet.
"My dad was very impressed and decided he'd get me involved in our local league," she explained. "Soon after, I threw my first ace [hole in one] at a local course, Cass City Park. My dad had put a $100 bounty on everyone's first ace, so it was an awesome payday! From then on, I was hooked."
Aryll is currently sponsored by Evolution Disc Golf from Shields, local disc dyer Dyefly Discs from Vassar, WC Glow from Washtenaw County/Ann Arbor, and California-based sock company Teebox Sox USA.
Subscribe to the TV5 newsletter and receive the latest local news and weather straight to your email every day.
Copyright 2023 WNEM. All rights reserved.