Laundry Initiative at JPS gives students clean clothes, confidence to learn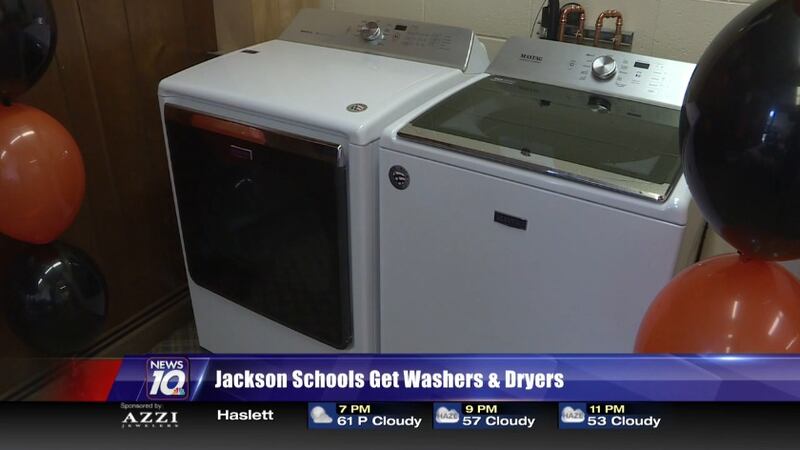 Published: May. 21, 2019 at 6:41 PM EDT
Kids in Jackson Public Schools don't have to worry about coming to school with dirty clothes again.
The Middle School at Parkside and Jackson High School Recently installed washers and dryers as part of the district's Laundry Initiative.
Parents in the district saw the idea being used at a different school in the country,so they decided to figure out a way to bring it to Jackson. They said they had no idea the difference it would make.
"We were like, how can we make this happen?"
The group of seven women decided to meet to brainstorm ideas to get the program to Jackson Public Schools. Once they received a $2,500 donation from CP Federal Credit Union, they were able to get the washer and dryers, but they still needed supplies for them. That's when Sarah Richmond decided to post to Facebook about the program. Soon the post was shared over 400 times, and the donations came pouring in.
"I was floored. I was hearing from literally all over the county, from people I've never known. I'm not even sure how they heard about it other than obviously the sharing. That shows you the good power of social media," Richmond said.
The school says that having the washer and dryer does more than keeping the clothes clean. It also helps students learn without distractions.
"When a student comes to us and says you know 'I've never felt better, or I feel like I belong because my clothes are clean now,' thatch one less thing they have to worry about. It's one more thing taken off their plate so they can concentrate at school," Director of Communication at JPS Kriss Giannetti said.
The school says the machines will also be used by sports teams to keep their uniforms clean in addition to teaching life skills, like how to do laundry for those in the higher grade levels. The benefits they say, will stick with them long after graduation.
"We want you to be here. We don't want this to be something that stands in the way as a barrier so you can be here, you can feel clean and have a good time while you're here and learn," Associate Principal at Jackson High School Monica Pierce said.
Right now the washer and dryers are in two of Jackson's schools. The plan is to get machines into elementary schools in the fall -- and hopefully all schools after that.
To donate money or supplies to the to the Laundry Initiative, contact Kris Giannetti at (517) 841-2148 or kriss.giannetti@jpsk12.org.