Without Roe v. Wade, Michigan abortion law reverts to a 172-year-old ban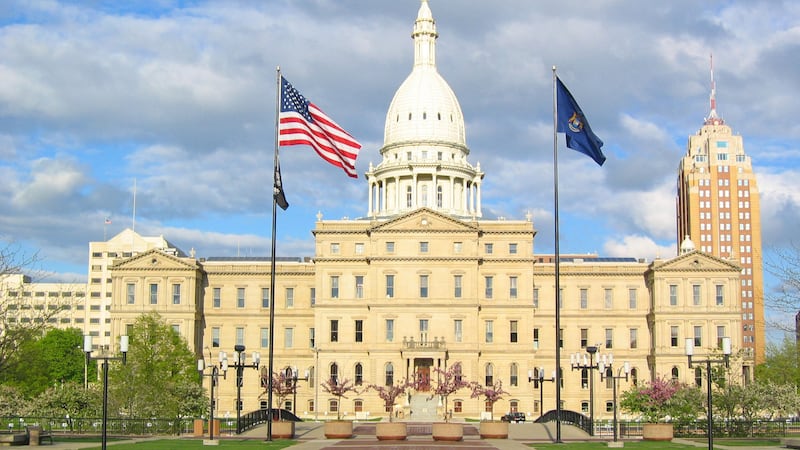 Published: Aug. 15, 2018 at 5:40 PM EDT
In 1846, Michigan had been a state for just nine years – one of only 28 stars on the American flag.
It was also the year the Michigan Legislature passed a complete ban on abortion except for when the mother's life is at risk.
After being modernized in 1931, that law still stands today, carrying with it a punishment of felony manslaughter. And the only thing keeping it from being enforced is
, the 1973 U.S. Supreme Court decision that legalized abortion nationwide.
But if a new Supreme Court overturns that decision, as President Donald Trump has promised and as Democrats and activists fear, the law that governs a Michigan woman's right to choose will be more than 170 years old and one of the strictest in the country.
Last month, President Trump nominated federal Judge Brett Kavanaugh to replace retiring Justice Anthony Kennedy on the Supreme Court. Justice Kennedy was considered to represent the court's center, often being the deciding vote on polarizing cases. His departure gives President Trump,
, an opportunity to give the court a 5-4 conservative majority and open the door to overturning
.
When asked during the final 2016 presidential debate if he wants to see
overturned,
, "That will happen automatically, in my opinion, because I am putting pro-life justices on the court."
"We're optimistic, but we'll wait and see," said Genevieve Marnon, Legislative Director for Right to Life of Michigan, a pro-life lobbying group in Lansing. She is reserving judgment, for now, on whether Kavanaugh would vote to overturn
.
"You never really know how a justice is going to rule until they're actually sitting on the bench," Marnon said.
Kavanaugh has offered little conclusive insight into his opinion of
, though abortion advocates have been able to find examples that lead them to believe he threatens the constitutional right to an abortion.
"He's already made statements on the record before that he would be inclined to – if not overturn it – at least rule to gut aspects of
and the protections that it offers women," said Ruth Lednicer of Planned Parenthood Advocates of Michigan.
In
at the American Enterprise Institute, Kavanaugh praised former Chief Justice William Rehnquist's dissent in the 7-2
decision. Rehnquist wrote in his dissenting opinion that abortion should not become an "enumerated right" and concluded its legality should be for each state to decide. Kavanaugh applauded Reinquist's efforts in "stemming the general tide of free-willing judicial creation of un-enumerated rights that were not rooted in the nation's history and tradition."
Kavanaugh's record on the bench only nips around the edges of
. Last year he tried to prevent a 17-year-old undocumented immigrant in U.S. custody from getting an abortion, but
is more about immigration than abortion. He also authored the dissenting opinion in his circuit court's 2015 ruling on the Affordable Care Act's birth control benefit, writing that employers should not have to provide birth control coverage in employee health insurance.
Both of Michigan's U.S. Senators have already announced they will oppose Kavanaugh's confirmation before hearings begin Sept. 4. The pair of Democrats each alluded to abortion in their statements.
"Judge Kavanaugh's comments and rulings make it clear that he would roll back women's access to reproductive health care," said Sen. Debbie Stabenow, D-Lansing, who also voted "no" on Kavanaugh's nomination to the D.C. Circuit Court in 2006.
Freshman Sen. Gary Peters, D-Bloomfield Township, said, "(Kavanaugh's) judicial opinions … threaten a woman's right to control her own health care decisions.
Stabenow and Peters may be oversimplifying the matter, though, says Michigan State University law professor Brian Kalt.
"To the extent that (their statements are) based on sincere policy concerns, I think they're right to be worried about what a more conservative court will do to abortion rights." However, Kalt continued, "I think they're taking a lot of advantage of how effective it is politically to get people on their side riled up about it.
Blocking Kavanaugh's nomination is also a long shot for Democrats, because Republicans control the Senate 51-49. If every senator votes, and every Democrat votes to block Kavanaugh, two Republicans will need to cross the aisle, because a tie would be broken by Vice President Mike Pence, one of the most pro-life officials in the federal government.
"I don't think there's any reason for Democrats to be optimistic at this point," Kalt said.
If the Supreme Court overturns
, the legal status of abortion will be up to individual states. Including Michigan's law, nine states have abortion bans already on the books from pre-
times. Seven more states have laws that intend to make abortion illegal if
no longer stands.
Kalt stresses, however, that the possibility of the Supreme Court overturning
is not so black and white.
"It's much more likely that what they would do – and certainly what they would do in the short term – is allow more restrictions rather than allow a complete ban," he said.
Kalt points to the 1992 Supreme Court case
Planned Parenthood v. Casey
as a "much more likely" decision to be the court's center of attention. That decision laid the foundation for America's current abortion landscape by limiting
and ruling that states can place restrictions on abortion that do not impose an "undue burden" on women seeking the procedure.
"What they would be more likely to do is to approve certain restrictions" and add to the current undue burden standard, he said.
Marnon and Lednicer are also not betting on a complete reversal.
"For people to sit there and absolutely, definitively pound their fists on the table and say 'this will happen,' I'm thinking 'you guys must know something that I don't know,'" Marnon said.
"I don't want to get too far ahead of ourselves," Lednicer said. "I know it's easy to go to the doomsday scenario of what will happen, but I think we're looking at what we can do right now. And right now what we can do is educate people on what the threat is."
Lednicer says the focus right now is on giving women resources and information to prevent unintended pregnancies, such as making birth control accessible. But if the threat turns out to be a complete reversal of
, Lednicer says Michigan women seeking an abortion will likely cross state lines, go to Canada or obtain the procedure illegally – and unsafely – in Michigan.
"I don't want to do the scare tactic of 'women will die' but the reality is what
allowed women to do is access something – a medical procedure that has been around for a long and will continue to be here even if it's made illegal," she said.
More than 26,000 abortions were performed in Michigan last year, according to
from the Michigan Department of Health and Human Services. According to the Guttmacher Institute, there were 29 facilities providing abortions in Michigan in 2014, the most recent year for available data. Twenty of the facilities were clinics.
A battle in the state legislature
No matter abortion's legal fate in the U.S., the issue will be met with an intense, nationwide fight, with Michigan possibly at the center.
"We'll probably be ground zero if
gets overturned," Marnon said.
Accompanying a heated dialogue between abortion supporters and opponents will be a battle in the state legislature, predicts Kalt, who believes the legislature will pass a law to replace the state's ban.
"This will be fought out politically in the legislature," Kalt said. "I don't think that we're a state that would have enough political support for a complete ban to stand."
Whatever the legislature passes would have to be signed by the governor, and Michigan's gubernatorial candidates seem to be on opposite ends of the abortion spectrum.
"I am going to fight like hell to pass state laws that will protect women's legal right to control their bodies and make their own decisions about whether and when to become a parent," Democratic candidate Gretchen Whitmer
.
Her Republican opponent, Bill Schuette, has yet to comment directly on what he would do if
were overturned. But in
, his spokesman said Schuette "is 100 percent pro-life" and that he would enforce Michigan's ban.
But even if the immediate debate is resolved, the fight will continue.
"The next Supreme Court nomination would be fought over very contentiously over this issue again," Kalt said. "All of the state legislative elections in the immediate aftermath in districts where there's any sort of division on this would be fought over that issue too."
A shift in public opinion
Less than three months before
was decided, Michiganders voted on a ballot measure that would have legalized abortion in the first 20 weeks of pregnancy. It failed convincingly, 61 percent to 39 percent.
"For the Supreme Court to systematically thwart the will of the people by imposing abortion on demand in all 50 states doesn't seem very democratic," Marnon said.
But Michiganders' opinions about abortion have changed in the decades since, now mirroring the U.S. as a whole.
In a 2014 Pew Research Center
, 54 percent of Michigan residents said abortion should be legal in all or most cases, while 42 percent said it should be illegal in all or most cases. Four percent were unsure of their position.
Pew's
last year asked the same question and produced similar results. Fifty-eight percent of Americans said abortion should be legal in all or most cases, and 40 percent said it should be illegal in all or most cases. Three percent were unsure.
As for the public's view of
, a large majority of Americans want it to stay. A
earlier this month found 64 percent of Americans do not want
overturned, while only 28 percent do. Results from a
from around the same time showed an even starker divide, with Americans wanting
to stand by a 71 percent to 23 percent margin.
Additionally, a
from January found Americans want
to stand 72 percent to 26 percent. That poll also found that a majority of Americans in all major ethnic, political, gender and age categories do not want
overturned.
"Seven out of 10 Americans want to see
remain the law of the land as it has been for 45 years," Lednicer said. "Two generations of women have grown up – come of age – expecting this to be their right."
Read Michigan's abortion ban
Michigan's ban on abortion except when the mother's life is at risk was written into the state's original set of laws in 1846. Its language and punishment were modernized in 1931. Both versions are below.
1846: "Every person who shall willfully administer to any pregnant woman any medicine, drug, substance or thing whatever, or shall employ any instrument or other means whatever, with intent hereby to procure the miscarriage of any such woman, unless the same shall have been necessary to preserve the life of such woman, or shall have been advised by two physicians to be necessary for that purpose, shall, upon conviction, be punished by imprisonment in a county jail not more than one year, or by a fine not exceeding five hundred dollars, or by both such fine and imprisonment."
1931: "Any person who shall willfully administer to any pregnant woman any medicine, drug, substance or thing whatever, or shall employ any instrument or other means whatever, with intent thereby to procure the miscarriage of any such woman, unless the same shall have been necessary to preserve the life of such woman, shall be guilty of a felony, and in case the death of such pregnant woman be thereby produced, the offense shall be deemed manslaughter."