Senate Judiciary Committee approves bill to protect children from predators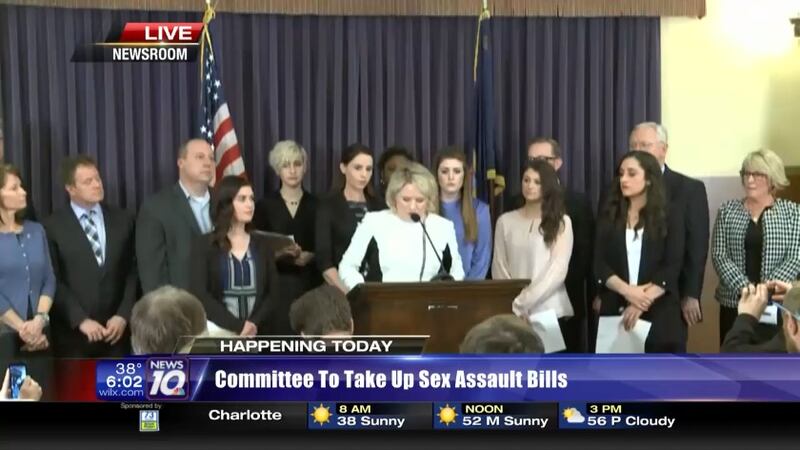 Published: Feb. 27, 2018 at 8:49 AM EST
The State Senate Judiciary Committee will be hearing testimony on legislation aimed at better protecting Michigan's children from convicted predators like Larry Nassar on Tuesday at 3 PM.
The bill package was introduced by state lawmakers yesterday as they were surrounded by survivors of Larry Nassar.
The committee is answering to changes that so many people have called for amid the Nassar scandal.
One of the lead sponsors of the bill package may have said it best, Senator Margaret O'Brien of Portage said, "the legislation should put fear into the heart of any possible predator."
She says she hopes the bills will prevent future predators from offending and if they do, O'Brien says they'll, "be able to throw the law at them."
The ten-bill package dubbed "Protecting Michigan's Children" will do a lot of different things like extending the statute of limitations for reporting child sexual abuse to 30 years after the act or 30 years after the victim's 18th birthday.
Many could argue Nassar could have been stopped more than 20-years ago when several women said they told trusted adults, like former MSU gymnastics coach Kathie Klages, about the sexual abuse but they were either silenced or ignored.
The legislation would expand the number people who are required to report complaints of sexual abuse to include coaches, athletic trainers, and physical therapists.
Former gymnast and Spartan alum Larissa Boyce told Klages about Nassar's behavior back in 1997 but she was silenced.
The legislation will aim to prevent something like that from ever happening again.
Larissa Boyce said, "Instead of being believed, I was questioned, embarrassed and humiliated by Kathie. She did not notify the proper authorities or even my parents instead she told the man who was abusing me, which only enabled and empowered him to continue abusing, make him feel like he was invincible."
All of the survivors who spoke Monday are calling on the state legislature to pass the bill package before the start of the summer.