UPDATE: Protesters say the governor is in the wrong, not them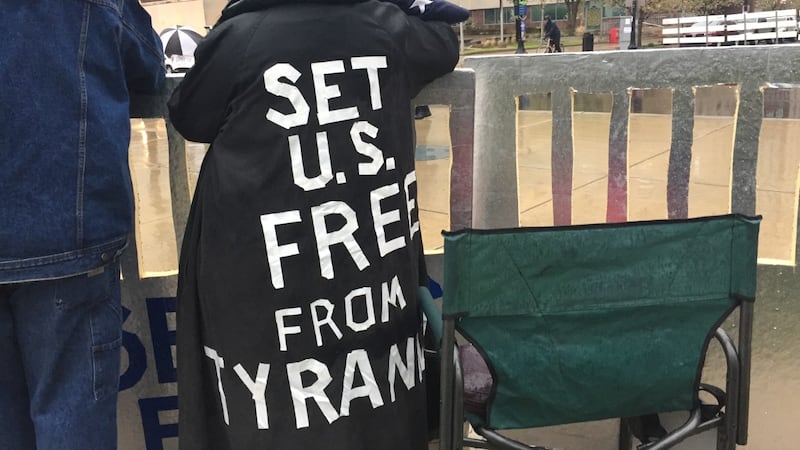 Published: May. 14, 2020 at 9:50 AM EDT
Another protest took place at the State Capitol Thursday morning, despite the rainy weather.
Several people showed up to protest as tensions continue to grow regarding the stay-home order which remains in effect until May 28. When it comes to numbers, Thursday's protest was the smallest of the three protests thus far.
"It's a sad situation and it's time to open up," a protester said.
A small but passionate group made their way out to the State Capitol, telling News 10 they are sick of the stay-home order.
"The governor is lying to you, I hope this is live," one of the protesters, Laura Roush, said. "What's happening right now is ridiculous, people deserve to go out and work. We deserve to protect our way of life and that's going to work right now. Everybody has a right to do that."
The protest was much calmer than two weeks ago when angry demonstrators stormed the Capitol. However, police had to break up one confrontation and made a least one arrest.
Despites that, protesters say it is Gov. Whitmer who is in the wrong, not them.
"I dare the governor to come here today and see that no one is threatening her," a protester said.
"The people are here because she misled people, she misguided people, and we are tired," a protester said.
There were some opposing voices, a large banner in support of the governor's actions to slow the spread of the virus and signs with pictures of people killed by COVID-19.
A counter protester in support of Gov. Whitmer told News 10 the other protesters are worried about the wrong thing.
"This isn't a money issue. This is health. If you ain't got your health, you've got nothing," he said.
He said he also saw no reason for the protesters to bring guns to the State Capitol since no one was going to try and hurt them.
But all of that isn't convincing many of the people who stood in the rain to make their point.
"They came over here for freedom, and the constitution gave them that. That's what we're here to defend," Rob Schneider, a protester said.
There was an increased police presence Thursday morning at the Capitol due to concerns about protesters bringing guns to previous protests and death threats that have been made against the governor.
One man at the protest had a doll with a noose around its neck hanging from an American flag. A couple of protesters told him he was sending the wrong message. That eventually turned into a scuffle when someone tried to take the doll away.
Police broke up the incident and confiscated an axe from the man with the doll.
Michigan State Police said no arrests or citations were made and no one was injured during the protest.
"Overall we are pleased with how most people complied with law enforcement," Oleksyk said.
Copyright 2019 WILX. All rights reserved.