Photographer on a mission to help homeless kids realize their hopes and dreams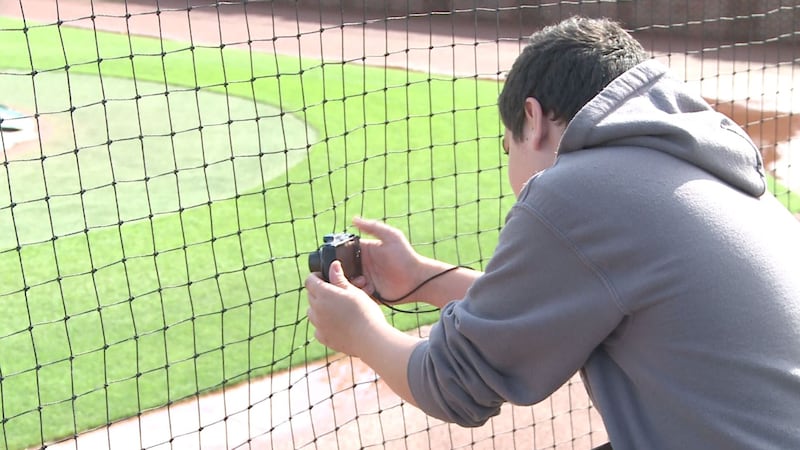 Published: Nov. 15, 2017 at 4:37 PM EST
Focusing on the positive can be a life-long struggle for most of us. But for kids living in homeless shelters, it can seem out of reach.
A Michigan-based celebrity photographer is on a mission to make sure homeless kids can reach for the stars.
If you want something, sometimes you have to see it first. 13 year-old Michael Castellanos of Lansing says for him, the lens hasn't always been clear. "It started like around 2014, where we became homeless for the first time, and that's been a really rough ride for us."
Michael's mother, Elizabeth Castellanos, says the death of her mother started a downward spiral she couldn't control. She said, "My mom got diagnosed with cancer and she passed away. I took care of her, I'm the one that found her. So it kind of just put the wheels in motion and everything just went downhill, I didn't care about nothing. I didn't care what happened to anybody. I didn't care what happened to me. I didn't care what happened to him. I just let things go and we lost our house because I didn't care."
Two years later Elizabeth and Michael sit together in a room in Lansing's Foster Community Center, listening to photographer Linda Solomon talk about her nationwide program called "Pictures of Hope." Solomon travels the country, teaching children in homeless shelters how to take pictures of their hopes and dreams. Solomon said, "The population of homeless children is staggering. There are 2.5 million kids that are homeless in America. So to be able to work with kids and show them that we care about their dreams and have noted members in the community spend a day with these children it's life-changing."
Paired with mentors, children who spent time at Haven House in Lansing wrote down their hopes and dreams. Michael's include finding a cure for cancer, and making his family proud. Solomon said, "It's often not easy to illustrate a dream and to capture a dream, but when you have a devoted mentor I think it just makes you feel that you can be comfortable enough to really open your heart and to express those dreams and then go off and photograph them."
The "Pictures of Hope" program provides each child with a brand new digital camera. It's a fun surprise after they get a lesson in photography. Mentors quickly get to work with each child, helping them capture their hopes and dreams through the camera. For Michael, it meant a short drive to Michigan State University where he captured his hope for a college education. He also went to Sparrow Hospital's new cancer center to photograph his dream to find a cure for cancer. He said, "I believe that no one should ever have to go through that, watch a family member go through that horrible disease."
The same disease that left him homeless, is now the center of optimism, confidence and hope. It's a side of Michael his mother hasn't seen in a long time. She said, "This was quite a surprise that he was even willing to do this. He keeps to himself."
Solomon said helping kids see the positive of life is what "Pictures of Hope" is all about. "All you need is one person who believes in you, and that to me is transformational."
One of Michael's other hopes was realized that day, to make his family proud. His mother said, "He's making me really proud. He's made me really proud doing this."
Michael's photographs along with all the other Lansing area children who took part in "Pictures of Hope" will be unveiled Saturday, November 18th at the Foster Community Center in Lansing. They've been made into a set of note cards that are being sold online to benefit Haven House. We've included a link with this web article where you can order them for $30 a package.
"It's often not easy to illustrate a dream and to capture a dream, but when you have a devoted mentor I think it just makes you feel that you can be comfortable enough to really open your heart and to express those dreams and then go off and photograph them." -- Linda Solomon, Pictures of Hope