Pharmacists deliver prescriptions on a snowmobile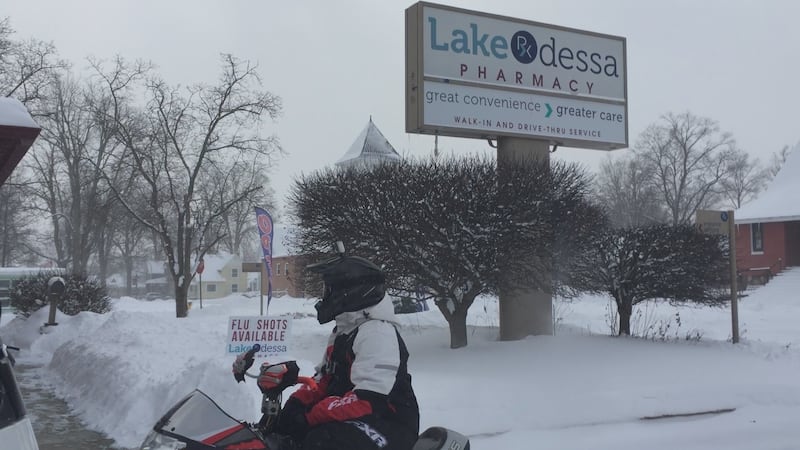 Published: Jan. 30, 2019 at 5:06 PM EST
Officials have been warning the elderly not to go outside, but some have to get the prescription drugs they need.
An Ionia County pharmacy got creative to make sure residents stay healthy during these dangerous temperatures.
Lake Odessa Pharmacy typically delivers prescriptions for free, but when it snowed several inches Monday, they had to find a new way to make sure patients get their medicine.
Wayne and Margaret Mausbach couldn't get their car out Wednesday, but Wayne was about to run out of his daily prescription.
"[We're] kind of snowed in right now and I need them Friday morning for sure," said Wayne.
For certain kinds of medicine, missing a day can mean serious problems.
"Blood pressure, diabetes meds, you do not want to stop those. You want to take those continuously," said pharmacist Andrea Cusack.
So when Cusack called to remind him about his refill, she offered to deliver it.
"I had simply asked, I said, 'Is your driveway plowed?' and they said, 'No.' So I said, 'Oh, so I might have to bring the snowmobile?' and they said, 'We would recommend that,' said Cusack.
That's exactly what she did.
Her husband shared a picture on Facebook and it got a lot of attention.
"I truly care about people and want to help them, and to see the response within the community, it's just overwhelming," said Cusack.
"We're so grateful that we live in a small community and they'll do things like that. We were surprised when we found out and we're thankful," said Margaret.
Pharmacists have only delivered prescriptions on the snowmobile twice so far, but they're standing by in case any other patients call.