'Operation Gridlock' swarms downtown Lansing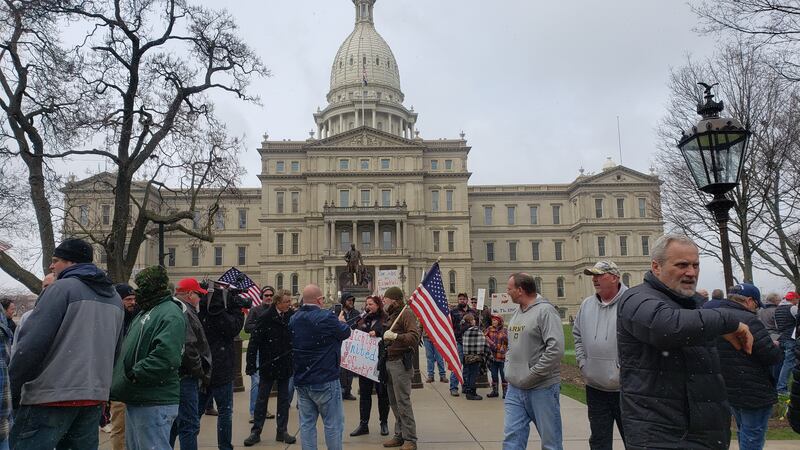 Published: Apr. 15, 2020 at 11:12 AM EDT
Protest organizers called it "Operation Gridlock," their response to what they see as the governor unnecessarily placing a gridlock on Michigan's economy in an effort to slow the spread of coronavirus.
Protesters told News 10 on Wednesday they're sick of living in lockdown and they want to get back to work. They say the stay at home order is ruining their livelihood.
"I have a small business, and she shut me down. I work at Ford Motor Company, and that shut down. I realize how important this virus is, but now we're getting to the point where we're shutting too much stuff down," said Tom Hughey, a protester.
Small business owners across the state say they are suffering from the stay-at-home order after being deemed non-essential.
Hughey said he thinks his business will be able to bounce back, but he said it has been a tough time.
"I believe it will, but it's hurting us. It's hurting us really bad," Hughey said.
State legislators say Governor Gretchen Whitmer shouldn't be focused on what is essential and what isn't.
"We have to begin asking what activities are safe and unsafe, and we need to make that decision soon, because people across the state have had their livelihoods taken away, and they're being told that they can't work their jobs and take care of their families. And I think that's wrong," said Speaker of the House Lee Chatfield. "I think it's going to take a lot longer to re-open the economy than it took for the governor to shut it down. Small businesses are the backbone of our community, and people across our state have had their livelihoods taken away from them and they're being told that they can't work, and take care of their family."
One Lansing native, who said he recovered from the coronavirus, told News 10 it's time for the stay-at-home order to be relaxed.
"I could hardly breathe, and I had a really bad time with it. But I survived it, and I am here to fight for our country again if needed. We can all wear a mask and go about our business," said Joe Dart.
The protest was supposed to be an in-car, but not everyone followed that rule. While most did stay in their cars, others stood on the Capitol grounds and were within six feet of one another.
"Anyone who's here should be following social distance of guidelines and doing all they can to keep themselves another safe," Chatfield said.
"I think every single person here is probably going to get coronavirus, we're all within six feet of each other," said Nick Somber, a protester.
One protester brought her child to the event, saying it was a teaching moment.
"I think it's important for our kids to learn about civics and about the Bill of Rights and about our opportunity to assemble even if it's done (through) social distancing. I think it's important to get them out here to show support to fight for our freedoms," said Jenn Cox.
Several police officers were on the scene of the protest and one arrest was made. However, police said no one was ticketed for violating social distancing rules.
About a mile away from the capitol, the long line of cars packed Michigan Avenue, including in front of Sparrow Hospital.
At least two different photos posted on social media showed an ambulance caught in the middle of it all. And that's one thing the Michigan Nurses Association said it was worried about.
In a statement, the group said, "While everyone has a right to gather and express their opinions, today's protest sends exactly the opposite message that nurses and healthcare professionals are trying to get across: we are begging people, please stay home. The protest was irresponsible, impeding ambulances and traffic to Sparrow Hospital, where frontline healthcare workers are risking their lives taking care of patients suffering from COVID-19. Lives are being saved because of the stay-home order. We ask everyone to protect themselves, their families and us by doing what's best for the greater good."
You can watch some of the protest at the bottom of this article.
Copyright 2020 WILX. All rights reserved.