Day 2: Nassar will be sentenced Monday morning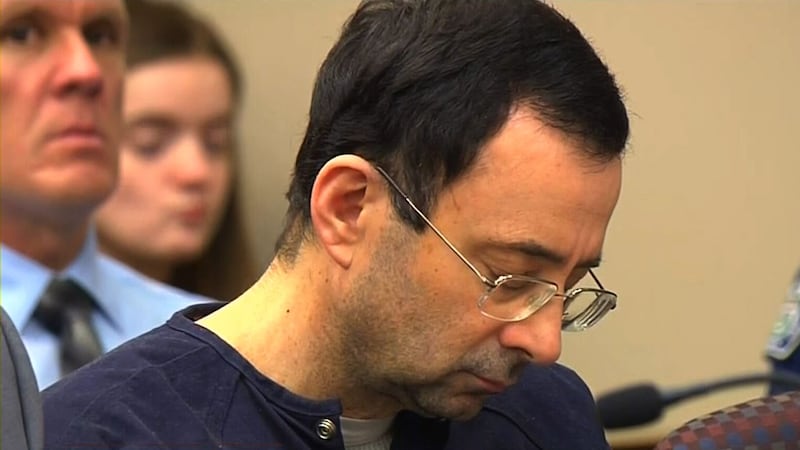 Published: Feb. 1, 2018 at 5:50 PM EST
The Eaton Co. sentencing hearing for Larry Nassar continued Friday.
Judge Cunningham addressed Nassar Attorney Shannon Smith's comments Thursday when she said she doubted claims from the survivors. Cunningham says it's unfortunate the comments were made during the sentencing hearing.
Valerie Webb was the first to speak Friday. She also
at the Ingham County sentencing hearing.
She was 4 years old when she started gymnastics, and joined Twistars when she was 7. She has had 7 back surgeries, "so some treatment that was." She questions why a doctor wouldn't have given her the best help possible. "you made me think you were helping me, while all along you were helping yourself."
Melissa Vigogne was joined at the podium with her husband.
"His power over me stops now," she was a gymnast for 16 years, then a coach, then a judge. She met Nassar in 1999 after a car accident that ended her gymnastic season. The injury prevented her from even stepping foot in the gym, and she "needed a miracle."
When Nassar treated her he requested that she remove all of her clothes. Nassar gained her trust during three days of appointments to help her injury.
She had a second car accident, and returned to Nassar for treatment. "Everyone practically worshiped him," she said referring to Nassar. Her mother had been with her at the treatments, but had to go back to work so she could not stay. It was then that she says Nassar's treatment style changed, and the abuse began.
A few weeks later, despite Nassar's 'treatment', her pain returned and she says she had to take vicodin. She was disabled for years. "I lost career, passion, I near lost my life," she says about her pain.
She had stayed in touch with Nassar before the allegations came out. She notes that Instagram often reminds her that Nassar has liked more of her pictures than anyone else.
Vigogne struggles with PTSD, and anxiety. She says despite the fact that Nassar abused her once, she relives it hundreds of time. She says the army of survivors helped her go from feeling powerless, to powerful. "Gymnasts don't give up."
"It should not have taken 20 years to stop this man." She wants all parties held responsible for what Nassar did, and wants to guarantee that something like this never happens again.
She requests that the judge give Nassar the maximum sentence possible. "Because it says that every survivor is important."
"Often the most dangerous people in our lives are the ones that we trust, the ones that we know." She says that Nassar is a sexual predator, and his time is up.
Two sisters were the next to speak. Their other sister spoke at the Ingham County Sentencing hearing. They were joined by their parents at the podium.
Lauren Margraves spoke first. She was a gymnast at Twistars. When the news first broke about Nassar, she instantly remembered a time when she was 13 and Nassar abused her. "Unfortunately, you were my doctor," she said to Nassar. She says at first, she thought it was an accident - but she knows now that it was intentional.
She says her sisters struggle discussing what happened to them, and she has trouble focusing on her studies. Her parents feel regret, and guilt that Margraves says will never go away. "Nothing can ever be done to undo what you did to my sisters, and me, and my friends." She says Nassar has underestimated how powerful, and strong, her and the other survivors are. "You are nothing to me, or anyone on this planet."
She says that she will get through this.
Madison Margraves spoke next. She suffered a back injury in the spring of 2014, "like many other survivors I was assaulted by Larry Nassar and didn't even know it." She recalls Nassar making a comment about how he had a young patient who trusted him so much that she would undress without him having to ask. Madison says this was a red flag.
After an appointment with Nassar, her back was not better. Nassar suggested acupuncture. He told her that the way her pain was he would have to put acupuncture needles near, and around her private area.
She says to her fellow survivors, "you showed me that there is a power and there is a voice, I will be forever grateful for that."
Court was disrupted when the father of three victims requested five minutes alone in a room with Nassar before lunging at the defendant.
Eaton Co. Sheriff's deputies removed him from the courtroom.
Taylor Helber says she was abused when she was 12. "How, why, and if this happened to them." She says the experience made her understand that everyone's voice counts, and everyone deserves to be heard. Her heart goes out to the victims of sexual assault who were not believed.
She says she hates what Nassar did to her, her friends, and the community. "You fostered a mind rampant with self-doubt." She believes that the survivors will move on from this, and will stay strong. "May God have mercy on you."
Mother, Lavonda Simon, spoke on behalf of her daughter, Megan Simon, who passed away in 2012, when she was 23. She was emotional as she described an appointment with Nassar, and the pain he caused. "I often wonder how your wife, and your three kids can survive what you've done to their lives along with all of these beautiful girls."
Mariah McCalian spoke next. She says it took some time to remember the abuse. She saw Nassar once when she was 14. "That day in your office my mom sat there, you made jokes during my treatment that were somehow supposed to justify you groping my butt." She felt uncomfortable, but because he was a doctor, and her mom was in the room she tried to ignore her feelings. It wasn't until she was leaving the room, and Nassar slapped her behind that she realized the contact was inappropriate.
Brittney Schumann spoke next.
She says due to her injuries she suffered from depression for a long time, but now she is at peace. Her injuries took her away from the sport that would have exposed her to more abuse.
She met Nassar whens he was 11-years-old. He was treating her for a hamstring injury when he abused her. Schumann says this happened multiple times. Schumann came forward to empower herself, and the people she cares about.
She says that Nassar claimed to have done thousands of vaginal exams in an interview. "These were not treatments," she says normally that type of treatment would require a discussion with the patient. "What happened to informed consent, parental consent," she says that no physician would support Nassar's claim of proper treatment. "Shame on you."
"I had no knowledge of what you were about to do, and you certainly did not have my consent," she continues to call out USA Gymnastics for allowing young girls be allowed in a room alone with Nassar.
"You're clearly not sorry for what you've done, you're sorry you got caught," she says to Nassar. She requests that Nassar be given the maximum sentence.
Victim 235 requested that the cameras stay off her as she shared her statement.
She's not sure if she even yet fully comprehends what happened to her. She loved dance, ballet specifically. She was 15 when she began to experience back pain, and many doctors told her that nothing was wrong. "Dance wasn't a hobby for me, it was my life."
She remembers walking into Nassar's office at MSU. "There was one room that had a special picture of ballerinas on the wall," that was her favorite. Nassar gained her trust, and used ballet terminology. "The appointments themselves are now a blur to me," she does, however, remember the abuse. The office assistants would give her baggy clothes to wear, and Nassar would have her lay on her stomach while he abused her. "The actual appointments with him caused more pain than healing."
Victim 235 admits she originally defended Nassar when the allegations first came out. "In the last few weeks you have turned my world upside down." She says Nassar deceived the world.
Kaitlyn Basel went to see Nassar at MSU, and he confirmed to her that she had a serious injury that needed treatment. Nassar did not describe what he was going to do, and the next time she saw him Nassar sexually assaulted her for 45 minutes when she was 12 years old.
She felt Nassar was creepy, and she didn't want to go back to see him again. But Nassar was highly recommended. She put the abuse out of her mind until she was 14, and she says because she was older she finally understood what had happened to her. "He had used my innocence to take advantage of me."
Basel says she tried to bring the abuse up to her mother, but her mom said that it was a medical procedure and that she was just overreacting. Because of this she didn't trust any male doctor, "I would be filled with a sense of panic and dread fearing that they would take advantage of me the way Nassar did." She didn't speak up again, because she didn't think anyone would believe her.
"As more time passed I fell into a deeper, and deeper depression." She struggles with depression, eating disorders, and self-harm. She says the scars are reminders of what Nassar did to her. The abuse has caused a strain in the relationship between her and her parents. Her anxiety, and depression got so bad when she began college that she had to drop out and move back home.
"Larry Nassar is a master of manipulation. This monster found the perfect way to prey on young girls," she says to those who question why it would take so long for survivors to come forward. "When we finally realized that we had been abused it was humiliating."
"We are a force, and we refuse to be silenced." She says that Nassar has hurt too many women, and that he deserves to spend the rest of his life in prison for what he has done.
Jennifer Johnstone is out of state, and her parents spoke on behalf.
She had four appointments with Nassar. "I was 15 and I put all my trust into him, because he was my doctor. And why would my doctor hurt me? But he did." Johnstone says it took her a long time for her to come forward, because she didn't know any better.
During the time of the abuse her parents were going through a divorce, and she didn't want to put more stress on them. "This is me, coming forward, not as a victim, but as a survivor of your disgusting crimes." She says she does not want Nassar's petty apology, because she does not believe that he would mean it.
Kathline Lovellette spoke next. She originally wanted to remain anonymous, but the other public speakers gave her the courage to come forward without anonymity. Her husband, and her daughters, are her first priority.
She was in her 30's when she was abused by Nassar. "I am taking the chance that the support I have from my family and friends will far surpass the judgement put upon me." She wants her daughters to know that they have a voice, and they should come forward if there's something they feel is wrong.
Lovellette suffers from chronic back pain that started many years ago. She says she's tried many different types of treatment, and nothing worked. Eventually she was referred to Nassar, "he was supposed to be the best in the country."
She says the first time Nassar violated her was without warning, without explanation, and it left her frozen not knowing what to think. "I thought about him treating gymnasts, and convinced myself he wasn't doing this to those young girls." Nassar would hug her at the end of the visits, and he earned her trust enough that she suppressed her feelings of concern.
She says the procedure didn't help, and she still suffers from back pain. However, the back pain "pales in comparison" to the emotional trauma she suffered then, and suffers now. "I'm an adult who should have known better." Lovellette feels guilty for not telling someone, and wonders if they would have listened to an adult.
"I realized I was a sexual assault victim," when she read the first reports of Nassar's abuse. She feels that she is not the only older woman who Nassar assaulted. She still struggles with anxiety, and depression - and she worries about her daughters.
"Listening to survivors give impact statements was heartbreaking," she wants the survivors and the parents to know that it wasn't their fault. "I find some relief knowing Larry will rot in jail the rest of his life." She continues to call out USAG, and MSU. "This could have ended twenty years ago," she says Nassar could not have done all this by himself - and that there were people enabling him. She hopes her statement will help bring change to society, and the culture of sexual abuse.
"Why is it so difficult to do the right thing?" She asks of coaches, trainers, psychologists, and others. She questions why it was so hard for the proper forms to be filled out, for Nassar to be investigated. "People believed Larry's reputation was worth more than doing the right thing."
She refuses to let the abuse by Nassar to define her. "I will define myself."
Victim 210's statement was shared on her behalf as she wanted to stay anonymous.
She began seeing Nassar in 2012. Nassar gave her a plush toy, signed by one of her favorite gymnasts. "He would tell me how he would see gymnasts for free sometimes." She says Nassar used her, and her fathers trust to hurt and deceive them.
She felt that the 'treatments' were odd, but because everyone said he was the best doctor she had to trust him. "He took advantage of both me, and my father," and used his status to hurt her, she says. She blamed herself for months after the abuse, and struggled with depression and suicidal thoughts.
"I now know that it was not my fault," she calls Nassar a monster, and a master manipulator. She hates going to any doctor, no matter how sick she is. She says Nassar is the only one to blame. "Larry forever damaged my trust, he took my confidence, and I don't know if I will ever be able to love myself the same way as before."
She says that she will become stronger, and that it brings her relief to know that Nassar will never hurt another girl. Writing the statement, and having her voice heard has helped her heal and move forward.
Victim 210's father spoke next. He was joined at the podium with his wife, and coach.
"My wife and I feel tremendous guilt, and are hurting badly inside," They question how they could have let the abuse happen to their daughter. They were told by many that Nassar was a good person, and they believed that Nassar could truly help their daughter.
The father says he personally took his daughter to appointments with Nassar over a few years. Despite the fact that his daughter was not getting better, they still trusted Nassar. His daughter said Nassar was not helping, but they told her to be patient - that things would get better. The treatments had no effect on their daughters health. He says Nassar manipulated them.
Initially, he didn't believe the accusations against Nassar. As more girls came forward, he finally accepted that Nassar was guilty. He asked his daughter again if she was a victim, when she said no - he believed her. He believed that Nassar hurt the other girls, but because of their trust he didn't hurt his daughter. Finally, his daughter came forward with the truth. "I feel so much guilt, this has changed me forever. How could I have failed as a parent?"
"I will carry this guilt for the rest of my life." He regrets not pushing harder for the truth. Victim 210 told her father that one of the reasons she didn't come forward right away was because she didn't want her father to feel guilty.
He requests the judge to give Nassar the maximum sentence. "Shame on you," he says to MSU, and USAG.
"Larry, I thought I knew you well and you made me believe that you were a religious person and that you believed in god. if you truly have faith you know that even the worst of criminals still have a path to heaven on their judgment day because god loves all human beings equally." He says that Nassar needs to repent, and he believes that the plea deal is not good enough for him, the victims, or God.
The father asks that Nassar acknowledge that each victim statement as true during final sentencing, and ask for forgiveness.
Ashleigh Weiszbrod, a minor, spoke next. She was joined at the podium with her parents.
Gabriela Ralph spoke next. She says the other survivors who spoke helped her to find her own voice. Her coach suggested that she visit Nassar for pain she was experiencing. Nassar said he was going to try a technique that he 'pioneered,' and for a half an hour he abused her. "This is not what he said he would be doing," and she was shocked and nauseated.
She says Nassar stole her ability to trust herself. She saw him again when she was 18, during this appointment he groped her breast which triggered memories of her past experience with Nassar. "I could remember every single thought," she says recalling the abuse.
She struggles with depression, and anxiety. "I started seeing a therapist, and psychiatrist when I was 13." By her 14 birthday she was addicted to opioids, and eventually became addicted to heroin. When she was 19 she overdosed. After the overdose she managed to get clean. "I learned how to live without drugs." She has been sober for over two years.
She says she is ashamed of Michigan State University, "money should never be more important than our lives." She says that Nassar has caused her a tremendous amount of pain, and for herself, not for him, she forgives him.
The next victim spoke anonymously during the Ingham County sentencing hearing, she is a minor. Erin Poliquin was joined by her mother Megan Thieman-Poliquin. She has chosen to come forward because she still felt afraid of Nassar, and felt he still had a hold over her. She is 15 years old, and has decided that she is not going to Michigan State University for college. This is the fourth victim impact statement she has submitted to the court.
She started seeing Nassar when she was 13. She trusted that nobody would hurt her, and she believed in the good of human kind. She says Nassar has changed her entire life, she has self harmed and has dealt with suicidal thoughts. "Both of these scars will stay with me the rest of my life." She struggles with anxiety, and has a hard time being in certain classes. "Sometimes they think I'm faking, sometimes they think I'm just trying to be difficult, I'm not."
"You are a pathetic shell of a human being, I am disgusted with you," she says to Nassar. "The saddest part of this disaster you created, is that I feel bad for you." She wonders if Nassar will be assaulted in prison, but she does not wish that on him. "What goes around, comes around," she says it's likely that Nassar will be abused. "Now, and hopefully forever, I am done talking to you."
Lunch break. Court will resume at 1:00pm.
12:06pm
Randall Margraves was in front of judge Cunningham after being held in contempt of court. He is the father of three victims, and lunged at Nassar during the proceedings. Margraves has been held in a holding cell since being taken down by Sheriff's Deputies.
Judge Cunningham pointed out that Margraves heard new information during the hearing. She does not tolerate, or condone, any violent action. "What's best here is that we take this horrible tragedy and we learn to educate people."
He was found in contempt of court, and has been released without a fine or jail time. He apologized to the court for his actions.
Court resumed after a short break. Victim 48's statement was read on her behalf. She was in high school when she was injured during a practice when she first saw Nassar. He abused her for three years. "I do not trust doctors because of how he took advantage of me," she says Nassar makes her feel dirty, disgusting, and ashamed. "I see myself as damaged and tainted."
"Before I met Larry Nassar I was an honor roll student," she was socially active, but because of the abuse she lost her ambition and barely graduated high school. Her mother admitted that she stopped going with her to her appointments because what Nassar was doing made her uncomfortable. She didn't go into detail about the abuse, because she believes that Nassar would gain pleasure from listening to her describe it.
She says Nassar made her wear old boxers with velcro on the sides, she wonders if they were Nassar's personal boxers.
Emily Winter shared her statement via a video.
In 2001, when she was 13, she heard a pop in her hip. This caused her extreme pain, despite being told by doctors that she was fine. Eventually a physical therapist recommended Nassar. She said at that age, she was unable to process the abuse - but she never forgot. "It infuriates me that 16 years after my appointments with Nassar I lay awake at night trying to comprehend what happened." She wonders how she couldn't recognize what was happening, but she understands now - and it "makes me sick."
"You had the power, and position to help and to heal but you chose to harm and to destroy," she says to Nassar. "Why? How could you take any pleasure in inflicting pain and humiliation on others?" She says Nassar's "reign of terror" should have ended 20 years ago, and she would have never met him. She is grateful for those who spoke before her, because when she finally came forward she was believed.
She hopes that by sharing her story, it will give others the courage to speak their truth. Winter requests that the Judge give Nassar the maximum sentence. "I make it my mission to live a full, happy, and engaged life." She wants to help educate, and protect the young and vulnerable.
The father of a survivor, Ashley Erikson, was the next to speak. His daughter already shared her statement in Ingham County.
He has trust issues with doctors, and does not trust the university his daughter attended anymore. "I know none of us will never fully recover, or forget what has been done by you, Larry." But he hopes that the survivors will continue to heal.
The mother of Ashley spoke next. She was in the room while Nassar abused her daughter. "Their voices have touched this nation," she says about the suvivors statements. They gave her the strength to share her message. Her daughter was a gymnast since she was 8, and in college was a cheerleader.
Ashley broke her foot in 1999 when she was 11, and Nassar's then wife referred them to Nassar. She says Nassar groomed them to trust him - and they believed that they wanted their daughter to heal. They shared family stories, and Nassar gave their daughter gifts from the Olympics. She says Nassar called Ashley his miracle patient. They realized the truth when the first reports of Nassar's abuse came out.
She questions how many of the appointments Nassar had were necessary. She wonders how much money was spent on appointments that were solely for Nassar's pleasure. "How could I have let this happen to my precious daughter," she fears that she failed her own daughter. "I wondered why you always sent your medical students out of the room," she says she knows now. "How could I have let this happen to my child," she says the guilt will never leave her.
"Young girls and women are not playthings. You Larry Nassar messed with the wrong group of women. I'm sure you have figured that out by now. You got caught, and you must spend the rest of your life in prison," she hopes the culture will change.
Katie Black spoke next. She went to Nassar when she was having back pain. "He wasn't just interested in my injury, he was interested in me." She says that Nassar made her change into loose shorts. She also says that Nassar commented on, and was fascinated by how flexible she was. He told her to wear shorts or leggings to her following appointments because otherwise he would make her change into the provided shorts.
Her pain never went away, and physical therapy didn't help. Even walking to class in high school was painful. In 2017 she had ankle reconstruction surgery, and she can finally run without pain - and she can jump. She questions why she had to do the "stupid exercises," when surgery is what she needed. Eventually she quit gymnastics, and she says she will regret it for the rest of her life.
She has struggled with social anxiety, and generalized anxiety. "He's a nightmare that won't end, but maybe I'll wake up after this."
Her back never stopped hurting, the amount of pain never decreased - she says she didn't understand why at the time, but she hated being at the appointments with Nassar. Eventually she started telling Nassar that her back didn't hurt anymore - even though it did - so that he wouldn't touch her. "Soon I couldn't stand even being in his office," and she stopped going to her sisters appointments with her. "I repressed any semblance of knowledge about him," but she thinks she still knew.
She feels guilt for not being with her sister. "I left her when she needed me, when she didn't even know she needed my protection." Black would have severe anxiety before her sister would leave for her appointments. She says her sister denies that Nassar abused her, but Katie says she'll never really know the truth. "She's my sister and we're supposed to help each other," she says the guilt of leaving her will follow her around forever.
Black does not blame her father for what happened, and she believes that if he wasn't there the abuse would have been worse. "It felt like the more uncomfortable I was the more talkative he [Nassar] was with my family." Black requests, for sentencing, that Nassar is given a year for each person that came forward.
Victim 248 chose to remain anonymous, her statement was read on her behalf.
"I would always find a way to go back there, in your office. I remember trusting you, and being fascinated by your work." When Victim 248 was a gymnast in high school she began having back problems. "My father took me to my first appointment, this is when my evaluation was done." She was impressed by the pictures, and memorabilia on the walls in his office. Nassar told her at that first appointment that soon she would be pain free.
Nassar told her that he had a non-traditional technique, and that it was the best treatment for her back problems. "Saying these appointments were extremely uncomfortable is an understatement," she says she prayed each appointment would end quickly - and she felt dirty. She recalls that when people would enter the office he would quickly cover her exposed private areas.
"Why would I question the go-to doctor who worked with Olympic gymnasts?" Back then she trusted Nassar, and believed that the 'manipulation' would help ease her pain. It wasn't until one week ago that she realized she was a victim too. "To lock up those thoughts and feelings and never think of them again."
"What you did to me wasn't for my benefit," she believes it was for his own selfish sexual gratification. "Years later I felt dirtier than I have ever felt before." She asked her husband not to tell anyone that she used to be a gymnast. "I've known my husband for 17 years now, and we've been together for 15," she says the first time she saw her husband cry was when she told him about the abuse.
Victim 252. It was in 1988 and 1990 when the abuse occurred, she was between 10 and 12 years old. She says Nassar made her take a bath at his apartment - the other girls had done it, so she didn't say anything even though she was uncomfortable. She says the 'treatment' did address the pain in her tailbone, but "this does not mean it was not sexual assault."
"I did not realize those areas existed and that anything, let alone your fingers, could go into those areas. You violated me for your own gratification, and the way you did it makes me believe I was not the first." It wasn't until recently, listening to other gymnasts share their stories, that she realized it was almost exactly what happened to her. "You violated me physically, and emotionally." She remembers the abuse, "like it was yesterday."
"This will not defeat me, or define me."
The next statement was read on behalf of Lynlee Phillips. When reports first surfaced about Nassar, she knew it was the truth. She reported the abuse to the Michigan State Police. She has been diagnosed with PTSD, but not from 2002. The PTSD is from the moment she saw the allegations, and knew she had been a victim too.
"He didn't help me - my groin still hurts, and now I'm stuck dealing with this horrific nightmare the rest of my life." She has put off going to doctors due to them being male. The only fertility specialist in the area is male, and she has put off trying to get pregnant because of her anxiety. "I once was strong, lighthearted, and optimistic," she feels forever changed by the abuse.
"I hope to learn from this and use it as a platform to help others."
Cassie Castle's statement was read on her behalf. She began gymnastics at Twistars at the age of 7, and she was 11 when she first became injured - she was immediately taken to Nassar. "We were just feeding the monster with our innocence, allowing him to gain our trust, and to manipulate and abuse us anyway he pleased."
After six appointments Nassar convinced her mother to leave the room. "I didn't start to realize that anything was wrong until I was 13," she was bleeding onto her leotard. When her mother asked Nassar about it, she says he explained it away. Castle would argue, and wouldn't want to go to appointments with Nassar. "Little did she know that she was sending me away to my abuser."
When Castle was 15 her mother began to vocally question Nassar's 'treatments.' This is when Nassar convinced Castle to quit gymnastics, telling her that if she continued she could end up paralyzed. "I went into a spiraling depression, which required years of therapy." When the case first broke, she had an "ah-ha moment."
"I am strong. I am a woman who will carry my scars, but they will no longer be my wounds."
Sarah Allen's statement was read on her behalf. She is grateful for the opportunity to share her story, "this man is not worth taking time off, and using my paid time off at work to be there." Allen was a gymnast, and she was told that Nassar was the best doctor. She was 10 years old the first time Nassar abused her - it happened three other times.
"My parents stood up for you, Larry. Lots of gym parents, coaches, and athletes, stood up for you." When she reminded her parents that he did that procedure to her, they told her that it was true treatment. Since the other stories have been shared her parents finally understand, and have not stopped apologizing.
Allen has a deep fear of someone molesting her children, and she now understands that fear stems from her own abuse. "You are a disgusting human being, and I could not be happier that you will be locked away for the rest of your life."
Anna Ludes' statement was read on her behalf.
Victim 33's statement was read on her behalf.
Alaina Bamfield's statement was read on her behalf.
Victim 253's statement was read on her behalf.
Victim 250's statement was read on her behalf.
Elizabeth's statement was read on her behalf.
She was in 5th grade when she was first abused by Nassar. She didn't understand it then, but she "sure as heck" understands it now. "You acted as my friend, but little did I know that you were slowly grooming me for your own good."
She says Nassar made her believe that after-hour office visits, and at home visits were acceptable, she says she understands now that they were not. "My parents, they feel guilty, and they didn't do a single thing wrong."
Larissa Boyce shared a second statement. She also spoke on
.
Rachael Denhollander shared the final victim impact statement. This is her third impact statement. She was one of the first women to publicly accuse Larry Nassar of sexual abuse.
News 10's Clayton Cummins was tweeting live from the courtroom. (See his tweets below or follow them here:
)