Michigan-based product could speed up pothole repairs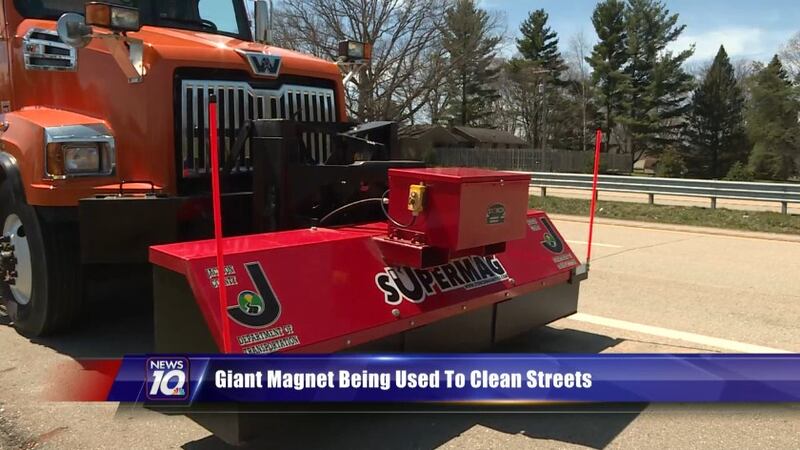 Published: Apr. 22, 2019 at 2:59 PM EDT
The answer to dramatically speeding up pothole repairs is a Michigan-made device called SuperMag.
SuperMag is powerful industrial-sized magnet, which can be front-mounted or towed not only on highway maintenance vehicles, but it can also be put on a snow plow.
SuperMag is the innovative device developed by Storch Magnetics, headquartered in Livonia, Michigan.
It is a potential game-changer for states such as Michigan, which has a high number of annual pothole repairs.
"It's amazing how much hazardous debris you encounter on the shoulder of our roads," said Storch Magnetics CEO Matt Carr.
He added, "This is particularly true after snow plows and sweepers have pushed these items off to the side when clearing snow and ice during winter."
The debris is often metal items, wires, and other materials.
Pothole repair and road maintenance crews experience an average of one flat tire every three hours on the road,
While it costs up to $750 to repair and replace a maintenance vehicle tire, the more significant loss is the time that crews are idled by a breakdown.
The company estimates that at a cost of less than $15,000 one SuperMag used by a road maintenance department fleet can save taxpayers hundreds of thousands of dollars when used over years.
A road crew using this magnet would place it on the lead vehicle of a pothole repair team so that hazardous items are magnetically removed from the road, virtually eliminating the threat of a flat tire from road debris.
One transportation department using SuperMag is the Jackson County Department of Transportation.
The county reports that it was experiencing a flat tire about 90 percent of the time it had a crew heading out for pothole repair.
Jackson County DOT has estimated that after using the device for approximately one year the cost of the magnet has been paid just on tire repair savings alone.
Other state organizations using SuperMag include: Washtenaw County in Michigan, the Iowa and Maryland Departments of Transportation, the New Jersey Transit Authority and similar commissions in Colorado, Ohio, Texas.