Michigan Connections Academy celebrates 10th anniversary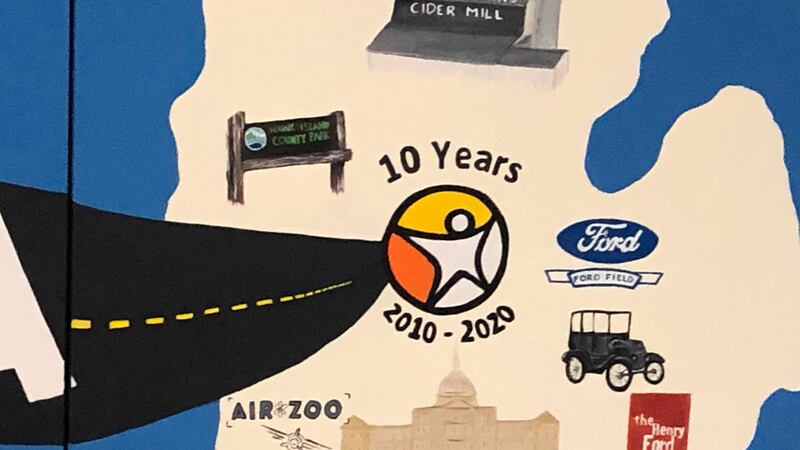 Published: Sep. 20, 2019 at 4:34 AM EDT
In this edition of Schools Rule, WILX News 10 is focusing on an online school that's 10 years in the making.
Michigan Connections Academy is celebrating their 10th school year and they are celebrating it with a new addition.
Michigan Connections Academy is an online school but that hasn't stopped them and one of their teachers from commemorating their 10 year anniversary.
Erin Stirling-McDonald is the Art Teacher for grades 6 through 12 at Michigan Connections Academy. She painted a mural for the school. It took her 60 hours to complete and she did it all while planning a wedding.
"I was really honored," said Stirling-McDonald.
The mural is to celebrate 10 years of Michigan Connections Academy. It features field trips the students have gone on-and the path to success.
"This is for all of us," said Stirling-McDonald. "I never imagined that i would be creating a big piece for our school that would be displayed here. So I was really honored. It means a lot to have a piece of my art displayed here for our school."
Superintendent Bryan Klochack says the school would not be what it is without their teachers, like Stirling-McDonald.
"They are dedicated, they have a vision," said Superintendent Klochack. "They have a plan and we're really fortunate to have who we have here."
That includes the teachers who have been with MICA since the beginning.
"When I first got this job, I really didn't know what i was getting into," said Lisa Wolfiner, a High School Biology teacher who has been with Michigan Connections Academy since the 2010-2011 school year. "I don't think anybody did, because we were really one of the first schools to open in Michigan for online."
"In a traditional school, you find yourself teaching to the middle," said John Woodworth, a first grade teacher who has been with the school since 2010-2011 school year. "You don't have time to put into those individual kids that really need the support. Here you do."
Michigan Connections Academy says they are more than ready for the 2019-2020 school year.
"I really like the flexibility for my role as an art teacher here, but also for the students," said Stirling-McDonald. "I think it's really powerful to have that flexibility as an option for them to complete their schooling this way."
For more information on Michigan Connections Academy,
Copyright 2019 WILX. All rights reserved. The Associated Press contributed to this report.