Mason reacts to Hollywood taking over Downtown for a day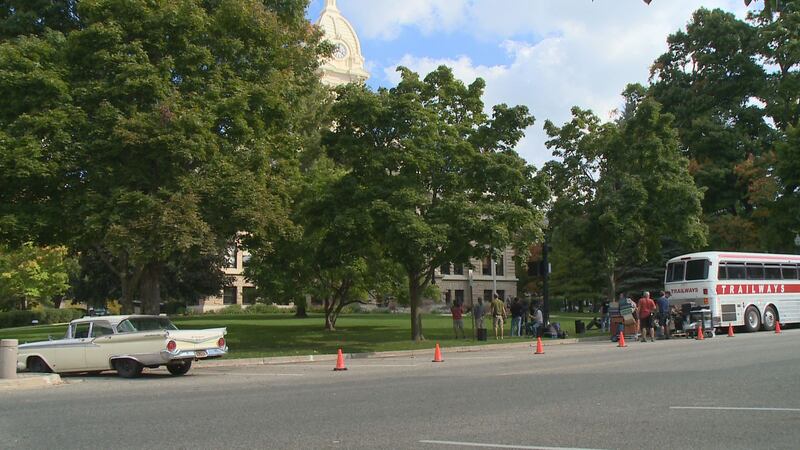 Published: Oct. 4, 2016 at 10:47 PM EDT
It's a movie about Detroit's 1967 race riots. Filmed mostly in Boston.
Except, of course, two highly anticipated scenes shot in Mason, Mich.
"We have been very excited for it to be down here and be part of it," Teresa Carl, who works in a building so close to the filming she and her coworkers had to leave work early to stay out of the filmakers' shot.
The movie is called, for now, Untitled Detroit Project.
Filming outside the Ingham County Courthouse took about two hours. Since the background had to look realistic for the time period, Downtown Mason was transported back in time. "I absolutely love the 60s, the 60's outfits, the 60's cars, it's really neat," Dominique Powers, who lives in a loft overlooking the film set, said. "It's really cool to see that come to Mason, and being in this atmosphere makes you feel like you were in that time for sure."
Since it's about Michigan's history, people in Mason say they are happy mid-Michigan got to be part of it. "It's really awesome that they're bringing it that close to home, just incorporating as much of Michigan as they can," Powers said.
Mason played a part in the race riots. One of the Detroit Police Officers involved in the events of 1967 was tried there for first degree murder.
"It's really neat that they're turning it into a movie for a lot of people that haven't been a part of that or didn't even know what happened with the riots, just an education for a lot of people," Powers said.
People watching the production say they are more likely to see the movie now, and, since just about the whole town turned out for a first-row seat to behind-the-scenes, there might be a lot more tickets sold for the first-row seats to the final production.