MSU's FRIB has potential to "make the world a better place"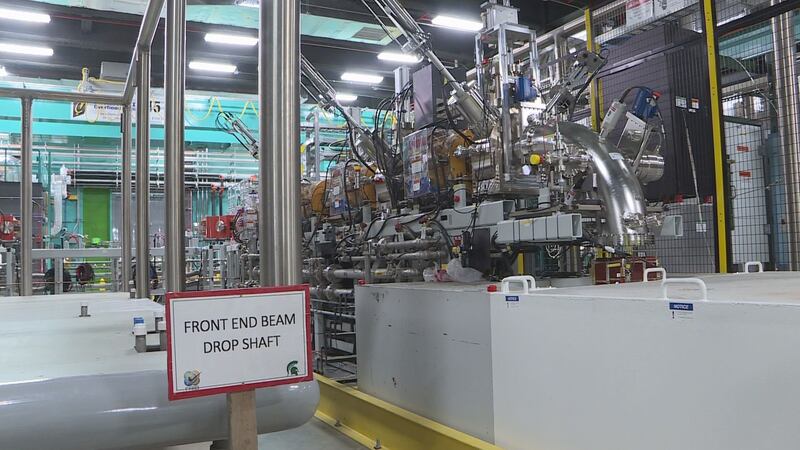 Published: Aug. 15, 2018 at 4:50 PM EDT
Michigan State University will soon have something that no other place in the world has.
The Facility for Rare Isotope Beams or "FRIB" is expected to have a major impact on the scientific world.
Scientists say that it has the ability to make discoveries that will make the world a better place.
"It's amazing to be a part of something this big. FRIB is the next generation facility for isotopes in the country and when its done its going to be the most powerful accelerator in the world," Artemis Spyrou, Associate Director for Education and Outreach said.
The 700 million dollar facility, which has been in the works for over a decade is the only one of its kind. Simply put, the series of machines work together to speed up isotopes at about half the speed of light. Then, they are smashed into another material. Once they break into pieces, scientists and students are able to study the new materials.
"You can take classes and then in the afternoon work in the world-class lab. So its a magnet to get people excited about science or certain types of engineering that is not so common in Mid-Michigan or the country," Laboratory Director Thomas Glasmache said.
Scientists say that this won't only have an impact here in Mid-Michigan, but all over the world.
"So I can't tell you how that is going to go in the future, but for sure all this discovery potential is going to be great with effort," Spyrou said.
Those that are going to be using the facility can't help but be excited about the unknown.
"Its the first time that anyone has ever seen these types of isotopes, and that's the exciting thing, to be able to study something that no one has seen before," Spyrou said.
The new materials could be used to make strides in homeland security, medicine, astronomy, research and more. It is expected to be fully operational by 2021.
FRIB is funded by the U.S. Department of Energy, the State of Michigan, and MSU.
It will be open for a tour on Saturday.