MDHHS reports first vaping-related death in Michigan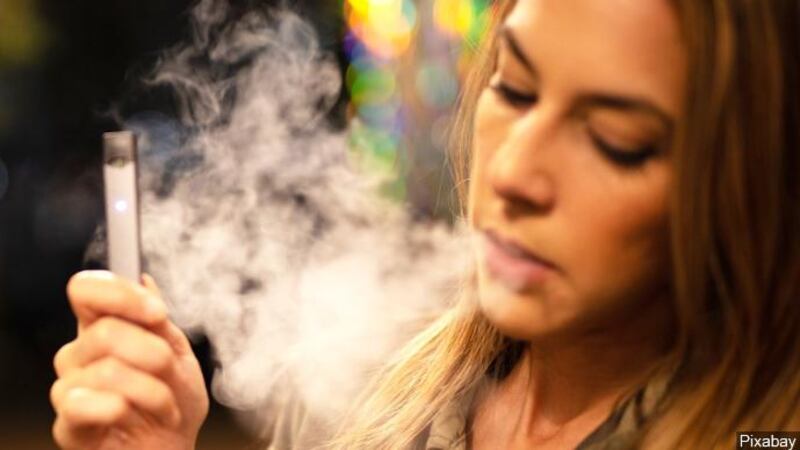 Published: Oct. 4, 2019 at 2:15 PM EDT
The Michigan Department of Health and Human Services (MDHHS) announced the first death associated with the outbreak of vaping-related lung illnesses in the state.
MDHHS was notified about the death of an adult male on Oct. 2.
At this time no other information about the individual has been released.
"We are saddened to announce a death associated with this outbreak," Joneigh Khaldun, chief medical executive and chief deputy for health for MDHHS, said. "To protect public health, we urge people to consider refraining from vaping until the specific cause of the vaping-related severe lung injuries being reported nationwide has been identified."
The MDHHS has released a statement regarding the emergency rules for protection of youth from nicotine addiction.
The statement clarifies that the emergency rules prohibit selling, giving or otherwise distributing flavored nicotine vapor products in the state of Michigan.
The MDHHS said "the rules do not, however, prohibit mere possession of flavored nicotine vapor products in Michigan, nor do they prohibit returns of such products to a wholesaler or manufacturer, or transportation of such products to persons outside the state of Michigan."
"Implementing these rules is a huge step in protecting our kids from the dangerous effects of vaping," said Dr. Joneigh Khaldun, chief medical executive and chief deputy for health for MDHHS. "Right now, too many youth in Michigan have gotten hooked on nicotine because vaping companies are marketing flavors like candy, apple juice and cappuccino. Prohibiting the sale of these flavored nicotine vaping products will help us protect our kids and our overall public health."
The full statement can be viewed
Since the end of August there have been 30 confirmed or probable vaping related illnesses in Michigan.
The age of people effected by this unknown illness is anywhere from 16 to 67.
Doctors say the illnesses resemble an inhalation injury. Symptoms have included shortness of breath, fatigue, chest pain, diarrhea and vomiting.
A statewide ban on flavored vaping juices took effect October 2.
The emergency ban is in response to the spike of illnesses and deaths related to vaping.
The ban prevents the sales of flavored vape products, and was set forth by Governor Gretchen Whitmer.
As of Oct. 1, the Centers for Disease Control and Prevention (CDC) has reported 1,080 cases in 48 states and one territory.
This includes 18 deaths from 15 states, but does not include the Michigan death and several deaths in other states reported to CDC after Oct. 1
According to the CDC, about 75 percent of the cases are linked with vaped with marijuana products in combination with nicotine.
The MDHHS recommends taking steps to take care of yourself:
•Anyone who uses an e-cigarette or vaping product should not buy these products off the street and should never modify or add any substances to these products that are not intended by the manufacturer.
•Youth, young adults and pregnant women should not use e-cigarette or vaping products.
•Adults who do not currently use tobacco products should not start using e-cigarette products.
•Adults who are vaping should not smoke combustible cigarettes as a replacement for nicotine.
Copyright 2019 WILX. All rights reserved.