Local police dept. gets help from NASCAR driver to raise money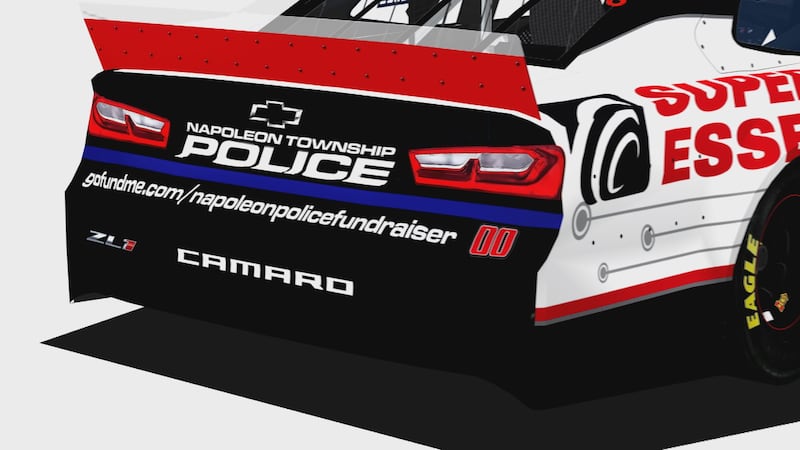 Published: Apr. 10, 2019 at 5:43 PM EDT
A local police department is turning to NASCAR to help raise money for new equipment.
Landon Cassill, and his StarCom racing team will have the Napoleon Township Police Department on his car at Michigan International Speedway in June.
It started when police chief Duaine Pittman met Landon Cassill at the Daytona 500. The chief, the driver's team and sponsor Superior Essex started talking about the price of body cameras. That's when they came up with the idea.
"They just said, this is something we want to be involved in. I didn't ask them for anything, they are just really great people," Napoleon Twp. Police Chief Duaine Pittman said.
The small department in Jackson County has an annual budget of $292,000, which doesn't leave a lot of wiggle room. The chief says they're in desperate need of new body cameras after theirs broke. The nine-year-old in-car cameras are starting to fail too. The department can't afford the replacements.
"We've had a couple of incidents where we may have had a drunk driver where all the video didn't get downloaded or wasn't captured and to go to court on cases like that today...the prosecutor's office, the defense, the jury like to see that footage," he explained.
Enter NASCAR Driver Landon Cassill and his team. A GoFundMe was created and the link will be posted on the back of his car during the races at Michigan International Speedway. Cassill says he was more than happy to support the cause.
"It's really cool, it means a lot. I mean just know how small the department is and they have a limited budget you know but they still have a job to do, they still have to keep their local community safe, no matter how big or small," Cassill said.
The chief says this is the first time he's heard of a driver putting a GoFundMe link on the back of his car. He says the sport has always been supportive of first responders and the military and thinks there will be a lot more Landon Cassill fans in the township after this.
"I think Napoleon is going to be a big fan of Landon, I think a lot of people in the township will be pulling for him, so that's awesome. It's amazing that people you don't know are willing to step up and help," Chief Pittman said.
The police department is made up of three full-time officers, seven part-timers, and six reserve officers. The chief told News 10 he'll be presented a check at the race on June 9th.
The GoFundMe goal is $15,000. That would pay for the three body cameras, the two in-car cameras, and a cloud-based video upload service.
To donate, click