Lansing Maker Week kicks off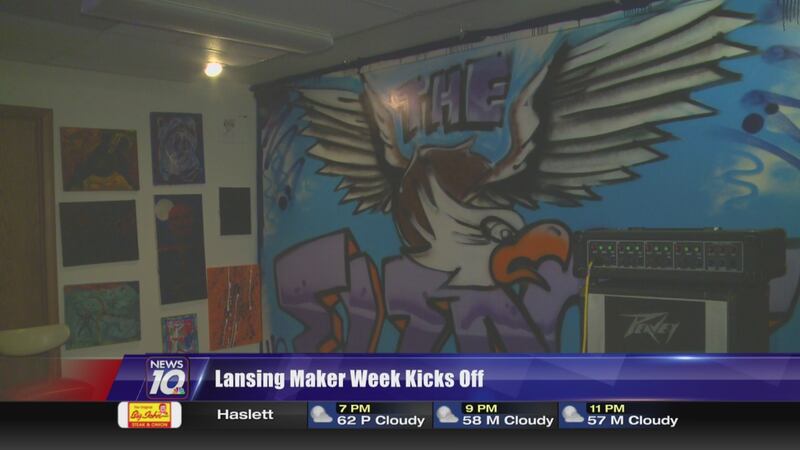 Published: Oct. 2, 2016 at 8:33 PM EDT
Makers like Kimberly Lavon are getting a unique experience to showcase their craft this week.
"Printmaking isn't really that well known here, or really in general," Lavon says. "So being the forefront of that and having this opportunity to like grow the knowledge of printmaking and like show people my work and about me I think that's a good way to fit into maker week."
Lavon makes prints and showed off making some for viewers at the Grand Ledge Fledge where co-owner Jerry Norris says makers of all kinds come and hang out and work on their crafts.
"We have welding stations where we're trying to teach people how to weld, we teach them art, we promote art, we promote music, we tell stories, but we also program, we do robotics, we do power generation," lists Norris, "so we have a very high tech side and a very low tech side."
Makers week co-organizer Tony Willis says those activities altogether embody what the greater Lansing area is all about:
"Lansing has a rich history of making great products," he explains, "from motor vehicles to medical isotopes and everything in between from artists to cooking to food to products and the Lansing makers network, so we really have a unique history of building stuff."
So what Lansing Maker Week aims to achieve is to show people all the unique makers in the area.
"We know the culture is there," states Willis, "but having the actual spotlight put on it and showcasing the moving parts behind it, that gets people interested more so."
With the variety of events throughout the week, people can find all kinds of things to interest them.
A full list of events can be found
. You can visit the website at
.