UPDATE: MSU says students came forward and referred to reported noose incident as Halloween prank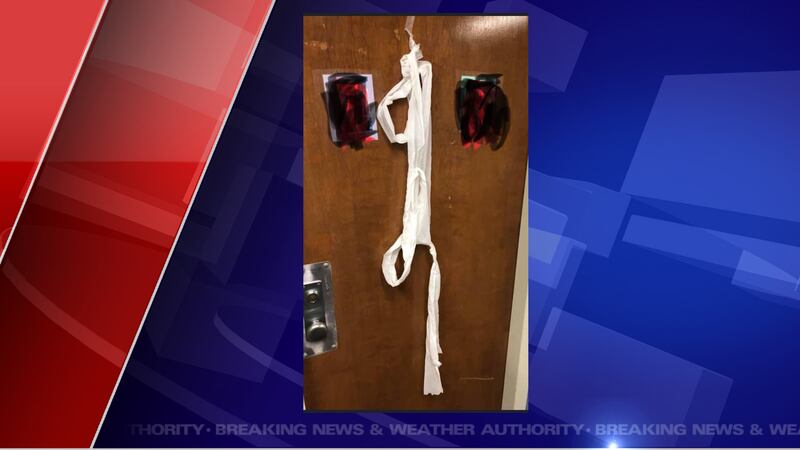 Published: Oct. 21, 2019 at 11:37 AM EDT
What university officials were looking into as a hate crime, has been determined to be a Halloween prank.
Michigan State University sent out a statement regarding the item they thought represented a hate crime on the outside of a dormitory door.
In the statement sent just before 3:00 p.m. on Monday, October 21, University Spokesperson Emily Guerrant said:
"Two African American students living on campus in the Brody neighborhood reported a racial incident over the weekend regarding toilet paper that was left on their door which they believed resembled a noose. MSU Police and members of the Residential and Hospitality Services team responded immediately. After initial discussions, other student residents came forward and volunteered that they had taped up decorations in the hall as part of what they referred to as a Halloween prank, which were not meant to offend anyone or denote any racial bias and were not intended to resemble a noose. The impact on members of our campus community is taken seriously and is being investigated in accordance with university policies."
The university previously said that students had shared feelings of sadness, anger, and dismay over the incident.
"We do not know the intent or motivation of those who defaced the door of the students, however, we do know that it has disrupted a sense of safety and belonging for them," they said in an earlier release.
One student who lives in the dorm said a meeting was held after the incident.
"We had a floor meeting yesterday. She handled it really well, but I could tell she was affected by it," said Matthew Ellsberry, who lives in Bryan Hall.
It's not just that student who's been affected. The incident has had an impact on the MSU community at large.
"I wasn't even the student and it's just been taking a toll on me personally so just imagine how the student feels. She's really overwhelmed," said Sharron Reed-Davis, Black Student Alliance president.
The Twitter account "Black MSU" shared the email from the housing assignment office that said "we do not believe this act was meant to be a symbol of hate or discrimination."
An MSU spokesperson said some students came forward saying they taped it there and referred to it as a Halloween prank.
"You had to sit there and tie a noose together and tape it to someone's door without them realizing it and you call that a Halloween prank, but the only door that you taped it to just happened to be a door of two black women?" Reed-Davis said.
"They said it was a prank and honestly I felt like it wasn't a prank just for the simple fact that, out of all the people, it was on the person of color, a black person's door," Ellsberry said.
Outside Bryan Hall are messages of love and inclusion. The situation has some wondering if there should be cameras in dorm hallways.
"I feel like there should be cameras also not even just for incidents like this, but there's also a lot of robberies and people fighting, people going in dorms, stuff like that," Ellsberry said.
MSU Police and the Office of Institutional Equity are investigating the incident.
A spokesperson said "any student found responsible for a bias incident will face disciplinary action."
The Black Student Alliance is having a meeting Tuesday night for students to come voice their concerns.
The meeting is happening at 6:30 in the Akers Black Caucus room.
The school said there is a
available to students to report such incidents.
The website provides information for reporting bias incidents and education on what can be classified as bias or hate incidents and crimes.
Copyright 2019 WILX. All rights reserved.