Five sensory-friendly Fourth of July tips for kids with autism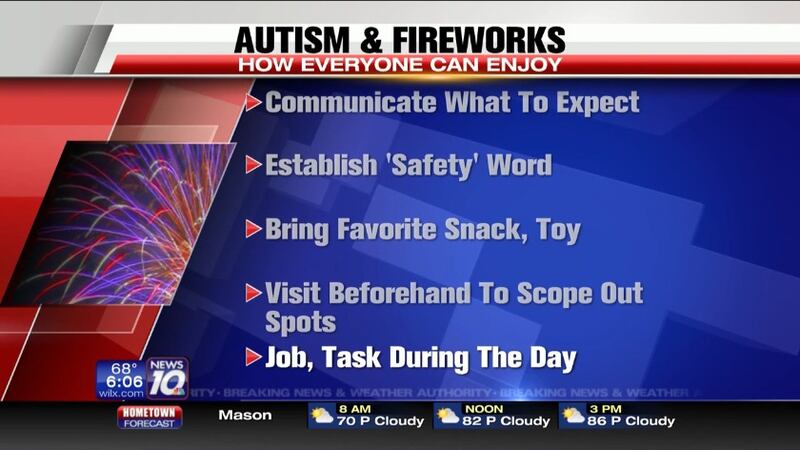 Published: Jun. 26, 2019 at 3:18 PM EDT
The Fourth of July is a time when most people celebrate with parades, fireworks, and loud and bright fireworks, but for a child with autism, this celebration can cause intense and overwhelming meltdowns.
According to a press release from Centria Autism, sensory overload for a child with Autism Spectrum Disorder is best treated with preparation.
Here are five tips from Centria Autism that can help you prepare for the upcoming holiday if you have a child on the autism spectrum:
1. Communicate with your child to help prepare them of what could come. Help your child to understand and envision what is going to be different that day. Start by talking about what your child might expect and if possible, get your child's feedback ahead of time on what your child may feel crosses a line into becoming "too much" for them.
2. Prepare with plans and emotional supports. It might be comforting for the child if they know they can use a code word, flashcard or favored technique when the child senses a situation is close to triggering a behavior. According to the Applied Behavior Analysis, if the child or parent anticipates a common "antecedent" to a behavior, the child can use the code and seek a comforting reinforcement ahead of time. If you're going to be around people who are unfamiliar with your child's diagnosis, do some rehearsal with your child about preparing for and responding to being accidentally bumped, hugged, or play-wrestled with.
3. Bring physical reinforcements. Bringing along personal favorites of your child's usually goes a long way in all situations, not just during new activities. If your child have some favorite toys or snacks, bring them along with you to holiday events. If they start feeling uncomfortable, these items can help them calm down.
4. Prepare for sensory overload. Fireworks can mean big crowds. If your child doesn't do well with crowds because of multiple sensory triggers, there may be a concern that they could run away in an attempt to escape the situation and/or end up getting lost by mistake. It might be easier to set up your viewing spot further in the back from the main attraction area.
5. Anticipate, participate and have fun. For some children, it might be helpful to have a "job" for the day. Being a helper during events, or get-togethers, or being "in charge" of some element of the activity will make them feel more involved and more in control of their experience. For other children, try to give them as much choice as possible in terms of seating, moving around or isolation themselves, with as much supervision as possible. Creating some options for them to decompress can help as well.
For more information, visit
.
Copyright 2019 WILX. All rights reserved.