Bus makes stop in Lansing to rally about health care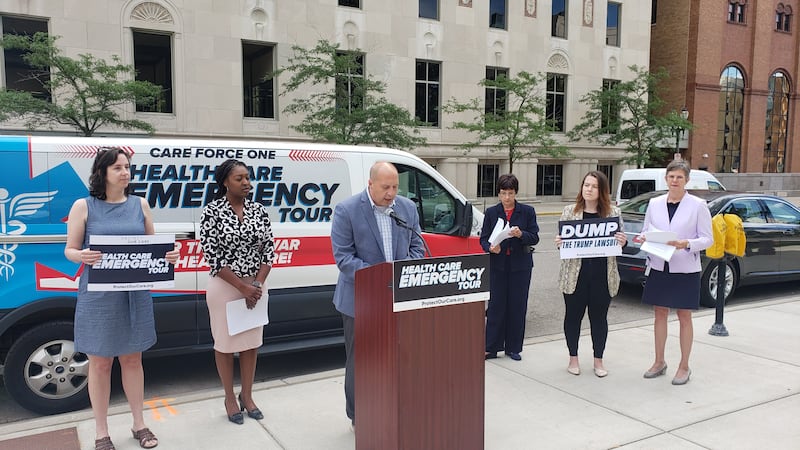 Published: Aug. 14, 2019 at 1:37 PM EDT
"Care Force One" made a stop in Lansing on Wednesday.
It's called the Health care Emergency Bus Tour and they say it's mission is to call attention to the GOP's war on health care.
"Congresswoman Elissa Slotkin has been a leader in passing legislation to lower the costs of prescription drugs, make health care more affordable and strengthen protections for Americans with pre-existing conditions," said Anthony. "Rep. Slotkin and her Democratic colleagues in the U.S. House are leading the fight against Trump's lawsuit to overturn health care that will raise costs and end coverage for millions of Americans."
Speakers in Michigan on August 14 were State Sen. Curtis Hertel (D-East Lansing), State Rep. Sarah Anthony (D-Lansing), State Rep. Julie Brixie (D-Meridian Township), Dr. Farhan Bhatti, CEO and Medical Director of Care Free Medical Lansing and patient advocates, who, according to the release on the event, were highlighting how Trump's lawsuit would harm Michiganders' care.
"The Trump administration continues to do everything it can to undermine the Affordable Care Act and the gains made by the Medicaid expansion and our entire health care system," said Bhatti. "If the Texas v. United States lawsuit is successful, more than 4 million Michiganders with pre-existing conditions will lose their health insurance."
"The health care of millions of Michiganders is at stake in this lawsuit and the fight to preserve the Affordable Care Act is a fight to save lives," said Brixie. "This war on health care fails to account for the benefits the ACA has provided real people and would overturn our health care laws and lead to increased costs, worse coverage and millions of Americans losing their health insurance."
They also want the Democrats' agenda to improve health care and lower costs for Americans.
"Michiganders who depend on the ACA are tired of the repeated attempts to destroy their health care and are speaking out about the emergency the Texas v. United States lawsuit created," said Hertel. "Our message to Republicans today is clear; stop your relentless attacks on our health care and denounce the president's egregious lawsuit."
You can watch the video with link below.