8-year old boy drives sister to McDonald's for a cheeseburger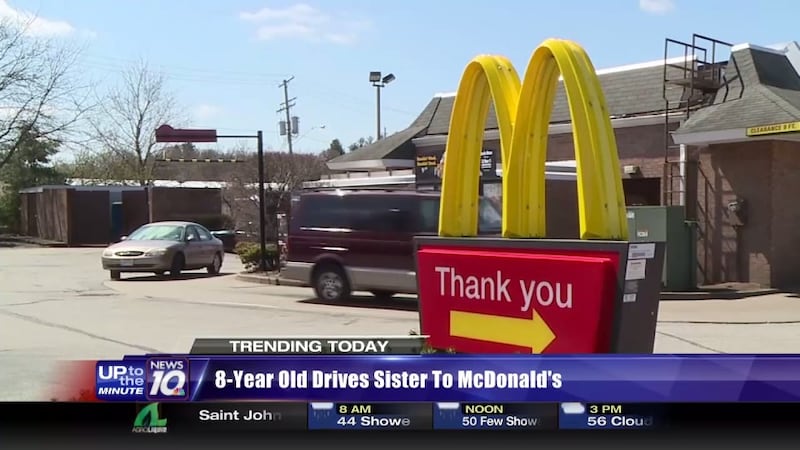 Published: Apr. 13, 2017 at 8:14 AM EDT
An 8-year old boy in Ohio was craving a McDonald's cheeseburger so badly, he grabbed his little sister and they took off in their dad's van.
East Palestine Patrolman Jake Koehler got a call on the radio Sunday night of a kid driving a vehicle. He pulled into the Town's only McDonald's and talked with an 8-year-old boy still behind the wheel. "'You know what you're doing?' And he said, 'Me and my sister really wanted a cheeseburger.'"
The boy had stood on his tiptoes to get the keys and took his 4-year-old sister with him on the food run. Patrolman Koehler still had some questions; "So, then I asked him how he learned to drive. And he said he looked up YouTube videos on how to drive."
The child started on East Martin Street, made one right turn, and went thru four intersections. He didn't hit a thing; even obeyed every traffic signal, stopping for red lights and waiting until they turned green. The entire route was a mile and a half.
Seeing the golden arches sign you could just sense the kid's excitement, but there was still one more step he had to go through, ordering the food. Patrolman Koehler said, "Whenever he pulled up to the first window, employees actually thought they were being pranked."
The parents were not in the back of the van, they were at home. The vehicle was surrounded by adults in the McDonald's parking lot and the boy was crying when Patrolman Koehler started talking to him, realizing he might be in trouble.
East Palestine resident Regis Steiner said, "It's kind of funny on one hand, but being a parent, it'd be kind of scary knowing your 8-year-old son went down through the middle of town and took his 4-year-old sister in your van."
East Palestine resident Colt Lester said, "For him to go out and drive, not break any of the traffic laws, and actually obey them, I'll give him credit for that. Especially learning from a YouTube video, that's something else."
Patrolman Koehler is back on the beat, but he knows this call will be tough to beat. "Honest to god, I've only been a patrolman or a police officer for two years but I don't think I'll have anything like this the rest of my career."
The kids got their cheeseburgers, fries and chicken nuggets before Patrolman Koehler took them to the police station and waited for their parents to pick them up. The boy may get in trouble at home, but police are not filing any charges.