25 arrests made at Richard Spencer's visit to MSU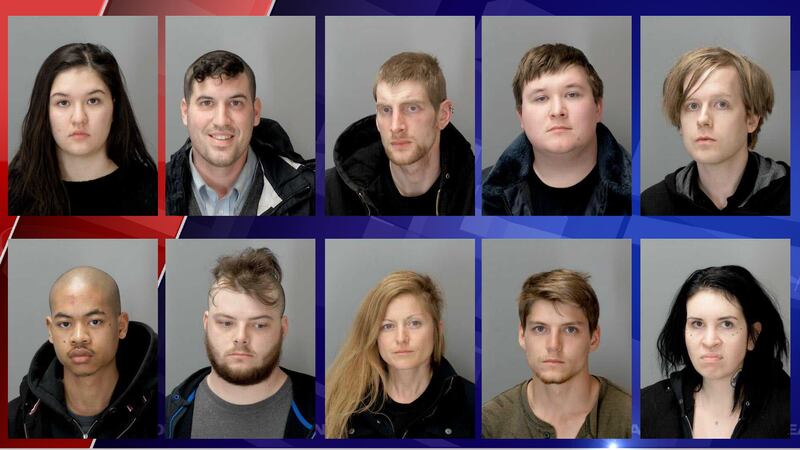 Published: Mar. 6, 2018 at 4:40 AM EST
Protesters clashed with police and supporters of white nationalist Richard Spencer during his visit to Michigan State University.
News 10's Alani Letang was at the pavilion where he spoke Monday. Check out our
from outside the pavilion.
WARNING - Some may find the language in the Facebook Live videos disturbing.
Police say 25 people were arrested Monday. MSU Police Capt. Doug Monette says the arrests range from misdemeanors to felonies. Some charges include weapons violations as well as hindering and obstructing, he said.
13 of them were arrested on felony charges including carrying a concealed weapon and resisting and obstructing police officers. The Ingham County Prosecutor's Office will decide if they'll be charged with a crime. Three MSU police officers and one state trooper were injured when the protesters and Spencer's supports got violent.
20 people have been arraigned so far:
According to MSU Police, about 500 people gathered outside the Pavillion for Agriculture and Livestock Education on campus where Spencer spoke.
Officers from several local law enforcement agencies formed lines outside the auditorium to try to keep the peace and protect people who had tickets as they entered the event. The officers wore helmets and clutched batons.
When a small group of Spencer supporters showed up, protesters rushed to block their path to the building. Both sides screamed insults and obscenities at each other.
Fights broke out as some protesters hurled bottles, rocks, and horse manure to try to block Spencer's supports from entering the building.
Spencer popularized the term "alt-right" to refer to a fringe movement that's a mix of white nationalist and anti-Semitic beliefs.
News 10 tried to talk with people who supported Spencer and his message. Police say there were around two dozen of them who met by the hundreds of protesters. One man said he was on the fence about Spencer as a person but came out of the speech with a better understanding.
"I don't think I'm for or against, I think I'm for free speech. I am for his ability to speak whatever he wants. I came away from this conference thinking that Richard is a guy I wouldn't mind having a beer with. I think he's open to various points of view," said Henry Herskovitz, who attended Spencer's speech.
News 10 and other media outlets were denied access inside the speech. Spencer said at least 150 tickets for the event were handed out, but less than 50 people attended the event.
Spencer claims more people would have attended if they were not intimidated by the threat of violence. At one point, over a thousand people tuned in to watch Spencer's speech online.
Spencer was also trying to get a date set aside for him to speak at the University of Michigan this year. Back in January, the university announced it would not happen this semester, which ends in April. The university said it'll continue to consider a request from Spencer's representatives to look for dates later this year.