Gretchen Whitmer signs Reproductive Health Act into law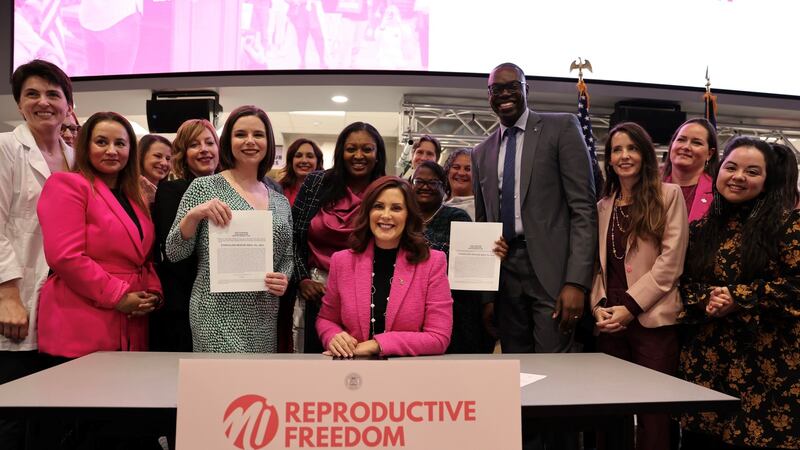 Published: Nov. 21, 2023 at 3:29 PM EST
LANSING, Mich. (WILX) - Governor Gretchen Whitmer signed a slew of bills on Tuesday, protecting certain abortion rights in Michigan.
The package of bills, dubbed the Reproductive Health Act, repealed laws that restricted abortion care as well as guaranteed access to certain types of reproductive care.
The bills repealed Michigan's TRAP laws, which placed specific restrictions on abortion providers, including rules about hallway width, ceiling heights, and janitor closets. "These restrictions jack up costs, especially for independent clinics, and have decreased the number of providers available to Michiganders, especially in Western and Northern Michigan," Whitmer said in a statement.
The bills also repealed a 1931 law that criminalized healthcare providers for prescribing abortion medication. Medication is the most common way abortions are performed. The package also mandated that students at Michigan universities receive "accurate information" regarding reproductive healthcare.
The legislation also repealed a law that required abortion patients to buy separate insurance riders for abortion, "Effectively, the law forced people to pay more out of pocket just in case they were assaulted," Whitmer said.
According to Whitmer's office, 56.65% of Michiganders voted for Proposal 3, which enshrined abortion rights in the state constitution.
"The Reproductive Health Act lowers costs for patients and providers and protects every Michigander's constitutional right to make their own decisions about their own body," said Governor Whitmer. "For decades, Michigan has had politically motivated, medically unnecessary restrictions on abortion in state law. These politically motivated, medically unnecessary laws criminalized doctors for providing medical care, jacked up out-of-pocket costs for patients, and imposed needless regulations on health centers, forcing many to close. The RHA repeals these laws, taking a huge step forward to expand access to health care and protect people's personal freedoms."
Subscribe to our News 10 newsletter and YouTube page to receive the latest local news and weather.
Copyright 2023 WILX. All rights reserved.