DNR officers take cocaine, 6 illegal guns from Oakland County men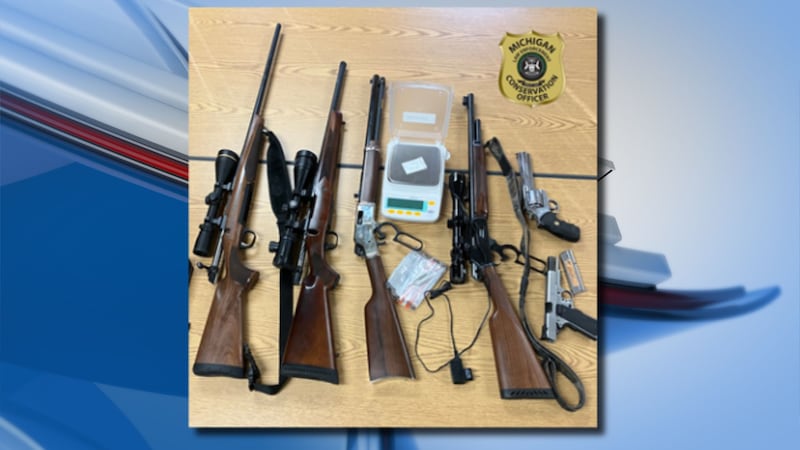 Published: Nov. 21, 2023 at 2:05 PM EST
MONTMORENCY COUNTY, Mich. (WILX) - Three men are facing multiple charges after a conservation officer found cocaine and illegal guns
A Michigan Department of Natural Resources conservation officer, Sgt. Mike Mshar, found the drugs and guns when he passed a slow-moving vehicle with a window down, occupied by two men wearing hunter orange. The driver stopped their car to talk to the officer when Mshar noticed the passenger place something under his seat.
Mshar asked the passenger to step out of the vehicle, and when he did, a bag of cocaine fell to the ground.
Mshar addressed the cocaine to the passenger. Meanwhile, a second car pulled up driven by the father of the passenger in the first vehicle. A second DNR officer arrived for assistance.
The father was suspected to be driving under the influence, which led to a failed sobriety test. The man was also carrying a loaded pistol, which is illegal when intoxicated by drugs or alcohol.
The three men were arrested after officers searched both cars and located additional cocaine along with three rifles.
A second pistol and rifle were found in the father's vehicle.
"This is a strong case that supports our mission to promote safe and fair hunting," said DNR Law Enforcement Division Chief Jason Haines. "These individuals posed an immediate safety risk to themselves and others who were on the road and in the woods enjoying opening day of deer season in northern Michigan."
The two men in the first car are facing charges of possessing cocaine and one for possessing a firearm with illegal drugs. Meanwhile, the father in the second car faces two misdemeanor charges, operating while intoxicated and possessing a firearm while intoxicated.
People can report illegal hunting activity or natural resource violations on the Michigan DNR's website.
Subscribe to our News 10 newsletter and YouTube page to receive the latest local news and weather.
Copyright 2023 WILX. All rights reserved.