Places in Mid-Michigan offering free meals to veterans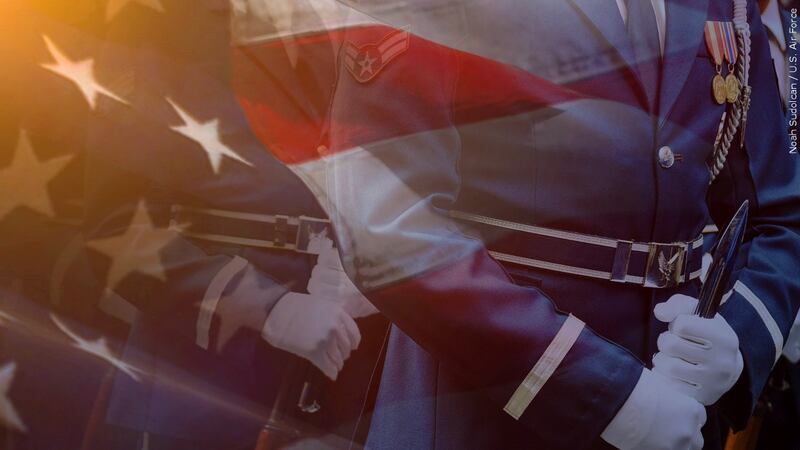 Published: Nov. 3, 2023 at 1:08 PM EDT
LANSING, Mich. (WILX) - Restaurants across Michigan will be offering free meal to veterans to honor and thank them for their service.
News 10 gathered a list of restaurants offering free meals to veterans on Saturday, Nov. 11.
McDonald's
Veterans across Michigan can enjoy a free breakfast combo on Saturday, Nov. 11.
Participating McDonald's restaurants will offer a meal to all veterans, with a valid military ID, during breakfast hours. Veterans can enjoy one free breakfast combo meal which includes hash browns and any size soft drink, tea or coffee.
The meals are only available via dine-in or drive-thru. The meals are not available in the McDonald's app. Breakfast meals are only available until 10:30am.
Bob Evans
Bob Evans Restaurants is honoring the nation's veterans and active duty military personnel with a free meal on Veterans Day. Veterans and military members who dine in at their local Bob Evans Farmhouse Kitchen on Nov. 11, 2023, can choose from one of ten breakfast items from a special menu available all day.
"Veterans' Day at Bob Evans is a heartfelt tribute to the brave individuals who have served our nation. As a token of our gratitude, we are honored to offer free, farm-fresh food to those who have sacrificed so much for our freedom," said Bob Holtcamp, President and Chief Marketing Officer for Bob Evans Restaurants. "On November 11, we are honored to serve those who have so proudly served our country, individuals just like our founder Bob Evans himself."
Veterans and active duty military guests can choose one of the following farm-fresh dishes when they dine in:
Country Biscuit Breakfast: A buttermilk biscuit topped with one egg cooked-to-order, crumbled Bob Evans® Sausage, country gravy and cheddar cheese. Served with hash browns, home fries or fresh-cut fruit.
Sunrise: Two fresh-cracked eggs, cooked to order, and your choice of hash browns, home fries or fresh-cut fruit. Served with your choice of freshly baked bread.
The Classic Breakfast: Classic combination of two fresh-cracked eggs, cooked to order, with a choice of premium breakfast meat. Served with your choice of freshly baked bread.
The Mini Sampler: One egg cooked-to-order, hash browns, home fries or fresh-cut fruit, two sausage links, one turkey sausage link or two hardwood-smoked bacon strips and a freshly baked biscuit.
Brioche French Toast: Two slices of griddled brioche bread, dipped in real egg batter made with vanilla and cinnamon. Served with butter and syrup and topped with powdered sugar.
Sausage Gravy & Biscuits: A cup of Bob Evans signature house-made sausage gravy with two freshly baked buttermilk biscuits.
Buttermilk Hotcakes: Four fluffy buttermilk hotcakes served with butter and syrup.
Banana Berry Oatmeal: Rolled oat oatmeal topped with wild blueberries, sweet blueberry sauce, fresh banana slices and honey-roasted pecans. Served with fresh milk and a side of freshly baked banana nut bread.
Bowl of Rolled-Oat Oatmeal: Made fresh daily. Served with real brown sugar, fresh milk and dried cranberries or honey-roasted pecans.
Down-Home Country-Fried Steak: Topped with savory country gravy and served with mashed potatoes and green beans with ham, served with your choice of freshly baked bread.
Guests wishing to enjoy a free Veterans Day meal must provide proof of service. Accepted identification includes: US Uniformed Services ID Card, US Uniformed Services Retired Card, current Leave and Earnings Statement (LES), veterans organization card (i.e. American Legion, VFW), a photograph of yourself in uniform, wearing uniform, DD214, and citation or commendation.
One North Kitchen & Bar
The Delta-Waverly Rotary Club, in partnership with One North Kitchen & Bar, announced a special event in honor of Veterans Day, called "Salute to Service."
Event Details:
"Salute to Service" is a community-wide gathering to express gratitude and appreciation to veterans for their dedication and sacrifice. This free event will feature a variety of activities and special moments designed to honor our veterans.
Highlights of "Salute to Service":
A heartfelt opening 45-minute ceremony featuring Sheri Jones and Michigan Creative

Live musical performances, (Marcus Shelton) and customized personal gratitude video

Complimentary food and beverages provided by One North Kitchen & Bar.

Inspirational speeches and personal stories from local veterans.

FREE brunch served immediately following the program.
"We are immensely proud to come together with One North Kitchen & Bar to celebrate our veterans," said Scott Berman & Kathy Fischer, committee co-chair at Delta-Waverly Rotary Club. "This event is our small way of acknowledging the incredible sacrifices they have made for our nation. It's a day to say, 'thank you' and show our unwavering support."
"Salute to Service" is open to veterans and active-duty military personnel. We encourage all attendees to bring a flag or wear patriotic attire to show their support for veterans.
Join us on Veterans Day as we come together as a community to recognize and appreciate the dedication and sacrifices of our veterans.
Michigan Center Eagles 3634
Located at 302 5th Street in Jackson County, a Veteran's Day dinner will be held on Nov. 11 starting at 4:30 p.m.
The dinner is free for veterans and active duty military people—just show your ID. This is open to the public.
Dinners are also available to non-military at a cost.
Subscribe to our News 10 newsletter and YouTube page to receive the latest local news and weather.
Copyright 2023 WILX. All rights reserved.