Judge rules Oxford High School shooter eligible for life without parole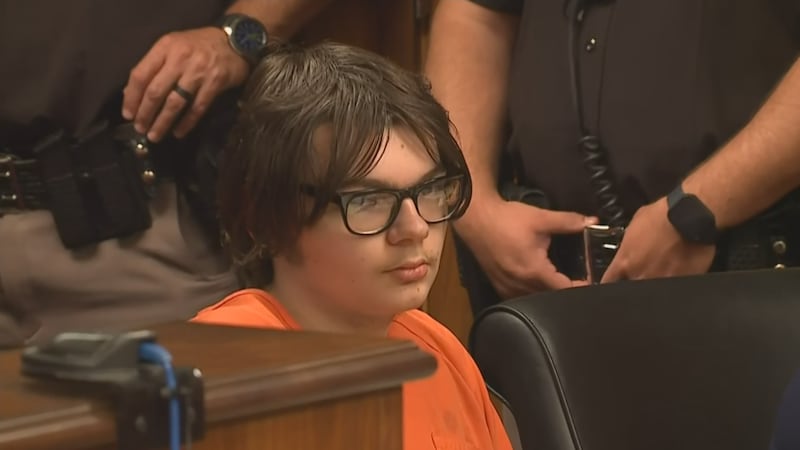 Published: Sep. 29, 2023 at 6:45 AM EDT
|
Updated: Sep. 29, 2023 at 10:00 AM EDT
PONTIAC, Mich. (WILX) - Oakland County judge Kwame Rowe has ruled Ethan Crumbley can be sentenced to life without parole for killing four of his Oxford High School classmates and wounding seven others.
Crumbley was 15 at the time of the shooting two years ago.
Previous coverage: Closing arguments held in confessed Oxford High School shooter sentencing hearing
"I commend the teachers and students who testified about what happened at Oxford High School that day, and I hope the result today brings the victims, their families, and the Oxford community some comfort," said Oakland County Prosecutor Karen McDonald after the ruling Friday morning.
Attorney Ven Johnson—who represents multiple families that lost their children or had children injured in the aftermath of the Oxford High School shooting—provided a statement following the decision made on Crumbley's Miler hearing.
In August, defense attorneys argued the teen suffered from trauma after years of neglect by his parents—who ignored signs their son needed mental health counseling. Prosecutors argued that Crumbley's journals and drawings show he finds pleasure in causing pain, and he should be locked up for life.
Crumbley will be formally sentenced to Oakland County court on Dec. 8, a day when survivors and families can tell the judge about how the shooting affected their lives.
Watch the full hearing below:
WARNING: Judge Rowe will be reading pieces of evidence which may include language that could be offensive or disturbing
THIS IS A BREAKING STORY. STAY WITH NEWS 10 FOR UPDATES.
Subscribe to our News 10 newsletter and YouTube page to receive the latest local news and weather.
Copyright 2023 WILX. All rights reserved.