Spartans Claim Two Titles at Two Weekend Tournaments
Strong start to season for MSU Men's Tennis.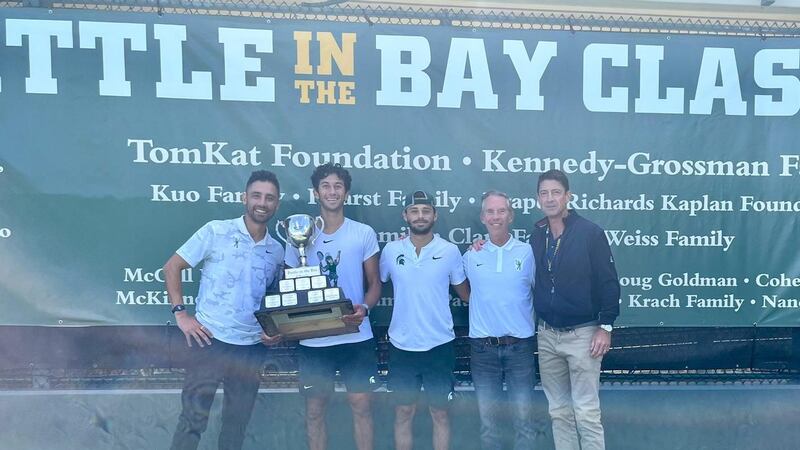 Published: Sep. 24, 2023 at 10:17 PM EDT
LANSING, Mich. (WILX) - All four men's tennis student-athletes competing in two tournaments on the weekend played in championship matches on Sunday, Sept. 24, winning titles at both the prestigious Battle in the Bay in San Francisco, California and the Milwaukee Tennis Classic in Milwaukee, Wisconsin. In a Spartan versus Spartan singles final at the Battle in the Bay, sophomore Ozan Baris topped teammate grad-senior Ronald Hohmann III 2-6, 7-6, 6-1, to earn his first singles title of the season.
Earlier in the day back in the Midwest, the duo of junior Max Sheldon and grad-senior Sebastien Collard won the doubles title at the 75th annual edition of the Milwaukee Tennis Classic over the Nebraska duo of Mueller/Linquet, 6-2.
"This weekend was a special weekend for the Spartans," head coach Harry Jadun said. "Both tournaments had big wildcards on the line and that just adds a lot of extra pressure during each match and our guys performed. This is a statement weekend for our program."
Sheldon and Collard went undefeated in four matches to win their title in Milwaukee, outscoring their opponents 24-12. The title punched a ticket for the pair to compete alongside each other for a national championship at the ITA Fall National Championships in San Diego, California, in November.
Adding on to his singles title that clinched him a spot at the ATP75 Challenger in Tiburon, California starting Oct. 2, Baris won a 10-point tiebreak mini-tournament at the Battle in the Bay on Saturday night to earn a wildcard entry into the ATP100 event in Fairfield, California starting Oct. 9.
Hohmann and Baris' path to facing each other in the finals took them through having knocking off several ranked opponents from some of the best teams in the nation.
In the first round Thursday, Hohmann beat ITA's No. 3 ranked newcomer Aidan Kim of Florida while Baris tackled ITA overall No. 99 Herman Hoeyeraal in three sets. After taking care of their second-round opponents, both knocked off top-11 opponents in the quarterfinals. Hohmann clinched another hard-fought three-set victory over No. 8 Inaki Montes of Virginia, while Baris took care of No. 11 Karlis Ozolins of Illinois. In the semifinals, Hohmann took care of No. 24 Colton Smith of Arizona and Baris topped TCU's No. 26 ranked Jack Pinnington.
Baris, Hohmann, Sheldon and Collard will next look to take their successes to the ITA All-American Championships in Tulsa, Okla. starting Saturday, Sept. 30.
Subscribe to our News 10 newsletter and YouTube page to receive the latest local news and weather.
Copyright 2023 WILX. All rights reserved.