Scammers providing fake licenses to sell puppies, dogs
Published: Jul. 12, 2023 at 11:10 AM EDT
MICHIGAN (WNEM) - Scammers in Michigan have been using fake dog breeder licenses to cheat people out of their money, according to the Michigan Department of Agriculture and Rural Development (MDARD).
Michiganders who are looking to buy a pet, especially dogs, should be cautious when purchasing an animal. MDARD said the fake licensure the scammers are using make it seem like they have a credible, legitimate business.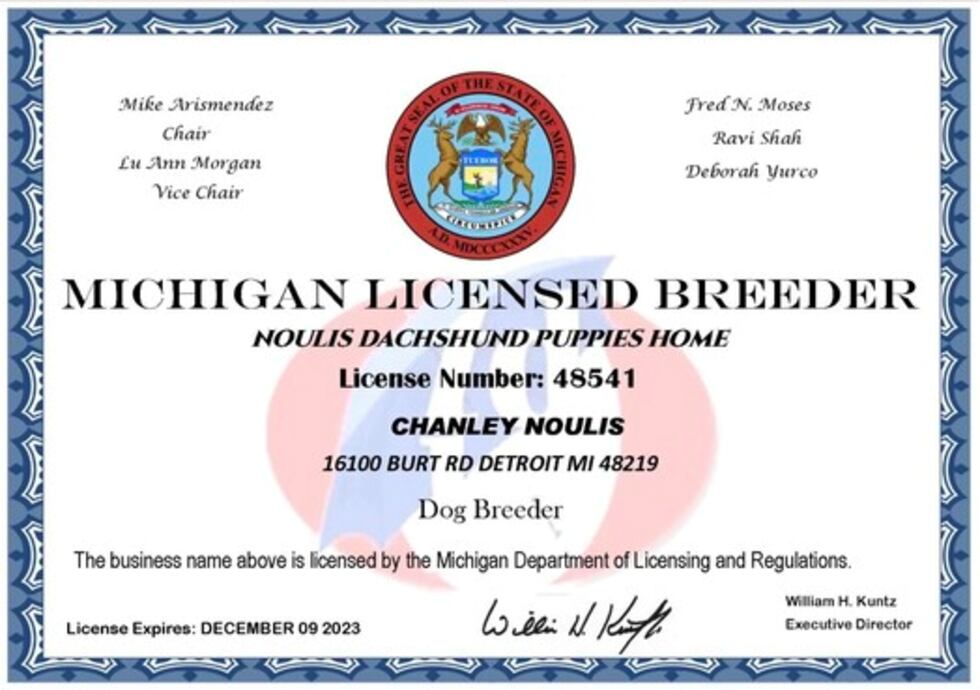 There have been two recent cases of this scam: individuals were attempting to buy a small-breed puppy online and the scammers sent the individuals a copy of their alleged legitimate breeder license. The individuals did their due-diligence and contacted MDARD to confirm the licensure and it was discovered the license was fake, MDARD said.
"Bringing home a new furry family member is a big decision and those who purchase from breeders should be sure that the breeder is licensed and providing healthy animals," Michigan Attorney General Dana Nessel said. "Adopting a pet from a local shelter is also an option, but wherever animal lovers choose to find their pet, they should adhere to best practices to avoid being a pet scam victim."
MDARD oversees large-scale dog breeding kennels, its program registers and inspects kennels that have more than 15 female dogs for breeding that have given birth before. The program ensures specific standards are met, that the animals are healthy, and they receive proper care. For each dog or puppy those breeders sell, they are required to provide a Pet Health Certificate. Right now, there are only 14 large-scale dog breeding kennels in Michigan that are registered and inspected by MDARD.
Questions about large-scale dog breeding kennels can be directed to MDARD at 800-292-3939.
Both large-scale and small-scale dog breeding kennels may be licensed and inspected through local levels of government, MDARD said. This includes townships, cities, and counties. The exact number of the small-scale kennels within Michigan is unknown, according to MDARD.
Any questions about small-scale dog breeding kennels should be directed to the local government agency where the seller runs their business.
MDARD said those who are purchasing a new pet should do their due diligence on the breeder before agreeing to spend/send any money to them. Additionally, the Better Business Bureau offers four points of advice for those who are looking to buy a pet online:
Don't purchase a pet without seeing it in person, or on a live video call, first;

Do a reverse image search of the photo of the pet you're considering to purchase to see if the same photo appears on other websites;

Avoid wiring money, using a cash app, or gift card for purchase; and

If someone is advertising a purebred dog for free or at a large discounted price, think twice about it.
Anyone who thinks they have been in contact with, or have been victimized by one of these scammers, should call their local police department and report the scam to the Michigan Department of the Attorney General on its website.
Anyone who may have given money to as scammer as payment should contact their banking institution immediately.
More information on how to identify and protect yourself from scams can be found on the Federal Trade Commission's website or the Better Business Bureau's website.
Subscribe to the TV5 newsletter and receive the latest local news and weather straight to your email every day.
Copyright 2023 WNEM. All rights reserved.