Homeowner finds bobcats hiding in attic, shower
Published: Jul. 11, 2023 at 11:54 AM EDT
SCOTTSDALE, Ariz. (AZFamily/Gray News) - A homeowner in Arizona made two surprising and furry discoveries when checking to see what was making noise around their house last month.
On June 8, a homeowner heard something in the attic and went to see what it was, according to the Arizona Game and Fish Department. When the homeowner climbed up, they were shocked to find a bobcat kitten, but it appeared that its mother was nowhere to be found.
The Arizona Game and Fish Department were called to assist and said that recent damage to the home's roof allowed the bobcats to access the attic, who seemed to really like the spot.
The homeowner successfully caught the kitten. Game and Fish contacted the Southwest Wildlife Conservation Center, which took in the bobcat, while the search for its mother continued.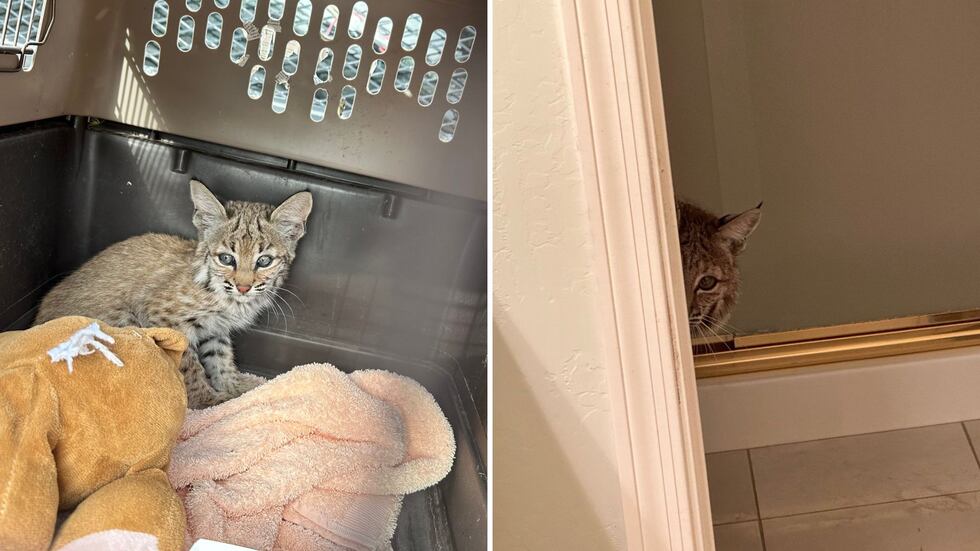 However, the search didn't last long when later that day, the homeowner was surprised to find the mother bobcat in their bathroom.
Officers from Game and Fish and Southwest Wildlife arrived at the home and were met with two golden eyes staring at them from the shower. They soon captured the bobcat and safely removed it from the house.
The mother bobcat was then reunited with her kitten. Game and Fish posted a video on social media of the pair being released back into the wild.
Copyright 2023 KTVK/KPHO via Gray Media Group, Inc. All rights reserved.