Iron Mountain man receives maximum sentence for sexual assault of child caught on 'nanny' camera
Dickinson County Circuit Court Judge Chris Ninomiya sentenced Justin Harvala to 142 months in prison for second-degree criminal sexual conduct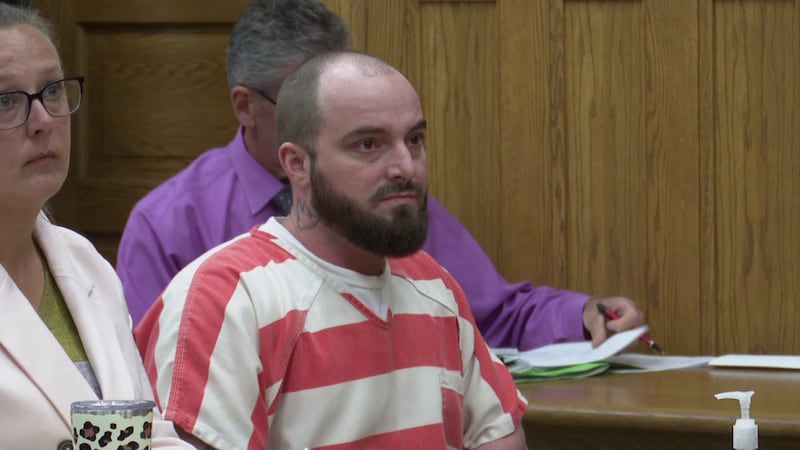 Published: Jun. 5, 2023 at 4:48 PM EDT
IRON MOUNTAIN, Mich. (WLUC) - Justin Harvala received the maximum sentence for second-degree criminal sexual conduct. A nanny camera captured the assault of a seven-year-old girl on video. Harvala was 32 at the time of the assault.
"I am going to impose a sentence of 142 months with the maximum being set at 35 years. I am satisfied that this is an entirely reasonable sentence when considering the guidelines," said Chris Ninomiya, Dickinson County Circuit Court Judge.
Ninomiya said Harvala is a habitual offender, with eight misdemeanors and four felony convictions on his record dating back to 2003. Harvala has already served two previous prison sentences.
The victim is now nine-years-old. Her father spoke before sentencing, asking for the maximum penalty.
"He decided to self-gratify himself. He sentenced her to life. Judge, jury, and assaulter, right there," said Ryan Milligan, the victim's father.
Milligan said Harvala is the father of his daughter's sibling.
"My daughter missed him. My daughter treated him like a second father," Milligan said. "She loved him. She cared for him, she worried about him. That day, I asked if she wanted to stay with Justin, and she said yes. I left my kid to him, trusting him. Believing my child was safe was the biggest mistake I ever made."
Harvala initially chose not to speak during sentencing, but changed his mind, and maintained his innocence.
"To sit here and make me look like something I am not. There is footage on these 11 clips to prove I didn't do what I am being accused of," Harvala said.
Judge Ninomiya responded to Harvala's claims, saying he has no doubt that the jury's conviction was correct.
"There was a substantial amount of evidence that supported their verdict," Ninomiya said. "I thought the video footage was clear. Frankly, I am proud to live and serve in a community like ours that will hold individuals accountable for their criminal behaviors."
Harvala says he plans to appeal the verdict and sentence.
Copyright 2023 WLUC. All rights reserved.