Police identify suspect, victim in deadly shooting inside Flint bus station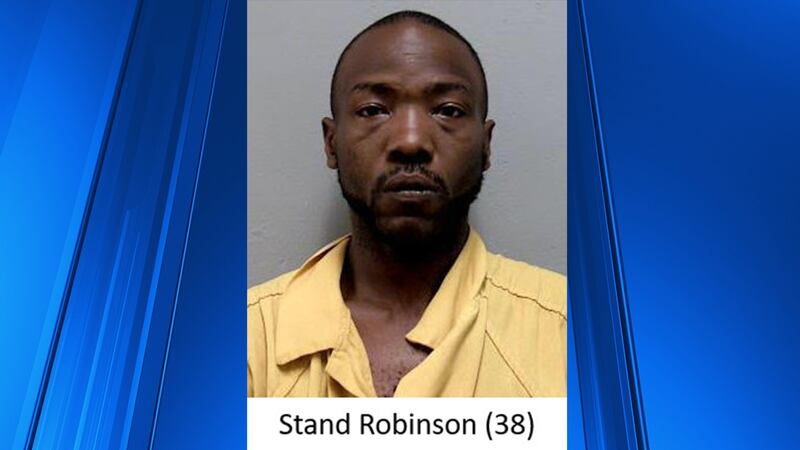 Published: Jun. 1, 2023 at 3:21 PM EDT
|
Updated: Jun. 5, 2023 at 9:59 AM EDT
FLINT, Mich. (WNEM) - One man has been arrested immediately following a shooting that left one person dead inside the Mass Transportation Authority (MTA) Transit Station in downtown Flint.
The shooting happened on Thursday, June 1 at about 12 p.m. at the MTA Transit Station at the corner of Harrison Street and Second Street.
Flint Police Officer Al Essex, who is assigned to the downtown MTA Transit Station, heard gunshots and observed a suspect running away from the station, Flint police said, adding Essex pursued on foot and apprehended the suspect with assistance from other officers of the Flint Police Department Major Crimes Unit.
The victim, 23-year-old Jamil Kaine, was an employee of a shop inside the bus station, police said.
The suspect has been identified as 38-year-old Stand Robinson, also known as Face.
Police said this was a targeted attack on Kaine.
Flint Police Chief Terence Green said he is confident the suspect in custody is the only suspect, and he has no ongoing concerns about public safety in downtown Flint.
"This situation was immediately and swiftly handled by Flint Police Officers," Green said. "We'd like to thank the assistance of the Genesee County Sheriff's Department, University of Michigan-Flint Public Safety, and Michigan State Police. Special gratitude goes out to an excellent job by Officer Al Essex who reacted swiftly by engaging in a foot pursuit and neutralizing this situation immediately."
"I appreciate the urgency of individuals having to catch the bus, but we have a 21-year-old male victim that lost his life," Green said. "This is unfortunate and we apologize for any inconvenience it provides, but we have a 21-year-old male victim, an employee of a shop here, that lost their life. We want to do this properly and thoroughly in order to get this victim justice."
Flint Mayor Sheldon Neely expressed his sincere condolences to the family of the victim.
"Every life lost is a blow to our entire community. The city of Flint remains under a gun violence emergency, allowing us to proactively fight gun violence and harness more resources for public safety," Neely said. "I am grateful for the heroic efforts of our Flint Police Department officers, especially Officer Essex, and all of our law enforcement partners who helped restore calm to our city this afternoon."
Robinson has been charged with first-degree murder, felon in possession of a firearm, felon in possession of ammunition, carrying a concealed weapon, three counts of felony firearm, and habitual offender - fourth offense.
Subscribe to the TV5 newsletter and receive the latest local news and weather straight to your email every day.
Copyright 2023 WNEM. All rights reserved.