Pigeon man in critical condition following motorcycle crash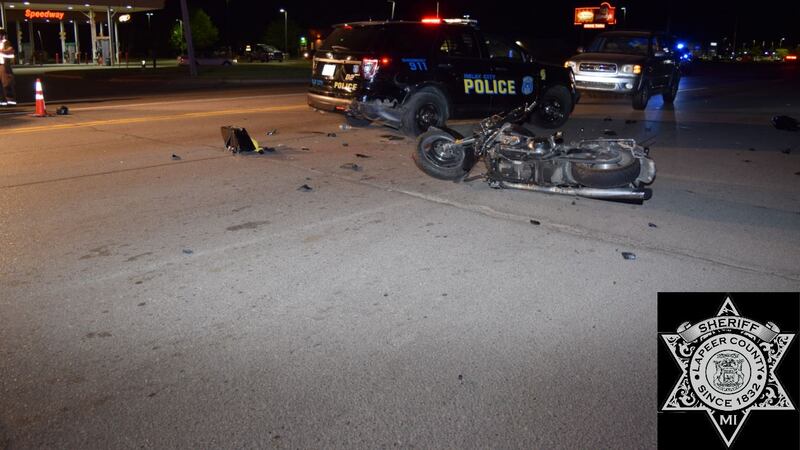 Published: May. 29, 2023 at 2:12 PM EDT
IMLAY CITY, Mich. (WNEM) - A 27-year-old man from Pigeon is in critical, but stable condition after he struck a stopped police cruiser on his motorcycle.
Imlay City Police Department was investigating an unrelated two-vehicle crash on Cedar Street (M-53) north of Newark Road on Friday, May 26 shortly before 10 p.m.
A vehicle involved in the unrelated crash was disabled and located within a northbound lane, police said, adding investigating officers positioned their cruiser to the south of the vehicle in the traffic lane.
The cruiser's emergency lights, overhead and additional flashing lights, were activated, police said, adding there were no occupants within the cruiser due to the officers investigating the collision.
A 2009 Harley Davidson, driven by a 27-year-old man from Pigeon, was headed northbound and approached the stopped cruiser on the roadway, police said.
The motorcyclist struck the back passenger corner of the police cruiser, according to police, and the motorcycle and rider came to rest on the east side of the roadway. Police said there was braking prior to the crash.
The man was taken to McLaren Lapeer Region by Lapeer County EMS with severe injuries, police said, adding he remains hospitalized and is in critical condition.
The roadway was closed for two and a half hours for rescue and investigative purposes, police said.
The Lapeer County Sheriff's Deputies are continuing to investigate the crash to determine if alcohol or excessive speed were involved.
Anyone with information can contact Det. Sgt. Jason Parks at 810-656-1015 or by email.
Subscribe to the TV5 newsletter and receive the latest local news and weather straight to your email every day.
Copyright 2023 WNEM. All rights reserved.