Buena Vista Twp. Police K-9 injured at Frankenmuth Dog Bowl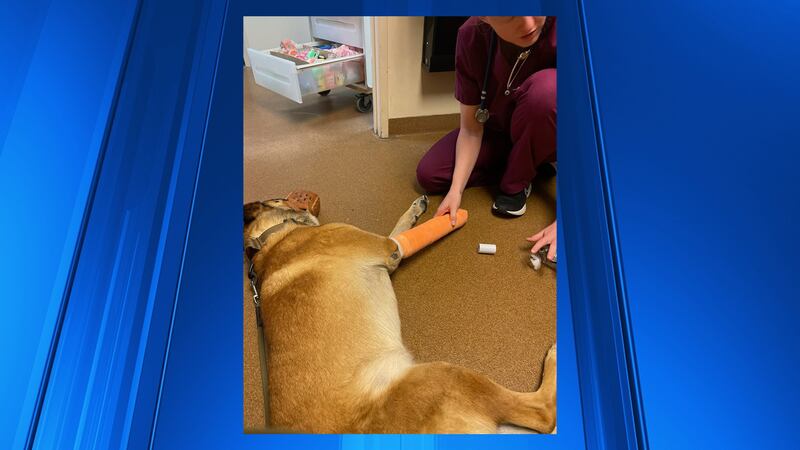 Published: May. 29, 2023 at 2:53 PM EDT
|
Updated: May. 29, 2023 at 6:04 PM EDT
SAGINAW, Mich. (WNEM) - A Buena Vista Township K-9 suffered an injury at the Frankenmuth Dog Bowl and will need further treatment.
K-9 Nvee, from the Buena Vista Township Police Department, suffered an injury at Dog Bowl on Sunday, May 28, Nvee's official Facebook page said in a post.
"During a live demonstration a decoy fled from a traffic pursuit scenario and when Nvee apprehended her, the impact from his speed caused her to lose her footing and she fell on him," Nvee's handler Officer Doug Stacer said. "This is totally normal in such a scenario and the decoy did absolutely nothing wrong."
When they fell, Nvee hyper-extended his right leg causing the injury and they are now in the process of diagnosing for a correct course of treatment, according to Stacer.
"We were in constant contact with our local veterinarian, Dr. Heather Brenner from Riverside Animal Clinic, and due to the injury and with it being a Sunday and Memorial Day weekend, he was transported to the Oakland Veterinary Referral Services in Bloomfield Township where he received treatment," Stacer said.
The post said that Nvee's had x-rays done and has been given medication, but he will need to see a surgeon/specialist.
"Dad will know more on Tuesday what additional tests and procedures he will need. Please pray for Nvee and his dad," the post said.
The post thanks everyone for their prayers and support, saying it is greatly appreciated.
"Nvee is currently at home resting until his next appointment this week with the surgeon after consulting with the radiologist," Stacer said.
Subscribe to the TV5 newsletter and receive the latest local news and weather straight to your email every day.
Copyright 2023 WNEM. All rights reserved.