DNR issues double red warning flags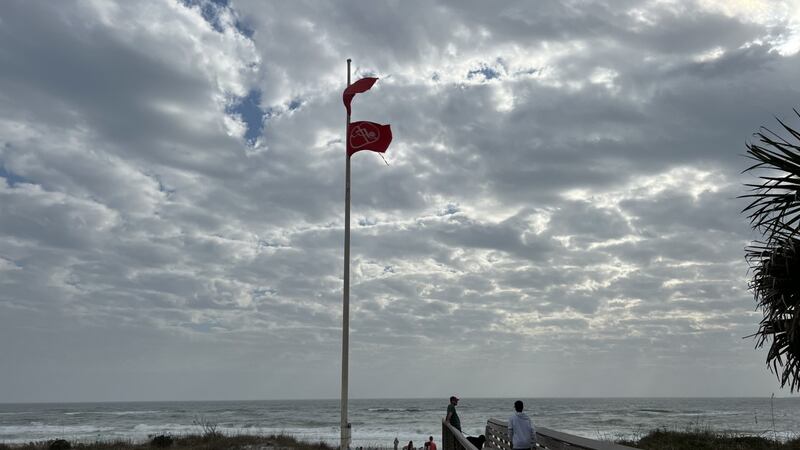 Published: May. 23, 2023 at 10:44 AM EDT
MICHIGAN. (WNEM) - The DNR has issued double red warning flags at Great Lakes beaches.
Double red flags mean beachgoers cannot enter the water from the beach area but are still welcome to enjoy a picnic or relax on the beach.
"We actively reevaluate our safety measures and public education efforts, especially when it comes to Great Lakes safety," said Ron Olson, DNR Parks and Recreation chief. "Many people underestimate the power of the Great Lakes and don't always understand how quickly even the most experienced swimmer can get into a life-threatening situation and sweep away. That's why the DNR is committed to making beach safety and public education a top priority."
DNR Land Use Order 5.1.6 makes it illegal to enter state-designated swim areas when there is a risk to human safety and health. Risks can be severe weather issued by the National Weather Service, hazardous waves, environmental hazards, and more.
"We began introducing double red flags at some state-designated swim beaches in 2022," said Pat Whalen, district supervisor for the DNR Parks and Recreation Division. "This year, all equipment is in place, and the new flag warning system has been rolled out to all state-designated swim beaches along the Great Lakes in nearly 30 state parks. We urge all Great Lakes beach visitors – whether you're new to these beaches or have been coming for years – to learn what the flags mean and follow this guidance at all times."
The Great Lakes flag warning system includes:
· Double red flag = water access closed**. Do not enter the water; dangerous conditions.
· Red flag = high hazard. High surf and/or strong currents. It's recommended that you stay on the beach.
· Yellow flag = medium hazard. Moderate surf and/or currents. Watch for dangerous currents and high waves.
· Green flag = low hazard. Calm conditions. Enter the water, but exercise caution.
Visit Michigan.gov/BeachSafety for tips and information on safely visiting the Great Lakes, including state-designated swim beach locations, the beach flag warning system, Great Lakes currents (and how to escape them) and more.
Subscribe to the TV5 newsletter and receive the latest local news and weather straight to your email every day.
Copyright 2023 WNEM. All rights reserved.