'Keep wildlife wild': Fawn season in Michigan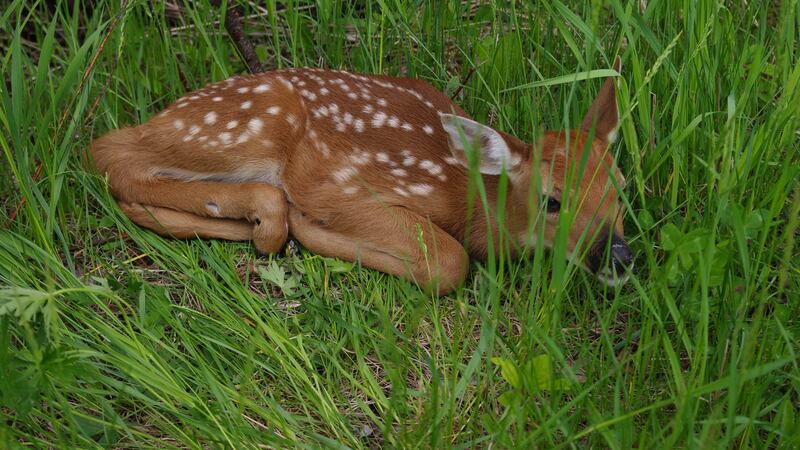 Published: May. 21, 2023 at 1:09 PM EDT
MICHIGAN (WNEM) - Fawn season is in full swing in Michigan and the Department of Natural Resources (DNR) is reminding the public that fawns should be left alone.
Fawns are typically born in May and June and the DNR said it receives multiple calls during this time because people find a fawn on its own and want to help.
The mother will leave fawns on their own, even up to eight hours at a time, and it is perfectly normal, according to the DNR.
It is common for mothers to leave their babies in "unique, frankly weird" places, the DNR said, adding this behavior helps reduce the potential of predators finding the fawn.
Though you may want to help the baby animal, the best thing you can do to help is to leave it alone, the DNR said. A fawn's best chance for survival is in the wild. They are born with spots, which are excellent camouflage. Fawns also have very little scent which helps it stay hidden from predators.
The DNR reminds individuals that while taking photos from a distance is okay, do not disturb the fawn. You may leave your scent which could attract predators.
The mother will come back for her baby when she feels it is safe, but she may not return if people or dogs are present, according to the DNR.
Only licensed wildlife rehabilitators may possess abandoned or injured wildlife. Unless you are licensed, it is illegal to possess a live, wild animal in Michigan.
If you believe a fawn's parent is dead or the animal is injured, you can contact a licensed wildlife rehabilitator before removing it from the wild. A list of licensed wildlife rehabilitators is available on the DNR's website or by calling your local DNR office.
Subscribe to the TV5 newsletter and receive the latest local news and weather straight to your email every day.
Copyright 2023 WNEM. All rights reserved.