State's largest wind energy park opens in mid-Michigan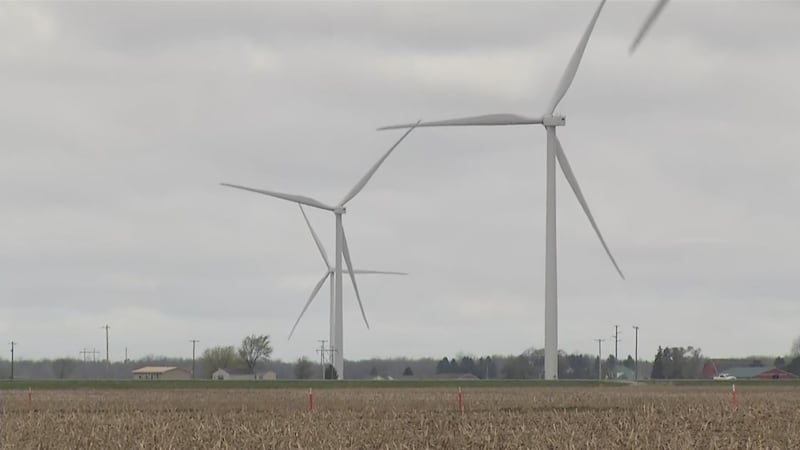 Published: Apr. 18, 2023 at 5:01 PM EDT
MID-MICHIGAN (WNEM) - Mid-Michigan is now home to the state's largest wind energy park. DTE Energy announced that the Meridian Wind Park is now online.
The wind park is located in both Midland and Saginaw counties and is part of three townships.
TV5′s James Felton spoke to residents about DTE Energy's $300 million investment.
"Well this is just an amazing accomplishment for the local area here," said Brian Calka, DTE Energy's vice president of renewable energy sales and project development.
Calka was talking about the massive wind park that spans three townships and Midland and Saginaw counties.
"The Meridian Wind Park is the state's largest wind park. You have 77 turbines that are spread across three communities, two counties here," he said.
DTE Energy said the 225-megawatt wind park generates enough clean energy to power more than 78,000 homes.
Tony Stamas, president and CEO of the Midland Business Alliance, said he is pleased to see this $300 million investment in his backyard.
"It's exciting on a number of different levels. I mean, I think certainly we see in terms of clean renewable energy, this is really a great building block for our future as a region, as a state," said Stamas.
Leonard Breasbois, who resides in Mt. Haley Township, has a turbine that is part of the Meridian Wind Park.
"It's renewable energy. It's something that hopefully the people will recognize and say, you know what I mean, are we going to rely on oil and natural gas to create our energy here? You know wind is doing it for us," Breasbois said.
Calka was quick to point out this wind park would not have been possible without the partnership that was present in both Midland and Saginaw counties, along with the three townships.
"You cannot do this alone. It's going to take partnerships to bring these to the finish line. And this is the celebration today is a great example of just that," Calka said.
DTE Energy has spent more than $3 billion on renewable energy, with more investments planned in the future.
Subscribe to the TV5 newsletter and receive the latest local news and weather straight to your email every day.
Copyright 2023 WNEM. All rights reserved.