Soo Locks to open Great Lakes shipping season March 25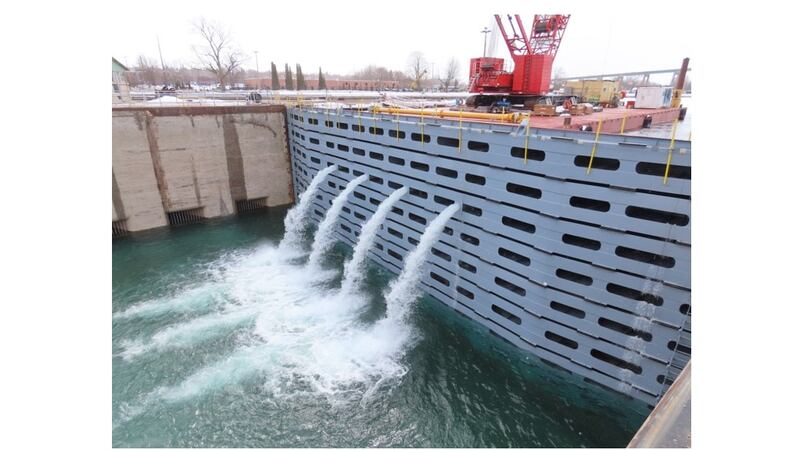 Published: Mar. 16, 2023 at 9:52 AM EDT
SAULT STE. MARIE, Mich. (WILX) - The U.S. Army Corps of Engineers will open the Poe Lock March 25, marking the 2023 Great Lakes shipping season start.
The operating season is fixed by federal regulation and vessels inability to operate in typical Great Lakes ice conditions.
The Poe Lock closed Jan. 16 for repairs and maintenance during the 10 weeklong winter shutdown.
Maintenance crews performed repairs on the large gates at each end of the lock chamber. The gates open and close allowing ships to enter and leave the lock and prevent water from entering or exiting the lock while boats are lifted or lowered.
"Crews also performed a wide range of other maintenance tasks including fender timber replacements, electrical and mechanical systems inspections, and preventative maintenance on both the Poe and MacArthur Locks and floating plant maintenance," Maintenance Branch Chief Nick Pettit said.
Contractors performed work on the Poe Lock ship arrestor project. OCCI of Missouri, was awarded the contract in July 2021, for $17.5M. T
The MacArthur Lock, located south of the Poe, is scheduled to open April 24.
"We welcome visitors into the park for the 2023 Soo Locks season opening. The park and viewing platform will open March 24 at 11 p.m. and close March 25 at 1 a.m.
The Visitor Center will host an open house March 25 from 9 a.m. to 3 p.m.," Chief Park Ranger Michelle Briggs said.
The park is open daily 9 a.m. to 6 p.m. The U.S. Army Corps of Engineers plans to open the Soo Locks Visitor Center May 1 for the summer season.
For those not able to come to the Soo Locks opening, there will be a Facebook Live stream of the first ship on our Facebook page starting at 11:55 p.m., March 24 at: https://www.facebook.com/USACEDetroitDistrict.
Subscribe to our News 10 newsletter and receive the latest local news and weather straight to your email every morning.
Copyright 2023 WILX. All rights reserved.