'Welcome to fatherhood': 33-year-old woman meets biological father for the first time
Published: Mar. 15, 2023 at 2:52 PM EDT
JACKSON, Miss. (WLBT/Gray News) - A man in Mississippi was reunited with a 33-year-old daughter he never knew he had.
At 61 years old, Tom Bradshaw became a father. But he and his wife were not at a hospital Saturday night. They were at the Jackson-Medgar Wiley Evers International Airport to meet his 33-year-old biological daughter for the first time.
"I'm ready. I think," Bradshaw said during his wait.
Eventually, Bradshaw received a text message saying his daughter's plane had landed.
As a steady stream of people began exiting the terminal, Bradshaw continued to wait for the first sight of his daughter.
She was the last person to appear, wearing a turquoise jacket. WBLT reports Bradshaw recognized her instantly.
Nicole LeMay made her way to her newfound father, and the two hugged.
"Welcome to fatherhood," LeMay said to Bradshaw.
The night was the crowning achievement of a years-long investigation conducted by LeMay to find her birth father. The catalyst of the investigation was when she discovered she was adopted at the age of 23.
"Everybody in my family knew I was adopted except for me," LeMay said in a phone call the day before meeting Tom for the first time.
During the course of the investigation, LeMay learned her birth mother, Helga, had given her up for adoption in Virginia when she was only a few days old. Bradshaw, who met Helga while in the Navy, was never told about the pregnancy.
LeMay said the news of her adoption was disorienting and took time to process. She said it also splintered the relationship she had with her adoptive parents.
After a few years, and with the support of her adoptive father, LeMay began the journey to find her biological parents.
After a few initial roadblocks in her search, LeMay was able to find her birth mother. LeMay had to leave her contact information with a case worker, who would then pass it on to Helga.
After a few months, LeMay heard back: her birth mother was willing to speak to her.
"So I did reach out to her first, and she told me that she knew this day would come and she would be ready to answer any questions that I have," LeMay said. "But to just know that it wasn't … it's not that she didn't want me; it was she couldn't provide the life that I deserved to have."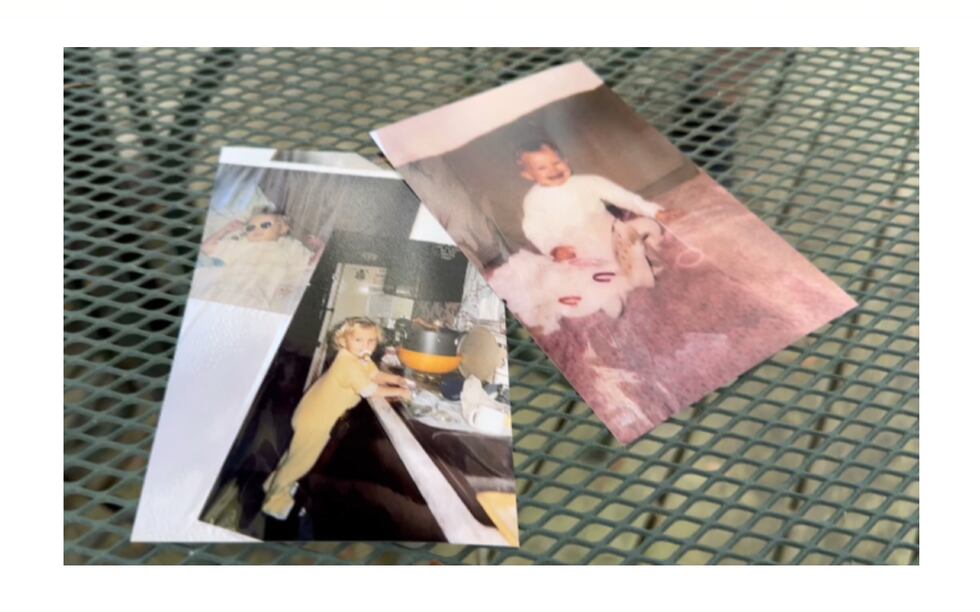 Helga would disclose little information, only telling LeMay the name of the man she believed to be the father. Now armed with a name, LeMay scoured social media. And she found him. Then, she sent a Facebook message.
After coming into contact, LeMay said the man was kind and that he ordered a DNA test for them to take. The results came in: he wasn't the father.
With nothing more to go on, LeMay believed the quest to find her real father was finally over.
LeMay told WLBT the hunt for her father was akin to "chasing the wind."
Months went by before LeMay decided she had to try one last time.
She submitted an Ancestry DNA report, describing the results she got back as "a bunch of numbers." However, she had no idea what to do with them.
With little to lose, she joined a Facebook group and asked for help deciphering the results of the DNA report. She said a woman named Sarah responded and offered to help.
"She offered to take my case absolutely free," LeMay said. "She just does this to bring families back together."
Within only four days, Sarah discovered LeMay's biological grandmother along with her grandmother's sons. One of them was Tom Bradshaw.
LeMay reached out to Bradshaw on Facebook on Nov. 21. In the message, she told him she was almost 33 years old, had recently discovered she was adopted, was born in Hampton, Virginia, and that her mother's name was Helga.
Bradshaw responded on the same day he received the message, convinced his brother was LeMay's father. However, LeMay said she could see an immediate resemblance between herself and Bradshaw, most notably in their noses.
LeMay offered a DNA test, and Bradshaw obliged. The results of the test were emailed to her on Dec. 8.
"I knew at this point that this was going to be it," she told WLBT. "If it didn't turn out this way, I was done looking. Because I do have a dad, I do have a mom. I was just blissfully ignorant my whole life about this whole situation."
According to the test results, there was a 99.99% probability Bradshaw was LeMay's biological father.
After their first meetup at the airport Saturday, the family spent the night at a hotel before traveling to their home in Meridian, Mississippi.
Bradshaw said LeMay's entrance into his life couldn't have come at a better time. He described the last few years as "a very dark period" because of multiple deaths in the family, including his wife's son and her granddaughters.
In order to make up for lost time, LeMay came equipped with a photo album as a gift to fill Bradshaw in on her childhood. Inside the album are photos of LeMay as a child and journal entries that follow the progress of her search for Bradshaw.
On the last page of the photo album, a paragraph was written to her dad. The final words said, "Here's to ending one book and beginning a new one."
Copyright 2023 WLBT via Gray Media Group, Inc. All rights reserved.