Merchant to leave Michigan State 'effective immediately'
Merchant has been away from the sidelines since January due to health reasons.
Published: Mar. 13, 2023 at 5:12 PM EDT
|
Updated: Mar. 13, 2023 at 6:25 PM EDT
EAST LANSING, Mich. (WILX) - Suzy Merchant is stepping down from her role as head coach of the Michigan State University women's basketball team.
Merchant and MSU Vice President and Director of Athletics Alan Haller came to a mutual decision Monday afternoon. The move is effective immediately.
The 53-year-old has been absent from the sidelines since late January following a car accident.
"We are grateful to Coach Suzy Merchant for her contributions to Michigan State women's basketball and Spartan Athletics over the last 16 seasons," Haller said on the MSU athletics website. "We appreciate everything Coach Merchant has meant to our community. Her two Big Ten titles and 10 NCAA Tournament appearances provided lasting memories. Beyond the team's on-court success, she invested considerable time and energy into our local community as a leader and a role model for young people."
In her 16 seasons with the Spartans, Merchant tallied a record of 327-186 including Big Ten titles in 2011 and 2014. She was also named Big Ten Coach of the Year in 2011. Merchant led the Spartans to 10 NCAA Tournament appearances including a 2009 Sweet Sixteen appearance.
Merchant's contract was extended to the summer of 2027 in October.
More: MSU Extends Merchant's Contract
Associate head coach Dean Lockwood, who has stepped up in Merchant's absence, will serve as interim head coach while MSU conducts a national search for Merchant's replacement.
MSU Athletics thanked Merchant for her years with the school in a Tweet. You can read Merchant's full statement below.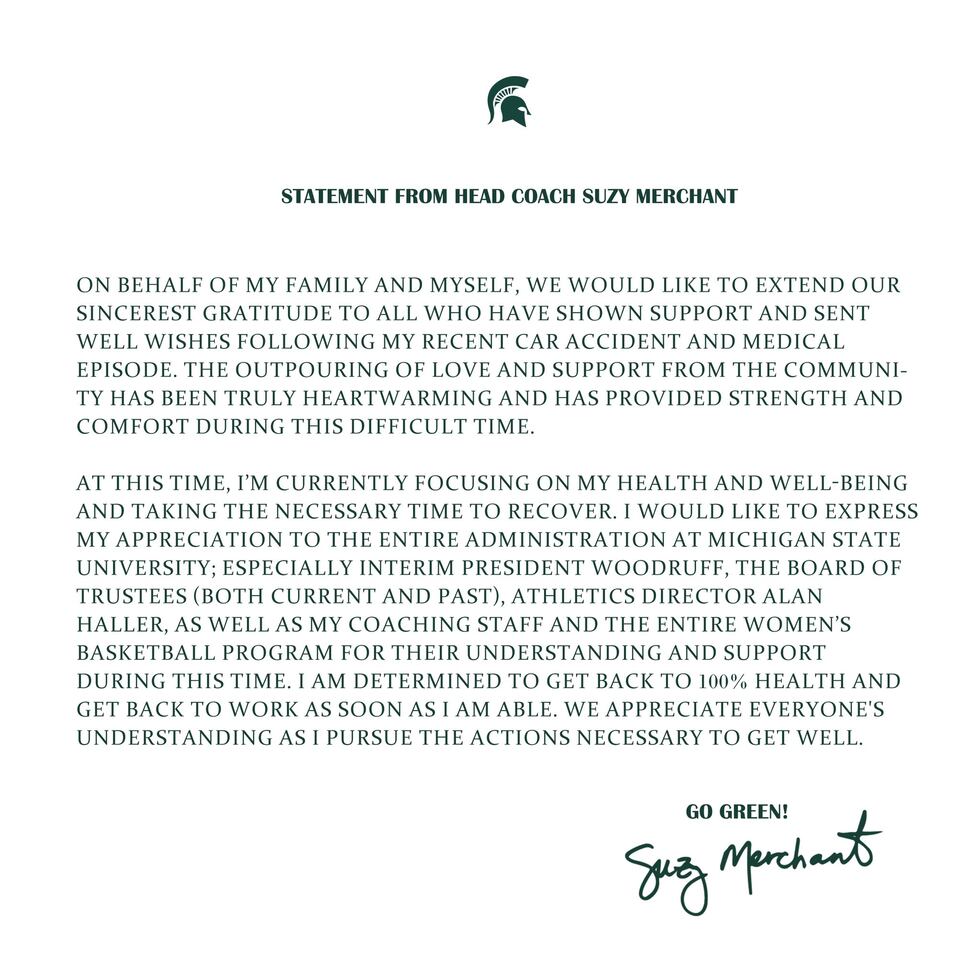 Subscribe to our News 10 newsletter and receive the latest local news and weather straight to your email every morning.
Copyright 2023 WILX. All rights reserved.