MSU police release timeline, notes written by campus shooting suspect
Published: Mar. 10, 2023 at 9:27 AM EST
|
Updated: Mar. 10, 2023 at 6:38 PM EST
EAST LANSING, Mich. (WILX) - The note police found on the Michigan State University shooting suspect was released Friday morning by the Michigan State University Department of Police and Public Safety.
Related: MSU offers mental health support resources following shooting
The note reveals that Anthony McRae wrote it on Feb. 12, a day before the shooting.
In the note, he listed targets in Colorado Springs, a school in New Jersey, and several locations around Lansing, including East Lansing, Old Town and DeWitt. McRae claimed that people hated him and that those people made him a killer. McRae reportedly wrote that his father had nothing to do with the incident and he was tired of being rejected and a loner.
MSU police said that it appears that he felt slighted by people or businesses and that a mental health issue may have amplified those feelings.
While McRae states in the note that he was acting with others, investigators from MSU DPPS, Michigan State Police and the FBI said McRae acted alone and was not working with other people.
Thousands of 911 calls were made across campus that night. MSU police released a video from inside the Student Union Building showing its response to the shooting. Police said they were minutes behind McRae after he reportedly opened fire in Berkey Hall.
The first 911 calls were made at 8:18 p.m. and police were at the scene at 8:20 p.m.
"The officers that responded and were within in the building within minutes," said police chief Marlon Lynch. "One of the first things they encountered were the victims."
While first responders assisted victims, McRae was reportedly heading toward the Union, entering at 8:24 p.m.
Police the second shooting took place at 8:26 p.m., just before McRae left campus.
There were reportedly more than 2,100 calls to the police between 8 p.m. and 1 a.m. - the equivalent of 2.5 days' worth of calls for the dispatch center, all within a 5-hour period.
A campus map that lists each individual 911 call and the official timeline listed by police can be seen below.
Within a half hour of police releasing McRae's photo, they received a tip and officers found him near Lake Lansing Road and Cedar Street, where he reportedly shot himself.
As the investigation continues, MSU police are hoping that the lessons learned from the incident will provide for a safer campus. When students return to campus on Monday, the one-month anniversary of the shooting, they will see enhanced security measures, including buildings being locked at earlier times.
Counseling is also being offered for those who might still be struggling with the tragedy.
Timeline of homicide suspect Anthony McRae being on campus
The department's preliminary investigation findings has detailed a timeline for Anthony McRae's presence on campus the evening of February 13, 2023:
8:18 p.m. – First shots fired call at Berkey Hall received by Ingham County 911

8:20 p.m. – Officers entered Berkey Hall

8:24 p.m. – McRae entered the Union

8:26 p.m. – First report of shooting at the Union

8:26 p.m. – McRae exited the Union and left campus

8:27 p.m. – Officers arrived at the Union

8:30 p.m. – First emergency alert notification sent

8:31 p.m. – Second emergency alert notification sent

11:18 p.m. – Photo of suspect shared on MSU DPPS social media

11:35 p.m. – Ingham County 911 receives call of person matching the description walking on Lake Lansing Road near High Street in the City of Lansing

11:49 p.m. – Officers approach McRae and he shoots himself
As part of the ongoing investigation, McRae's route once he left campus is still being reviewed and finalized by law enforcement.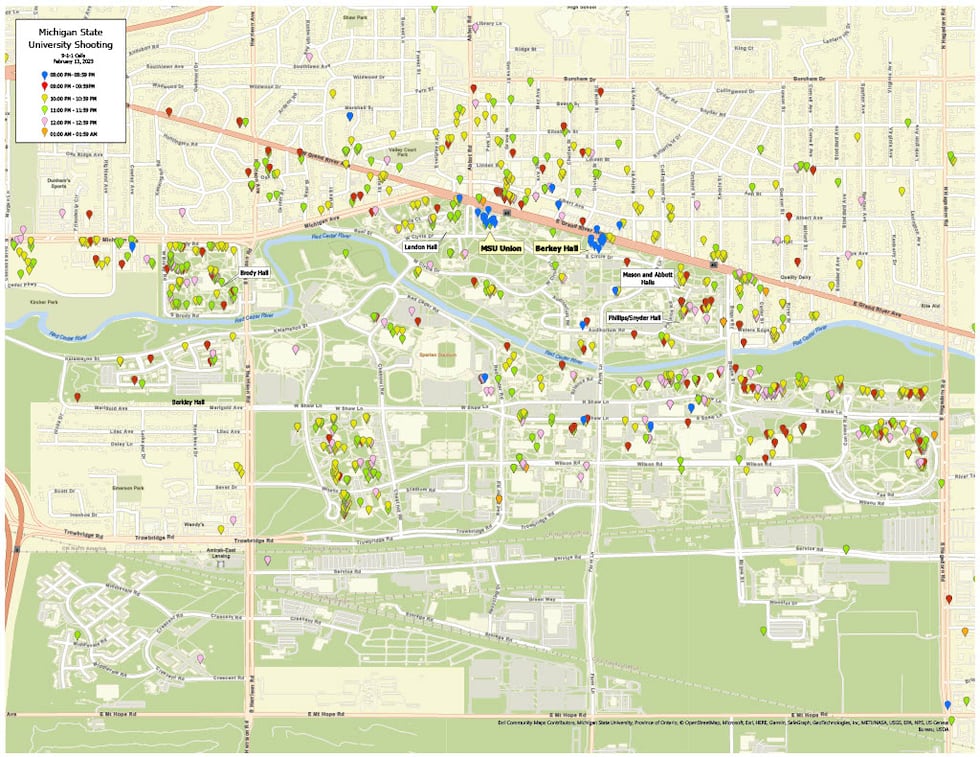 Subscribe to our News 10 newsletter and receive the latest local news and weather straight to your email every morning.
Copyright 2023 WILX. All rights reserved.