Mackinaw Island ferry to be converted to electric power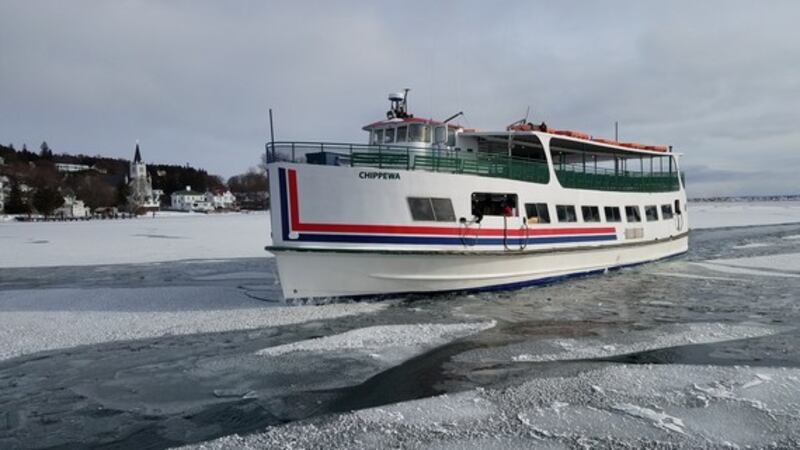 Published: Mar. 10, 2023 at 11:58 AM EST
MACKINAW ISLAND, Mich. (WNEM) - A Mackinaw Island ferry will be converted to a zero-emission, electric powered ferry after receiving a $3.06 million grant.
The Michigan Department of Environment, Great Lakes, and Energy (EGLE) has awarded the funds to Star Line, now known as the Mackinaw Island Ferry Company (MIFC).
MIFC will replace two 1988 diesel engines with two brand new electric propulsion motors on the Chippewa ferry. The conversion is slated to reduce greenhouse gas emissions by 14,152 metric tons of carbon dioxide equivalents and 887 metric tons of nitrogen oxides over the boat's lifetime.
The project will begin immediately, it is part of a two to three year overhaul that will redesign and modernize the vessel's hull and appearance.
The grant covers half the cost of the project, which also includes installing 1.5 megawatts in shore power infrastructure at the Mackinaw City ferry dock, as electric power upgrades are also planned for the ports of St. Ignace and Mackinac Island.
"This project is a first critical step in the strategy to upgrade and modernize marine transportation in the Straits of Mackinac," said Director Chris Byrnes of the Mackinac Economic Alliance (MEA). "Of course, Mackinac Island is famous for alternative modes of transportation, as cars are not allowed on the island. Everyone walks, rides bikes or horses and, of course, ferry boats, so the island is already a Michigan leader in alternative forms of transportation."
As the primary means of transportation to Mackinac Island, ferries serve about 500 year-round islanders and 750,000 visitors a year, with a summer peak of more than 16,500 a day. During peak months, ferries make up to 125 round trips daily. The 84-foot ferry, built in 1962, is expected to carry 250-300 passengers after the electric conversion and MIFC's concurrent redesign and modernization of the vessel.
After converting the Chippewa ferry to electric power, MIFC intends to similarly upgrade the propulsion systems on its other seven steel vessels that operate passenger or freight service to Mackinac Island. Eventually, MIFC will evaluate its seven high-speed aluminum passenger vessels for upgrades to electric or hybrid electric propulsion.
The Chippewa conversion is a pilot project for electrification of 28 Mackinac Island ferries in all. It marks the launch of the MEA's Mackinac Marine Mobility Strategic Plan to create full-time, year-round marine and shipbuilding jobs in the straits region.
The project is the first initiative from the Mackinac Island Transportation Master Plan, conducted by the Michigan Department of Transportation, as the key piece of a larger initiative to modernize the ferry fleet and freight ships serving the region.
Read next:
Subscribe to the TV5 newsletter and receive the latest local news and weather straight to your email every day.
Copyright 2023 WNEM. All rights reserved.