Police respond to 'hoax active shooter' threat at Nouvel, other schools across state
Published: Feb. 7, 2023 at 10:36 AM EST
SAGINAW Twp., Mich. (WNEM) - Multiple police agencies responded to Nouvel Catholic Central High School in Saginaw Township on Tuesday for reports of an active shooter.
It ended up being a hoax, as police agencies responded to similar calls at schools across the state.
While the threats appeared to be hoaxes, police treated them like they were real to keep students safe, Michigan State Police Lt. Kim Vetter said.
Saginaw Township Police said they received the call at 10:07 a.m. on Feb. 7. The call claimed there was an active shooter inside Nouvel Catholic Central High School, 2555 Wieneke Road in Saginaw Township. The caller said two students had already been shot, police said.
Officers immediately responded and forced entry into the school by ramming a police cruiser through the front door due to the doors being locked.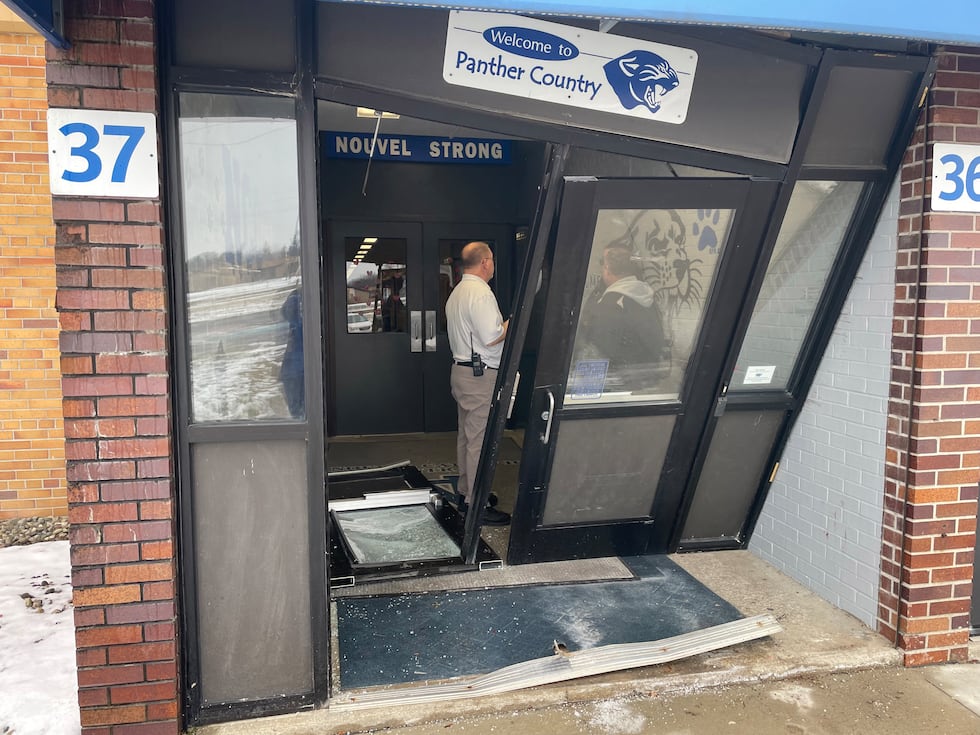 After making entry, officers began to search for the suspect and any injured students of staff, police said.
"It was determined the call was most likely a hoax within the first few minutes of officers being on scene. However, officers continued to conduct a systematic search of the building to verify there were no injured students or staff," police said.
Nouvel Catholic Central dismissed school for the remainder of the day.
Nearby, Saginaw Township Schools, which is a separate district from Nouvel, issued a letter to families saying all schools have been placed in secure mode due to the incident at Nouvel.
"Our schools will remain in secure mode until the situation is fully resolved," the district said.
Secure mode means classes will continue as normal, but all outside activities are suspended.
Saginaw Township Police said they believe this call was related to multiple other fake 911 active shooter calls at schools throughout the state. Fake threats were also reported at Okemos High School, among K-12 schools throughout the state on Tuesday.
"Threats of violence in our schools disrupt the classroom, tax our local law enforcement agencies and harm our students' sense of safety," Attorney General Dana Nessel said. "Whether these are real threats made by those intent on doing harm or pranks made by kids trying to get a day off, they are real crimes with real consequences. It's critical that adults and students alike understand the seriousness of these threats and the criminal charges they could face."
The potential charges for making a threat of violence include:
communicating a threat of terrorism, a 20-year felony;

calling in a bomb threat, a four-year felony;

malicious use of a telecommunications device, a six-month misdemeanor; and

threatening violence against school employee or student, a one-year misdemeanor.
Additionally, swatting - making a prank call to emergency services in an attempt to dispatch law enforcement to a particular location - could result in the following charges:
false report of a crime, a 93-day misdemeanor;

false report resulting in physical injury, a 5-year felony;

false report resulting in a serious bodily impairment, a 10-year felony; and/or

false report resulting in a death, a 15-year felony.
In addition to serving time, those found guilty could face fines of up to $50,000.
The Nouvel incident remains under investigation. If you have any information, call 989-791-7226.
Read next:
Subscribe to the TV5 newsletter and receive the latest local news and weather straight to your email every day.
Copyright 2023 WNEM. All rights reserved.