No charges to be filled in deadly Bath Township police shooting
'The lethal force that Sgt. Hamilton used in response of the perceived threat was justified and not excessive given the gravity of the situation.'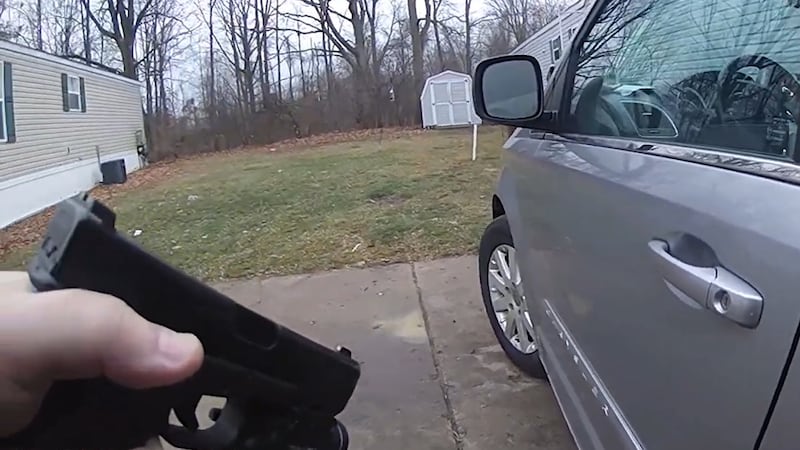 Published: Jan. 27, 2023 at 7:25 PM EST
BATH TOWNSHIP, Mich. (WILX) - No charges will be filed in a Bath Township police shooting that killed a 24-year-old man Jan. 2.
Background: Bath Township police releases bodycam footage of deadly shooting
According to authorities, the results of Michigan State Police's investigation into the shooting was turned over Jan. 20 to the Clinton County Prosecutor's Office, who ruled the shooting was "a reasonable use of force given the circumstances at hand at the time of the shooting."
The shooting happened at the Dutch Hills Mobile Home Park, where a resident reportedly contacted police regarding a domestic violence situation.
Bodycam footage captured a police sergeant responding to the scene, where a man pointed what police believed was a gun at the sergeant and his mother. He was shot several times.
Police said the handguns the man had were later revealed to be replicas.
"When Mr. Gainforth left the house with two pistols and proceeded to point them in the direction of both Sgt. Hamilton and his own mother, a reasonable officer in the position of Sgt. Hamilton would have felt that both his life, and the life of Mr. Gainforth's mother were in danger," the prosecutor wrote. "A reasonable officer in the position of Sgt. Hamilton would not have been able to tell that the pistols were not 'real guns.' As a result, the lethal force that Sgt. Hamilton used in response of the perceived threat was justified and not excessive given the gravity of the situation."
The Bath Township Police Department said its own investigation into the incident found no policies or procedures were violated.
"This was a tragedy for all involved," said Bath Township police chief Gary Smith. "Our hearts go out to Sgt. Hamilton and his family, as well as the family of the deceased, 24-year-old Lucas Charles Gainforth."
Read next:
Subscribe to our News 10 newsletter and receive the latest local news and weather straight to your email every morning.
Copyright 2023 WILX. All rights reserved.