John Geddert, former owner of Twistars, has died by suicide
Ex-U.S. Gymnastics coach Geddert was charged with human trafficking, racketeering, and criminal sexual conduct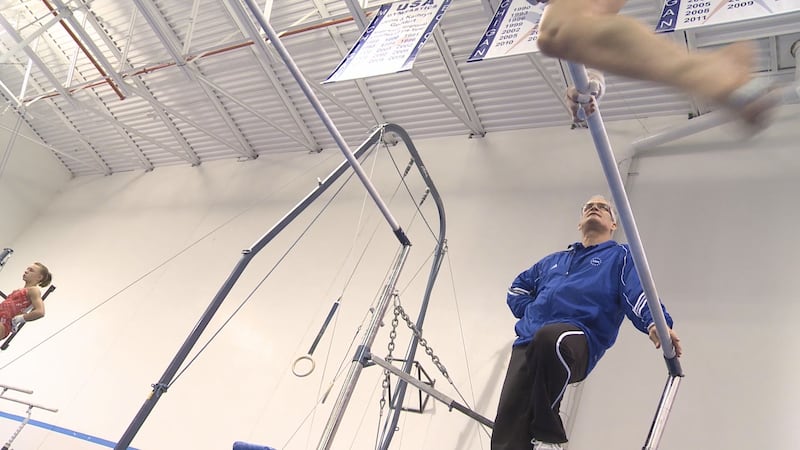 Published: Feb. 25, 2021 at 11:17 AM EST
LANSING, Mich. (WILX) - John Geddert, the ex-Olympic coach and former owner of Twistars gym, has died by self-inflicted gunshot wound. He was facing 24 felony charges relating to his time as the owner of Twistars gym.
Attorney General Dana Nessel released a statement shortly after Geddert's passing.
"My office has been notified that the body of John Geddert was found late this afternoon after taking his own life," Nessel wrote. "This is a tragic end to a tragic story for everyone involved."
On Friday, the United States Olympic & Paralympic Committee (USOPC) released a statement from CEO Sarah Hirshland.
"It's the voices of the survivors that matter most at this time," Hirshland sad. "They continue to show bravery and strength in the most difficult circumstances - including today's events."
Geddert, 63, coached the 2012 gold-medal-winning U.S. Olympics team, including Olympic champion Jordyn Wieber of Dewitt. He also has ties to disgraced sports doctor Larry Nassar and was previously the owner of Twistars in Dimondale, which closed just weeks ago.
That's where Geddert formed a partnership with Nassar, who used his job treating gymnasts at Twistars to sexually molest young female athletes there. During Nassar's sentencings, some victims complained that Geddert was physically abusive and indifferent to injuries, and forced them to see Nassar.
In the swirl of accusations, John Geddert stepped back from managing Twistars in 2018 and handed it over to his wife. Then in January of 2020, Michigan State Police and members of the attorney general's office raided Geddert's Grand Ledge home and Twistars in Dimondale, carrying boxes of records and potential evidence.
The next day, Rita Wieber, mother of Olympic gymnast Jordyn Wieber, talked to News 10.
"As a mother over the years dealing with John as a coach I was concerned about many things," Wieber said. "I was encouraged to think that there is still a chance justice is going to be served."
The Twistars name and assets were sold off last year. The location at "the Summit Sports and Ice Complex" in Eaton County where Nassar sexually assaulted young women was shut down when the summit closed earlier this month.
Attorney General Dana Nessel announced Thursday that Geddert was scheduled to be charged with 20 counts of human trafficking, one count of racketeering, two counts of criminal sexual conduct, according to the office of the Attorney General. In total, he faces 24 felony charges:
14 counts of human trafficking, forced labor causing injury, a 15-year felony;

Six counts of human trafficking of a minor for forced labor, a 20-year felony;

One count of continuing criminal enterprise, a 20-year felony;

One count of first-degree criminal sexual conduct, a life offense felony;

One count of second-degree criminal sexual conduct, a 15-year felony; and

One count of lying to a peace officer during a violent crime investigation, a four-year felony
Nessel stated that Geddert would turn himself in at the Eaton County Sheriff's Office substation in Delta Township. His arraignment was set for Thursday afternoon.
"These allegations focus around multiple acts of verbal, physical, and sexual abuse perpetrated by the defendant against multiple young women. I am grateful for these survivors coming forward to cooperate with our investigation and for bravely sharing their stories," Nessel said. "The charges against Mr. Geddert are the result of a great deal of hard work by my investigators and prosecutors, and I would like to express my gratitude for their devoted service, as well as the cooperation and efforts of the Michigan State Police, Eaton County Sheriff's Office and Eaton County Prosecutor Doug Lloyd and his staff. This case has truly been a joint effort by law enforcement and another example of how authorities at multiple levels of government can work together in pursuit of justice."
Geddert has insisted he had "zero knowledge" of Nassar's crimes, although some gymnasts stated he forced them to see Nassar and was physically abusive. During Nassar's sentencing, a woman said in the late 1990s, Geddert was aware that Nassar had performed an "inappropriate procedure" on her when she was 16 years old. That accuser's anonymous statement was read in court by a prosecutor.
When News 10 spoke to Chris Bergstrom, Geddert's attorney, about the charges AG Nessel was compiling, he said Geddert would surrender peacefully if charged.
"We'll make arrangements to surrender. We're not running from anybody or anything," Bergstrom said.
The Michigan State Police confirmed that John Geddert was found dead by self inflicted gunshot wound at 3:24 p.m. on Thursday afternoon.
Manly Stewart & Finaldi attorney Sarah Klein, Nassar's first known victim who trained with Geddert for more than 10 years addressed Geddert's suicide.
"John Geddert's escape from justice by committing suicide is traumatizing beyond words," Klein said. "He tortured and abused little girls, myself included, for more than 30 years and was able to cheat justice. Geddert was a narcissistic abuser. His suicide is an admission of guilt that the entire world can now see."
Copyright 2021 WILX. All rights reserved.