Ben Shoemaker Diary Entry 9/18/20
Covid & the Classroom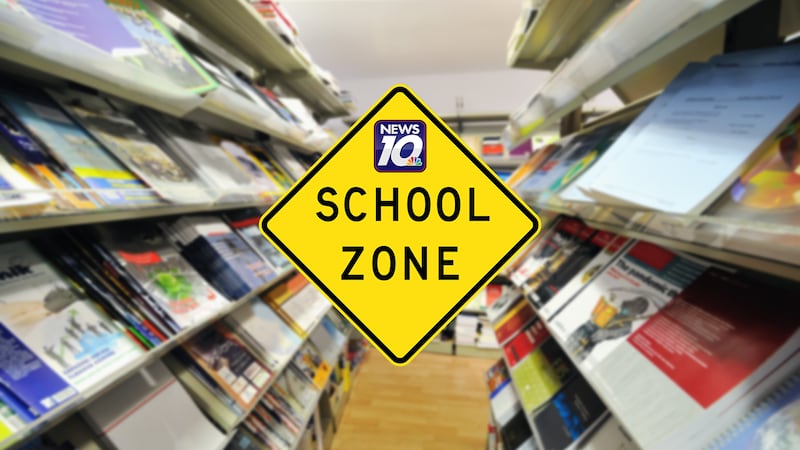 Published: Aug. 26, 2020 at 1:49 PM EDT
|
Updated: Sep. 18, 2020 at 3:57 PM EDT
LANSING, Mich. (WILX) -
Week 4 - 9/18/20
Four weeks into remote learning and I feel pretty good about the level of instruction we are able to deliver. I have been pushed to find unique ways to deal with hands-on activities remotely but that is pushing my creativity. I currently have kids working on a group project much like they would have in my class physically. The difference is they are in a breakout room with their group, sharing a google slide instead of a large poster board. As I drop into rooms and check on the groups they are having good conversations, a conversation I would be happy to hear in my room. I try to look at the opportunity for creativity that comes in this adversity, students are problem-solving and adapting. I would be blindly optimistic to say this is working for all the kids but I have to hope it is working for the majority. Now we can focus our efforts on the kids that it is not working for. I know Mason is opening up some learning centers for kids who have consistent internet issues. We are trying to adapt and be flexible for students.
As we move forward our Board of Education is working with our administration, staff, and community to look at what our next steps are. I would be lying if I said I am not concerned with the impacts these decisions will have on my life and the way I do my job. What I keep reminding myself of is we all want what is best for the students. We can have different views but we all have to come back to the idea of the year and that is "Grace". We are trying to navigate the future of our school year we need to keep showing each other grace, we need to listen to viewpoints and make informed decisions, but most importantly we need to keep our focus on helping our students in whatever form of education path they choose.
9/3/20 Week 2 Recap
As we adjust to this "new normal" I am starting to find my stride in the classroom. The first week I felt like I had just run a marathon at the end of the day. Open Zoom, open google classroom, screen share, resize, move this window, take attendance, manage the chat room, oh wait someone got dropped and now is back in the waiting room. Never mind the emails, attendance software, and oh yeah, I am instructing on my webcam at the same time. It sounds hard and it is but this is what needs to be done for my students to have the best experience they can at this moment so that is what we will learn to manage. By week 2 I am finding that kids are kids I can still tell my dad jokes in class, I can still ask how they are doing, I can still find out about them it is just different. Not good or bad different just different. I have been introduced to lots of pets, I have seen the family in the background, we have had class on the front porch, and many other moments I won't forget. It has been interesting to operate a classroom as a true community of learners. For example, some student asks a question in the chat and other students have answered them before I even realize they needed something. The overall feeling is a community feeling, don't get me wrong I miss seeing them each day in my classroom, but I am glad we have resources and tools to help make this the best we possibly can.
From a parent standpoint, I am glad my kids are engaged in class, having small group discussions, and getting to be innovative themselves. Some of our homework is interesting, my kindergarten student had "homework" we worked on making sure you can mute and unmute yourself, we worked at making sure the camera can see you give a thumbs up. As a teacher I know we need to be creative and adaptable but from a parent standpoint, it is heartwarming to see how much our teachers care for kids. Shoot, I picked up clay and tools for my daughter's pottery class. Her teacher figured out tools for the kids and packed hundreds of blocks of clay so her students can still participate in an art class. My 8th grader is blasting away on his tuba at night recording music for his band class. Is it what we are accustom to, no but it is working they are learning they are progressing. I am proud to work at Mason Public Schools and I am happy that my kids are getting to be part of this learning community with me. I don't know what the future will hold or how we will continue our instruction but I do know this learning community will continue to adapt and innovate to do the best they can for kids in our community.
Week 1 Recap 8/28/20
As I look at the first week, I am drawn back to a conversation I had with a teacher from another district. We were talking about the ethos of the year and he said "Grace" and I thought yes that is the word to use for sure. We must have grace with ourselves as teachers that things will not be perfect. That lesson you have refined over a few different years now does not work the same. It is much like being a new teacher all over again. We must have grace with our students as they try to figure out how to find the best method for them to be successful. We must have grace with our parents as they are making sacrifices to help the kids succeed. Parents need to have grace with kids and staff for all the same reasons. We will have to have grace as people make decisions on what we do next. So, after one week I am focused on that word I am focused on the idea that "Grace" is what we all need moving forward.
This will be a first week that I will never forget that is for sure. I am finding that there are many things to this process that are positive, and I try to focus on those over the things I can't do. With virtual meetings, kids can ask questions privately that they might be scared to ask in class. I can let kids rewind me for the first time and let us not ignore the greatest gift to teachers I finally have a mute button on my class. I am excited to see what we can do in this medium and how we will integrate this into the way we do education in the future.
***
Opening Day 8/24/20
With excitement and some trepidation, I headed into school for our opening day of school for staff. Over the past 19 years, I have had a lot of different feelings going into these meetings and opening day speakers. As usual, I am excited to get back and work with my students but also this day is one I look forward to because I get to see my second family here at school. Today I parked my car in my usual place, but then I filled out my Covid-19 screening form on my phone, put my mask on, and went into my room. It is strange to walk into a room that looks like it did when I walked out the door months ago it is a moment frozen in time, it is a feeling I have never had in 19 years of teaching. So, in this "new normal" I got my zoom link pulled up at my computer and waited for the show to start. It was strange to sit in front of my computer instead of in the auditorium. I feel like I should be sitting halfway back on the right-hand side as I do year after year, ready to see new faces in the district, listen to the grand plans for the district, and be worried that I don't have all my supplies put away yet. It had some of the same feel and some of the same sentiments, but it was different. As our meeting had technical issues here and there, I am reminded that I need to be flexible and ready to adapt. I was a little frustrated but then I took a breath and think about how blessed I am to be in this time, to be challenged this far into my career, and the resources we have at our disposal to try and make this work. I hope as we start students and families realize the challenges we are all facing, I know it won't be perfect but I know our teachers and staff will be doing everything they can to help our students be successful.
Copyright 2020 WILX. All rights reserved.