The Rolling Stones... Led Zeppelin... The Beatles.
Are they better bands than Van Halen? Yes. That isn't arguable, but yet, I love Van Halen more than those or any other band. Maybe it's because I associate so much of their music with my childhood.
I remember the moment I fell in love with Diamond Dave and the boys: it was 5th grade and I was at Beckett Kirk's sleepover birthday party at his house on Longboat Key. He had this awesome pool that we were jumping and swimming in for hours that night-- all while listening to the album 1984. I even remember the dance/dive we came up with to the guitar riff in "Panama."
My Top 5 Van Halen Songs with David Lee Roth
5. "Running With the Devil"
4. "Beautiful Girls"
3. "Panama"
2. "And the Cradle Will Rock"
1. "Eruption/You Really Got Me"
*Note: "Jump" not included because I think we'd all agree we've heard it 10 too many times.
I was hooked. I loved every song on the album and it didn't take me long to go back in history and find their earlier albums. These were rock gods. Eddie Van Halen was the greatest guitarist of all-time and David Lee Roth was the best frontman ever. Funny how over time one of those statements would hold true while the other would fall apart.
As soon as it began it was seemingly over. They broke up. Dave was booted for Eddie's TV star wife. She was Yoko to me and the band was now the enemy. How could it be over? Dave went solo and the band looked for a new singer, but I knew already where my allegiance would lie. David Lee Roth was music to me. Even though his solo albums didn't sound anything like Van Halen I thought they were great.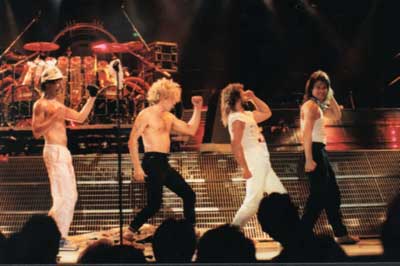 Then came Sammy. I didn't like Sammy Hagar when he was solo and now he'd signed on with the guys who fired Dave?! I didn't even listen to "Best of Both Worlds" and decided it was the worst thing I'd ever heard. (Now, it's one of my favorite VH songs.)
Then a strange thing happened. Dave's music got worse and Van Halen's got better. I couldn't help but like a couple songs on 5150 and all of OU812. Still, though, Van Halen was always better with Dave-- that notion I knew to be true and would be forever, right?
My Top 5 Van Halen Songs With Sammy Hagar
5. "When It's Love"
4. "Dreams"
3. "Black and Blue"
2. "Poundcake"
1. "Best of Both Worlds"
*Note: "Right Now" not included because I think we'd agree we've heard it 10 too many times.
After For Unlawful Carnal Knowledge even I wasn't sure anymore. I saw them like most did-- two bands-- Van Halen and Van Hagar. And then just as I got back to hardcore fan status-- they broke up again. Come on!
Then the dysfunction began of bringing back Dave, then trying out Gary Cherone of Extreme fame, Eddie's throat cancer, more singers, firing Michael Anthony, and by then I was done. Any music they tried to make was God-awful. After awhile it just seemed Van Halen was over like every other band at some point. Plus, after reading Sammy Hagar's autobiography Red, it seemed apparent Eddie with his mania and drinking would never be able to put it together long enough to make some songs let alone an entire album.
My Top 5 Eddie Van Halen Guitar Songs
5. "Runnin' With the Devil"
4. "Beautiful Girls"
3. "You Really Got Me"
2. "Mean Street"
1. "Eruption"
But then came a new album with Dave back. That in itself wasn't inspiring since they'd made a few songs with Dave for the Best Of Volume I album, and sorry but "Me Wise Magic" didn't give me much hope. Dave's voice had been dying for years and more mileage couldn't help. I was wrong.
Don't get me wrong, A Different Kind of Truth isn't going to go down as a great album, or even one of VH's best, but it and the first single "Tattoo" are surprisingly good. It has all the feel of a classic VH sound, which makes sense since some of the riffs were ripped from old songs that didn't make the cut in the 70's. Eddie sounds coherent and Dave has finally figured out he's not the arena rocking, stage jumping, howling frontman he once was. He's using the voice he has left and on "Tattoo" works in some of his trademark talking and low singing that brings back memories of "Ice Cream Man" from their debut album. "She's The Woman" is another good tune which sounds like a combo of "Mean Street" and "Where Have All the Good Times Gone!"
My Top 5 Favorite Van Halen Albums
5. OU812
4. 5150
3. 1984
2. Van Halen
1. For Unlawful Carnal Knowledge
One thing missing from this album though, is Michael Anthony. The original bassist replaced in favor of Eddie's son Wolfgang, is tight with Sammy and playing with his supergroup Chickenfoot. When people talk about the signature VH sound, like Eddie's guitar or Alex's cymbal-heavy drums or Sammy or Dave, what's often overlooked is Michael Anthony's harmonies. I think his backing vocals are as important to the group's sound as anything else and it's noticeably absent on the new album.
Most of the songs seem recycled, but I can't help but think this is what they'd sound like if they'd never broken up. They way the Stones still sounded awesome on Voodoo Lounge in 1994, Van Halen is still bringing it with this effort. Realistically, though, if this album came out between Diver Down and 1984 no one would have ever remembered it. Still, it's good to have the boys back.