I watched "The Preakness" Saturday and saw the filly beat the boys to win. Cool, I thought-- quite the sports spectacle. Then in the winner's circle, The Preakness' big boss man is handing the hardware to the trainer and says this:
"It's my pleasure to present the most coveted trophy in all of sports."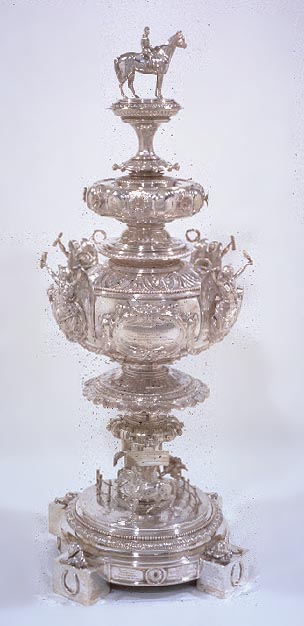 Really? This thing? The number one trophy in all of sports. I know it's catchy to say your trophy is the best of all, but better than the Lombardi Trophy? Better than the Stanley Cup?
I see it's nice and all, but more coveted than that prong-laden World Series trophy? Maybe he meant aesthetically. It's pretty, I guess, but it looks like my Nana's fancy tea set.
And let's get serious-- it's not even the most coveted trophy in your sport! The Kentucky Derby is a bigger victory than The Preakness and I can prove it. How many times have you confused The Preakness with the Belmont Stakes?
Moreover, if you gave the trainer and owner of the winning horse a choice-- the Woodlawn Vase or the prize money (this year it was $660,000)-- I think we know what they'd choose.
I take the National Championship trophies in football and basketball over it, the Paul Bunyan Trophy, the Larry O'Brien Trophy, and all the little league trophies in my attack over that Woodlawn Vase.
But it sounds cool to say when everyone is watching, I guess.