Back in my dad's day, heck, my day, fans of the four major sports were treated like they were the most important element of the game. Of course, that meant, the players were usually treated like cattle. But in one decade the tide turned for good-- but not for the good.
In the 1980's every sport, other than baseball, saw its greatest players of all time in action.
The NFL began its launch to becoming America's new pastime with Montana, Elway, Payton and LT.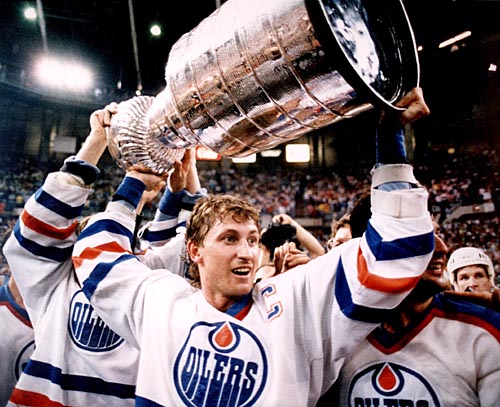 The NHL surged with Gretzky, Lemieux, Hull and Yzerman.
The NBA exploded back on the scene thanks to Magic, Bird, Isiah and Jordan and many others.
Even MLB had a host of stars and was as popular as ever.
But the 80's were when salaries began their meteoric rise to absurdity. Players needed to be paid more, but the end has never been in sight until lately, and that's mostly with the NHL. Somewhere in the 80's when fans were in sports heaven, advertising revenue and TV contracts started becoming more important than the fans. It's simple economics: if your overhead goes up, so to must the prices. And boy have they. Have you looked at ticket prices in the last 10 years? Now its the players that matter most and the fans who are treated like cattle.
The NBA playoff schedule is just the latest evidence of the fans being ignored. Not that it matters to Pistons fans now, but did you see the staggering of first-round games with Cleveland? It's just about the same with every series; game one, two days off, game two, another two days off, game three, a day off, game four. I have no idea where it would have gone from there. I missed two of the games, because I had no idea when they were on! I only saw game three because it was on at work. Two days off between games with no travel-- is the NBA trying to make it to July? It wasn't that long ago the NBA playoffs were simple; two consecutive games, day off for travel, two more games, day off for travel, game, travel day, game, travel day, game. A 7-game series was 11 days, now you can make two car payments in the time it takes for one team to move on. Can you imagine the old Pistons-Celtics rivalry with all these days off in between games? The games may have lost a ton of intensity with all that time for Mahorn and Bird to cool off.
But who am I kidding, the deterioration of the game's integrity has been on a slow burn since the 80's, so I shouldn't be surprised. David Stern, the marketing genius, the Monius Maximus, the anti-Gary Bettman, just wants to keep Kobe, LeBron, Wade and Shaq on the stage as long as possible.
Unfortunately, that's the sports world we now live in. It's a world that stopped being about the fans long ago. Game times are just another example. Sports' biggest games are played at absurd times. The World Series and NBA Finals games begin at 9 p.m. Are you serious? I throw this fit every year around championship time-- how do you as a league expect to cultivate the next generation of fans, when they can't see your biggest games? I understand the whole primetime games argument, but 9 p.m.? Adults can barely stay up for those games anymore, let alone kids. My favorite is the 9 p.m. start on Sunday nights. Really? Why can't they start them at 7:30? The games would cover ALL of primetime-- not just two hours-- and they would have time for a post-game show before the late local news.
Not long ago, there were afternoon NBA Finals games. Yep, you heard right, kids, weekend games were often 3:30 starts as was the NBA All-Star game. World Series weekend games were daytimers, as were NHL Finals games. The Super Bowl is the only big game holding onto tradition with its 6-ish start, although it's been slowly creeping toward 6:30. For kids, it must be frustrating having to go to bed on school nights while the biggest games of their favorite sports are still going on. Sooner or later, they'll just stop being fans, and the next generation of fans will just be the next great video gamers.
On a nice spring Monday night in 1983, my mom made me go to bed around 10:00. I put up as much of an argument as I could, but to no avail. "Mom, how can you expect me to sleep when Phi Slamma Jamma is trying to make history?" North Carolina State was playing Houston for the National Championship and I was a huge Clyde Drexler and Akeem Olajuwon fan. My mom, being the merciful woman she was (and also a true sports fan herself) let me sleep in her bed where there was a radio. I listened to the rest of the game in the darkness. And before Derrick Wittenburg broke my heart, I remember thinking one thing: at least this the only big game I'll have to miss this year. I can't imagine growing up today as a sports fan and having to miss the end of the majority of the biggest games in sports all year.
But as long as finances rank higher than fanatics, this will be an empty rant. Although, the NBA and MLB especially, better take heed-- if you keep killing your fan base, one day you'll kill your game.