This could be the first group of seniors to never cut down the nets at MSU
March is a pretty fun month. Days keep getting warmer, we drink green beer and the average Joe fills out a bracket that is often more accurate than Jay Bilas's. That's because pundits are partial to the big schools-- the favorites. Dick Vitale would never pick Duke to get upset in the second round, but you would. Duke hasn't beaten a team better than a 5-seed in the tourney since 2001 and they've been a #1 seed three times in those seven years.

Seth Davis-- my anti-bracketologist for 2009
My entire motivation for my picks this year is to simply do the opposite of what CBS' Seth Davis. If you read Tim Staudt's ALL CAPS blog at all you know he got some facts wrong in his book about the '79 championship game. Not much, just calling Grand Ledge, "Grand Ridge" and calling Trowbridge Road, "Troll Bridge Road" like it's an episode of Dora the Explorer. Anywho, during the selection show they put up Wisconsin as a 12-seed and Davis says, "Wisconsin gets a 12 and Maryland is a 10. That just goes to show you how the committee weighed the ACC versus the Big 10." Really? Wake Forest out of the ACC is 24-6 with some big wins and two stints at #1 this season and they're a #4 seed. Michigan State is 26-6 and didn't get to the championship game of their conference tournament. Maybe I'm overreacting, but I never win my pool so hating on Davis seems like as good a reason as any to try and find the right combination of upsets and expertise for my Final Four picks to remain alive and march my bracket to the top.
LOCATION, LOCATION, LOCATION
Pay attention to where the games are played this year-- it will help you find the upsets and avoid them. For example, Villanova is playing its first weekend in its hometown of Philadelphia. Washington is just down the coast in Portland and Ohio State is playing in Dayton, which will give them a fighting chance to knock off #1 Louisville. There are also some games in Boise, Idaho where teams like Marquette and Xavier will have to travel to, yet play teams that are right around the corner in Utah St. and Portland St.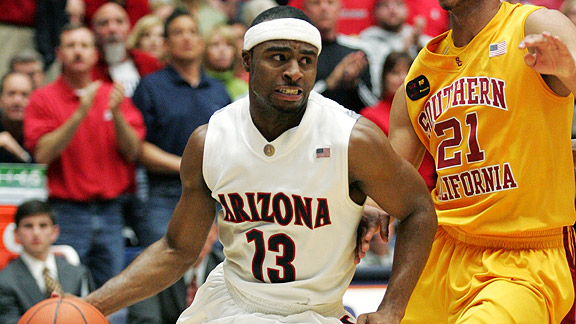 When no one thinks you belong there, it provides a lot of motivation to prove them wrong
FIRST-ROUND UPSETS
The 12 versus the 5 is everybody's favorite-- and for good reason. A 12 has beaten a 5 every year, but twice since the field expanded to 64 in 1985. There are three good candidates this year with Arizona, Wisconsin, and Western Kentucky versus an injured Illinois team. The only one I like is Arizona over Utah. I hate to pick against Jim Boylen, a former MSU assistant, but with everyone clamoring Arizona shouldn't be in-- you know they'll win a game.
Seth Davis like Wakes Forest to make it to the Final Four, so I think they could be a first-round upset, but I'm picking them to go home in the 2nd round versus Arizona.

ESPN Radio's Colin Cowherd picks #10-seed Michigan to go all the way and win the title this year
I like #13 Portland St. over #4 Xavier, #10 Michigan over #7 Clemson, #11 Dayton over #6 West Virginia, #11 Utah St. over #6 Marquette and for them to knock off Missouri and get to the Sweet 16. They're a good team with 30 wins already this year. Utah St. knows how to win.
Seth Davis likes #9 Siena over #8 Ohio State and #11 VCU over #6 UCLA. That means I like OSU and UCLA. But for good reasons other than the Davis factor. VCU is a trendy pick because they have a good point guard, big man and coach, but don't forget, UCLA has a great point guard and an experienced team and a coach who has taken this team to 3 straight Final Fours!
WHO DOES #2 WORK FOR?
The scariest stat for me this year is that at least one #2 seed has not made it out of the first weekend in 10 straight tournaments and all but like 3 since '85. I have all my #2's making it out of the first weekend and two getting to the Final Four. I'm tempted to go back and find one that can get upset, but a wise voice told me that once you start buying into stats, that'll be the year where it doesn't happen. Like last year when all four #1's made it to the Final Four and a #12 did NOT beat a #5. But, if I have to pick one #2 that's the most vulnerable-- it's MSU. USC and Boston College can provide good games and the Northeast Conference has never won an NCAA trournament game. That would be Robert Morris' conference whom the Spartans play in the first round. Duke is a target and Oklahoma could get bounced by Michigan if they get hot from behind the arc, but I'm sticking with all four getting through to the sweet 16 this year.

Diebler will have to shoot the lights out to beat #1 Louisville
DARK HORSES
In the Midwest watch out for Ohio State playing in Dayton. If they pull off the upset of Louisville, their road gets much easier. Out West, it's Purdue, which is a scrappy, well-coached team that reminds me a lot of the '99 MSU team that got to the Final Four. Only problem there is they have to play Washington in Portland. Florida State has a chance to make a bold run in the East and a win over Pittsburgh could be a ticket to the Final Four. If Michigan gets hot, they could make it to the regional final in the South.
#2 Michigan State is also a dark horse to get to the Final Four. Remember, every four-year player under Tom Izzo has played in a Final Four. But that stat would end this year if they don't make it.
FINAL FOUR
I like #1 Louisville to beat #2 MSU to get there, #1 Pittsburgh to beat #3 Villanova, #2 Oklahoma to beat #1 North Carolina and #2 Memphis to beat #1 UConn. I think Pitt wins its first national title over Memphis. Usually, I'm a guy who goes outside the top 8 seeds for Final Four teams, but I just don't see it this year. Seth Davis has Wake here, so that was an easy decision, but I just think the #1's and #2's are head and shoulders better than everyone else this year.
Unless Seth Davis thinks that-- then I change my mind.
When it comes 11:55 a.m. this Thursday, I know you'll be like me-- giddy, nervous, and looking to put my feet up and watch some exciting hoops. Now, let's bow our heads and pray... for at least 5 or 6 buzzer beaters this year!