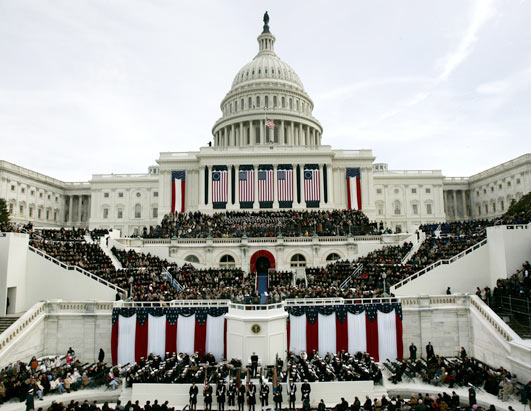 When I was a kid it seemed like Ronald Reagan was president for 50 years. My whole life seemed to be on an endless loop of Mr. Reagan in the White House and SNL parodies of him. Would there ever be another president, I often wondered. Then when I was 14, it finally happened. George H.W. Bush was sworn in as the next president. It was my first Inauguration day and I was thrilled to watch it. Not because of the spectacle or any hatred for the last guy, but because it was a change. It was really cool to me that our country had a new leader for the first time I could remember. I didn't have to wait that long for the next Inauguration day, but I realized in 1992, the whole longing-for-a-change feeling doesn't really get ramped up until having to wait out a second term. But it was still fun to see the country go in a whole new, younger direction. Eight years later, I was again excited about a totally different character coming to the White House and how the country would change again.
I feel the same this time around, although I think the Inauguration coverage is a bit much. But then I have to stop and remember-- it's Barack Obama-- the first black president ever. Talk about a change! So, the excitement is bigger than ever after another 8-year term, mainly because it's obvious our country needs to change. Who knows if just changing the leader will help, but there seems to be a need for change in a lot of places in this great land of ours. And great is about the only word you can use. Look back on the last three Inauguration days. Look at the difference in the three men coming to office as compared to the one's they left behind. Bill Clinton, the young Democrat from Arkansas with eyes for boosting the economy, taking over for Bush 41. Followed by the cowboy from Texas, George W. Bush, looking to keep America safe. Not a perfect guy by any means, but what many thought of as, an average American in the White House. Supplant him with a young black man from Chicago, maybe the most inspirational President since Kennedy. An orator who makes many think of Martin Luther King and Bobby Kennedy.
I think America should be proud of the fact we can elect three vastly different men to lead our country and in turn provide me with another Inauguration day that gives me goose bumps and hope that the next change will be a good one.